General Browning's Car Makes a Reappearance
There is an article in the April 2021 edition of Octane Magazine by Greg Moss entitled Boy's Toy. It is all about the 1932 Ford Model B that Daphne du Maurier's husband, Lieutenant-General Frederick 'Boy' Browning, owned. The article discusses General Browning's life, military career and time working for the royal family and describes the car as it was when General Browning owned it and used it as a family car.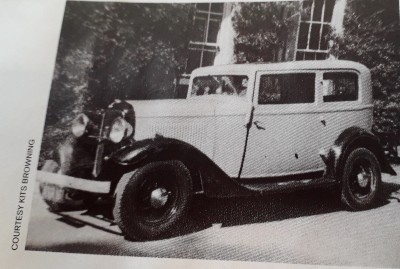 Fordie outside Menabilly, the du Maurier Browning family home
According to Kits Browning, Daphne du Maurier and General Browning's son, the original colour of the car was Eton blue, and the car was known within the family as Fordie. During WW2, the car was laid up in a garage at Menabilly, the du Maurier Browning family home just outside Fowey in Cornwall and was re-registered when his father returned home in 1946. Kits suspects that his parents may have taken the car with them on Boy's posting to Egypt in the mid-1930s. Tessa Montgomery, General Browning's oldest daughter, remembers the car well, particularly standing on the running board with her sister Flavia, clinging on to the door handles as their father drove them up and down the drive of their home at Menabilly.
Now the car has been transformed and has a chopped roof, a tiny windscreen, a V8 engine, and a back end up and nose down suspension. This souped-up hot-rod version of its former self has been the work of more than one restoration job over the years, but the current owner, Barry Whitbread, bought Fordie in 2017. Whitbread had been looking for a hot rod that he could modify. As a former military man himself, he was delighted to discover that General Browning had been the original owner.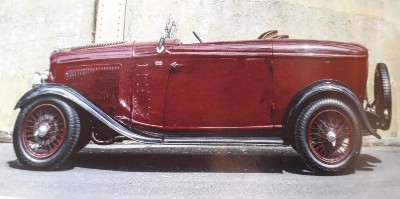 ...and as Fordie in new following her most recent hot-rod makeover
One particularly nice touch is that the colour of the car is now maroon, almost identical in tone to the berets worn by General Browning's WW2 Airborne division. It is unknown if this was by accident or design, but it is a great colour for this particular car.