Questions, answers, and snippets of information shared through the Daphne du Maurier website
We often get messages and questions sent to us by email via the Daphne du Maurier website. Sometimes they are from the media, or from people finding out how they can get permission to use Daphne du Maurier's words or images, or perhaps wanting to reproduce her work in play form. Sometimes people send us a quote and ask if the words are Daphne's and if so from which piece of her writing. We get questions about all sorts of things, and we always try to provide an answer if we possibly can. The question we are asked more often than any other is about Rebecca because people always want to know what the second Mrs de Winter's first name is. Of course, this is one question that we can never answer!
Sometimes people provide us with interesting facts or little snippets of information that we didn't know. We are always pleased to learn something new and share it with everyone who uses the Daphne du Maurier website.
So, here is the first in what we hope will be a lovely long list of snippets of information:
Una rebeca means a cardigan in Spanish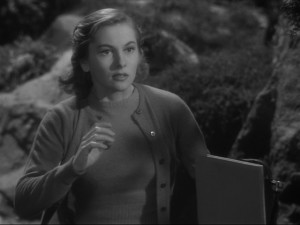 We were recently asked if we knew that the name for a cardigan in Spanish is una rebeca. We didn't know this, but apparently, the name comes from the 1940 film of Rebecca and images of Joan Fonteyn wearing a cardigan.
If you speak Spanish and can confirm or refute this, we would be glad to hear from you.

Also, if you have a snippet of du Maurier related information that you think others won't know, please send them to us.

You can contact us by email at info@dumauirer.org