The Society of Analytical Psychology Zoom Event, on the film and short story of The Birds, with Rupert Tower - 22nd November 2020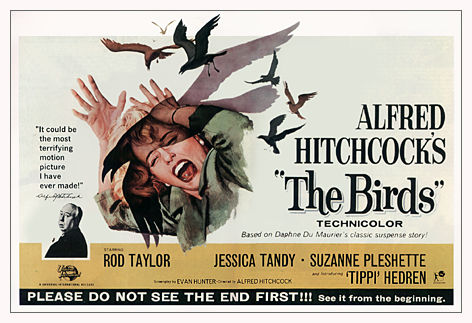 On Sunday 22nd November, The Society of Analytical Psychology held one of their occasional events discussing the work of Daphne du Maurier and its transferral into film. This time the subject was The Birds. Participants were asked to watch the movie before taking part in the event. Because of the pandemic, this was their first du Maurier related event to take place over Zoom, and it proved to be an extraordinarily successful afternoon.
Daphne du Maurier's inspiration for her short story The Birds was the sight of a farmer ploughing his field on the next-door farm to her home at Menabilly. The gulls were wheeling as if they were going to attack the farmer, and this led to Daphne's story of the birds violent and repeated attacks on a small Cornish community. With a dark, elemental tone, her story provided no real explanation for the plague of birds and the apocalyptic violence it described. It seems to anticipate with no little prescience, imminent large scale environmental catastrophe.
Hitchcock fashioned a major work of cinematic art, based on the short story, in which he makes strikingly real the malevolent menace of the birds to seem like the manifestations of his characters' mental unease. Their psychological backgrounds suggest the presence of emotional traumas and fractured histories.
These aspects and many more were discussed by a panel, which comprised Christopher Perry (Chair/Jungian Analyst), Dr Coline Covington (Jungian Analyst), and Rupert Tower (Jungian Analyst and grandson to the late Daphne du Maurier).
The afternoon began with a welcome from Christopher Perry. He introduced the afternoon's speakers, and then gave us a brief account of Daphne du Maurier's short story before the main discussion began. He told us of Nat Hocken and his family, the farm at which he works, and the isolation of the setting.
Rupert joined the conversation by talking about his grandmother and providing some fascinating background information. He said that on a day in October 1951 Daphne was out walking with her friend Oriel Malet. In a field on the farm beside Menabilly, they saw the farmer in his tractor ploughing, and seagulls wheeling around him as if they were going to attack. Daphne turned to Oriel and said that she had often thought how nanny* it would be if all the birds in the world ganged up together to attack us.
'They could you know', she said.
Rupert told us that none of du Maurier children knew much about what was surrounding Daphne as she wrote The Birds. She had just had massive success with September Tide and My Cousin Rachel, and while writing them, she had worked out her inner feelings for Ellen Doubleday, lived out in her relationship with Gertrude Lawrence. Daphne was always aware of her duality and her need to manifest the boy in the box, her imaginative and creative self. In the year that she wrote The Birds collection of short stories, Gertrude died of cancer and Daphne was devastated.
Birds always had a significance in Daphne's life and her writing. When her father Gerald, died instead of going to his funeral, she released two birds. This action flooded back to her eighteen years later with Gertrude's death, as her thoughts turned to the relationship between Gerald and Gertrude, and Gertrude and herself.
Gerald had starred in a film, called Lord Chamber's Ladies (1932) produced by Alfred Hitchcock and co-starring Gertrude Lawrence, who is said to have been Gerald's final lover. So, for Daphne, Gertrude had been a last link to Gerald. Incidentally, Rupert told us, Gerald disrupted the film set with a constant stream of practical jokes, while Hitchcock did this in a more sinister way.
So, Daphne was struggling with her two obsessions, Ellen and Gertrude, and the stress in her marriage as she balanced writing and her husband Tommy, and this was her background when she wrote The Birds, a story set in a close-knit farming community. The real-life farmer that Daphne and Oriel had seen ploughing that day was called Tommy Dunn. Rupert told us that both Daphne and her daughter Flavia (Rupert's mother) were completely menaced** by Tommy Dunn and went out of their way to see him!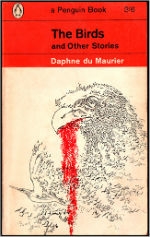 Not only did Daphne show how significant birds were to her, but she also related very closely with other areas of her natural environment, the weather, wind, the feel of the air, the sea, all coming through in her writing. There was a macabre, sadistic element to her short stories, which was less evident in her novels, a feeling that she was working through something with her writing. She knew this could be disturbing to her family, but reviews show that in general people were not so perceptive.
Rupert spoke of shadow projection. In laymen's terms - 'according to Jung, the shadow, in being instinctive and irrational, is prone to psychological projection, in which a perceived personal inferiority is recognised as a perceived moral deficiency in someone else'. (ref: Jung, C.G. 1951. "Phenomenology of the Self." In The Portable Jung. p. 147).
Daphne was aware of her dark side and of her husband's. In her letter to Maureen Baker Munton, written from Menabilly on 4th July 1957, when she was at a desperate moment in her life, she said:
'The evil in us comes to the surface. Unless we recognise it in time, accept it, understand it, we are all destroyed, just as the people in The Birds were destroyed'. (ref: Forster, M. 1994. Appendix in Daphne du Maurier. p. 424).
Dr Coline Covington spoke next and moved the conversation in a new direction by presenting us with several amusing and sometimes quite scary facts about Alfred Hitchcock's movie. Firstly, she told us that attending the premiere at the Odeon, Leicester Square, in August 1963, along with the stars, were two flamingos, fifty red cardinals and starlings and six penguins. Also, as the audience left the Leicester Square cinema, they were accompanied by the sound of screeching and flapping birds from loudspeakers, hidden in the trees to scare them even more.
One of the special effects used during filming was carried out by a bird trainer, who gave the birds wheat and whiskey so that they would not fly, but stayed static, perched on the telephone cables. And the penultimate scene, when Melanie is in the bedroom, took a week to film. The birds were attached to Tippi Hedren with invisible wires so that they kept coming back. She needed a further week in hospital to recover from the trauma of that scene.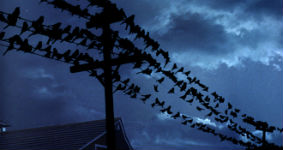 Dr Covington went on to compare the story and the film. The short story of The Birds is set in dark winter in the historical context of the Cold War. Daphne specifically refers to the Cold War in the story. The film is set not long before the Cuban Missile Crisis. The escalation of the masses of birds, in their thousands, could be interpreted as an atom bomb explosion. Russia, threatening the existence of humanity, fear of extinction, communism. In the book, it is suggested that the birds could be foreign, but Nat Hocken says that no, they are birds you see all the time. Anyone can be a communist.

The setting for the film is considerably more populous than in the book. There is a scene at the diner when it is agreed that gulls are always scavengers. Mrs Bundy, a local ornithologist, points out how many birds there are. At the school, the birds gather and threaten the children. The role of Melanie is quite different from a lot of female parts of the time. She is rebellious, sassy, she breaks the rules and upsets the status quo. But once the threat exists, she becomes softer. There is a fear of forces beyond their control.
At this time, in 2020, we can understand the fear of invasion by an environmental event or a virus, climate change and the pandemic are the current forces that generate that same fear of forces beyond our control.
Both the short story and the film of The Birds give us an insight into Daphne's inner struggles with her duality. Nat Hocken – earthy, grounded, salt of the earth, with a knowledge of the sea and the tides, and an understanding of and respect for the forces of nature, is a real manifestation of Daphne's masculine self. Nat has a war disability, as does Daphne's husband Tommy, in his case night terrors from his experiences in WW1. Daphne has an independent spirit, is comfortable alone, a gifted sailor, in touch with her inner self, and so is Melanie. The farmer ploughs his field and tills the land. Like Pandora's box, this can bring up redemption, but also monsters. The bird motifs, and other animals in Daphne's books, can be seen as reflections of the wilder and the tamer sides of her inner self. In The King's General hawks fight and bring down a heron, in Frenchman's Creek Donna sets a linnet free.
There was so much food for thought in this discussion. The Birds, a short story that brings us so much of Daphne du Maurier, as she strove to separate the writer and the boy in the box from the chatelaine and wife, and to maintain who she was.
A huge thank you to The Society of Analytical Psychology for holding this event and sharing their expertise with us.

Notes:
*nanny is part of the du Maurier's language and means anything frightening, or threatening.
**menaced means attracted by.
© Ann Willmore December 2020