A look at the Daphne du Maurier related blogs written by Jo Wing
Jo Wing writes a blog called Return of a Native, a superb literary name which describes her perfectly. Jo was born in London, raised in Sydney, Australia and then returned to the UK as an adult, settling in Cornwall, but travelling widely. On her blog, she explores the lives of creative people and their relationship to place. Jo includes magnificent photographs and references to music, which add atmosphere and resonance to her writing. Luckily for us, one of the people she admires and writes about is Daphne du Maurier, and she has agreed to the Daphne du Maurier website bringing her writing to your attention, by linking you to her blog.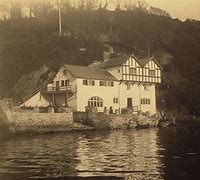 The first article that we bring you is called Here Was the Freedom I Desired, Daphne du Maurier – Bodinnick, Cornwall. This is Jo's account of Daphne and her sister's Angela and Jeanne's arrival in the Fowey area, with their mother, as they searched for a holiday home in Cornwall.
Please read and enjoy this beautiful piece of writing. https://returnofanative.com/stories/here-was-the-freedom-i-desired-daphne-du-maurier/