Recommended reads at this time of lockdown
Well, that was a sentence I never expected to write. When I suggested books for you all to read during the Winter 2019-2020, I was planning to recommend more for Spring 2020, but who could ever have imagined how different this Spring would be when compared to any other.
At first, when the coronavirus struck people were shocked and in a state of complete disbelief. The sudden changes in our lifestyles which began to take place in mid-March were challenging to deal with. As we closed our businesses or began working from home, helping out children with home education and worrying about family and friends that we could no longer see, it was hard to settle to anything.
Now, a month on, in many ways, everything is just as difficult, perhaps even more so. But we humans are more adaptable than we might realise and have, in the main, settled down to doing what we have to do, whether this is on the front line, literally fighting the virus, or by staying at home to reduce its spread. One thing is certain, whoever you are and whatever your role is at the moment, there needs to be time for yourself, to pursue interests or hobbies, to test your brain with sudoku, or to complete a jigsaw, to work in the garden, or paint, or sew, or read a book. And that is of course, where this is leading.
The books that I want to recommend for Spring 2020, unsurprisingly, all have a connection to Daphne du Maurier despite them all being brand new books, published in 2019 and 2020.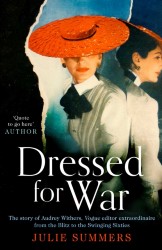 My first choice is a biography - Dressed For War: The Story of Vogue Editor Audrey Withers, From the Blitz to the Swinging Sixties by Julie Summers, published in hardback on 6th February 2020. Audrey Withers was indeed the editor of British Vogue during the Second World War and up until the sixties, and that was a remarkable time for a woman to be in such a position of power and responsibility to the magazine's reading public. But this book is so much more than an account of that time. Julie Summers takes us from Audrey's childhood until her death aged 96. Along the way, we meet many interesting characters, including the artist Paul Nash, the photographers Cecil Beaton and Norman Parkinson. Also the exceptional American photographer and photojournalist Lee Miller who started as a model and became war correspondent for Vogue, covering events including the London Blitz, the liberation of Paris, and the concentration camps at Buchenwald and Dachau.
The Daphne du Maurier link is a fascinating passage when, just after the end of the war, Audrey commissioned Daphne to write a piece for Vogue. The article was called Just Idling Along, and in it, Daphne wrote an account of a day at Menabilly doing absolutely nothing. The joy of a day just pleasing herself and with no responsibilities, which was such a refreshing look at life after the seemingly endless hardships of the Second World War. At the time that Daphne wrote this article, she was rapidly becoming the highest-paid female author in the country and as such was paying tax at the highest rate of the time. So, rather than a fee for her article Daphne negotiated a two-year subscription for both British and American Vogue. Maybe we should take a lesson from this and remember when the lockdown is over, and the virus is eventually under some sort of control that we will all need time to reflect, regroup and spend some time 'just idling along'.
| | | |
| --- | --- | --- |
| My second choice is Bone China, a novel by Laura Purcell, which was published in hardback in September 2019 and paperback this month (2nd April 2020). Written very much in the style of Daphne du Maurier, this is a chilling mystery set, predominantly, at Morvoren House, on an isolated stretch of the Cornish coast. This story of two women takes place in two time periods, forty years apart. Each woman has a dark past, and each holds a secret that ultimately brings them together, in a house full of fear and suspicion. For all of you who love Rebecca and My Cousin Rachel, Bone China is a must for you. | | |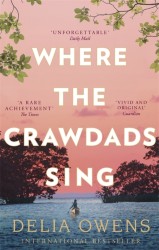 Lastly, I suggest to you all one of the most beautiful and skilfully crafted novels I have ever read. Where the Crawdads Sing by Delia Owens was published in hardback in January 2019, and paperback in December 2019. The book came to my attention because someone commented that it had a reference to Daphne du Maurier's novel Rebecca in it:
With Tate so busy helping his dad, the days dragged slow from nose to tail. Late one evening she took her first novel, 'Rebecca' by Daphne du Maurier, from Ma's bookshelf and read about love. After a while she closed the book and walked to the closet. She slipped on Ma's sundress and swished around the room, flipping the skirt about, whirling in front of the mirror. Her mane and hips swaying, she imagined Tate asking her to dance. His hand on her waist. As if she were Mrs de Winter.
Abruptly she caught herself and bent over, giggling. Then stood very still.
When I first read this passage, out of context, having not read any other part of the book, it struck me as odd. How could anyone write a novel in 2019, and still consider Rebecca to be a love story? At the Daphne du Maurier website we consistently remind everyone that Rebecca is not a romance, it is a study in jealousy. However, I should not have jumped to my conclusion so quickly. The time setting for the book, and the situation that Kya, the girl who reads her mother's copy of Rebecca, is living in, makes it entirely acceptable that she finds love in Rebecca and imagines herself as, perhaps, in a situation not so different to the second Mrs de Winter.
Where the Crawdads Sing will take you to places that few have gone to before, and will lead you into a fascinating, though often challenging world, where survival does not come easily. It is beautifully written and does eventually explain everything you need to know. I cannot recommend this book too highly.
By the way, if you don't already know, a crawdad is a freshwater crayfish.
© Ann Willmore April 2020.