Daphne du Maurier, Alec Guinness, and the London Library
To celebrate the anniversary of the birth of actor Alec Guinness earlier this month (2 April 1914), the London Library shared a photograph of Guinness's application form to join the Library in 1957. The London Library is a subscription lending library, founded in 1841, and at the time that Guinness applied for membership, a current member of the Library had to act as a referee. We were delighted to discover that Guinness's supporter for his application was none other than Daphne du Maurier!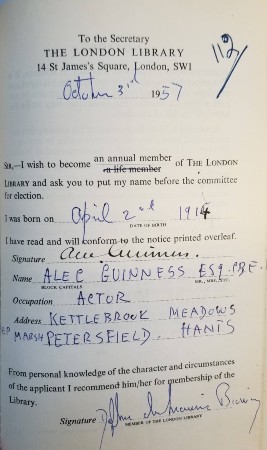 Reproduced with kind permission of The London Library.
In 1957, Daphne du Maurier had published her novel The Scapegoat and there had been immediate interest in the film rights. Daphne had sent the novel to Alec Guinness as she was keen for him to play the lead roles of John and his doppelgänger in the film, as Guinness had a strong resemblance to her father, the actor-manager Sir Gerald du Maurier. Guinness and du Maurier formed a production company to make The Scapegoat and the film was released in 1959. They remained friends in the years that followed, bonding over their shared love of dogs, and Guinness remained an enthusiastic reader of Du Maurier's works.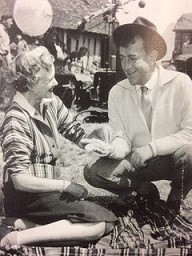 Daphne du Maurier and Alec Guinness on the set of The Scapegoat
The London Library has had many important writers among its members, including Dickens, Darwin, Thackeray, Agatha Christie, Edith Sitwell, Virginia Woolf, and Daphne du Maurier. Actor Laurence Olivier, who played Maxim de Winter in Hitchcock's adaptation of Du Maurier's Rebecca, was also a member. Current members include writers Antonia Fraser and Sarah Waters, both of whom are fans of Du Maurier's work. Du Maurier used the London Library to research her novels, many of which are set in historical periods and show evidence of this careful background reading. When working on The House on the Strand (1969), for example, Daphne sent for books from the London Library on Tywardreath and fourteenth-century history, and when researching The Glass Blowers (1963), books from the library helped her to explore the lives of French émigrés living in London, like her ancestor Robert Mathurin Busson du Maurier. We were delighted to see the connection between Daphne and Alec Guinness in the Library's membership records and we're very grateful to the Library for letting us share the Guinness's membership form.
You can find out more about the London Library on their website: https://www.londonlibrary.co.uk/about-us/historyofthelondonlibrary
You can read more about Alec Guinness and the 1959 adaptation of The Scapegoat in this article on our website: https://www.dumaurier.org/menu_page.php?id=157
Laura Varnam, April 2020.