Maureen Baker-Munton (1922–2013) - a short essay inspired by the sale of her archive of Daphne du Maurier related material.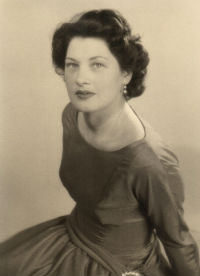 Maureen Baker-Munton
There is to be an auction of du Maurier related ephemera belonging to the late Maureen Baker-Munton (née Luschwitz) at Rowley's Auction House, Ely, Cambridgeshire on Saturday 27th April 2019. The thought of perhaps being able to bid on and subsequently own something that comes from a du Maurier archive excites people and renews their interest in this still enigmatic and intriguing writer, and rightly so. This is a rare opportunity, I can think of only three previous occasions when something similar has occurred.

The first was the Kilmarth sale, shortly after Daphne du Maurier had died, when books, pictures and other items small and large from her home at Kilmarth were auctioned. On this occasion many local people bid on items in order to be able to own a memory of Daphne. Indeed, I am writing this sat at one of Daphne's many desks and on an upright wooden chair (which we refer to as 'the hard chair'), both being lots from the Kilmarth sale. Much of my work relating to Daphne du Maurier is carried out sitting at her desk.

In December 2004 Sotheby's auctioned the Nico Llewelyn Davies archive, which he had given to Andrew Birkin (author of J.M. Barrie and the Lost Boys). Nico was the youngest of Sylvia and Arthur Llewelyn Davies' five sons, and cousin to Daphne du Maurier and her sisters. This archive included much du Maurier related ephemera, principally relating to the generation before Nico and Daphne, including photographs and letters from Guy du Maurier (brother to Sylvia and to Daphne's father Gerald), Sylvia, the boys themselves and of course much written by and photographs taken by J.M. Barrie. On this occasion there was strong bidding on behalf of the Beinecke Rare Book and Manuscript Library, Yale University, Connecticut, so this archive remains largely intact and continues to be an important resource. Andrew donated the entire proceeds of the sale to the Children's Hospital, Great Ormond Street, in the spirit of J.M. Barrie's wishes for all things relating to Peter Pan. He also built a superb website www.jmbarrie.co.uk which provides great information all based on copies of the items that were auctioned.

November 2012 brought the third of these rare du Maurier related auctions and this time it was just one lot, sold through Bonhams: the correspondence from Daphne du Maurier to her dear friend Foy Quiller-Couch, comprised about 150 letters and a small number of postcards send over a period spanning most of their adult lives. The winning bid on this single lot went to a dealer in autographed material and he went on to sell the letters singly. This means that many people are the proud and happy owners of a letter or postcard. I include myself in this as I now own the postcard that Daphne sent to Foy from the Bronte Parsonage in Yorkshire on which she has written how she feels about the happy atmosphere she senses at the parsonage. This way of selling the letters has, of course, lost forever an important and interesting archive of material that could have told us so much about Daphne and Foy and their friendship as it grew and changed over the years.

Moving forwards to the 2019 auction we remind ourselves of who Maureen Baker-Munton was and why her archive is so interesting. Most people who have more than a passing interest in Daphne du Maurier will have read Margaret Forster's 1993 biography and hopefully all those people have now turned to Manderley Forever, the most recent biography of Daphne du Maurier, beautifully written by Tatiana de Rosnay, published in France in 2015, and then in the US and Britain in 2017. Forster's biography, though full to the brim with interesting facts, is perhaps a little dated in style now when compared to de Rosnay's volume.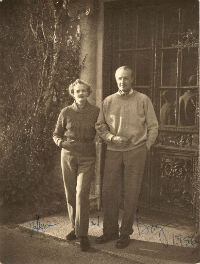 Daphne and Tommy at the front door of Menabilly
Both biographers touch on the place that Maureen Luschwitz, later Baker- Munton, held in the life of the du Maurier Browning family, while Oriel Malet makes only passing reference to her and Judith Cook doesn't mention her at all. Which is surprising because she was a very important friend and stabilising influence in the lives of Daphne du Maurier and her husband for a very long time.

In many ways this is as much the story of Daphne's husband, Lieutenant General Sir Frederick Arthur Montague Browning, as it is of Daphne herself. Also known as Tommy, Boy, Moper, Tib, Guardsman and the General, all the du Maurier Browning family had many different nicknames, but for the purposes of this article I will refer to him throughout as Tommy, his first nickname, given to him by his own family when he was a young boy.
It is well documented that Tommy has been described as 'The Father of the Airborne Forces'. This is not strictly true of course, as the original idea came from Winston Churchill, but without seeming to over simplify things, it was through Tommy that the Airborne Division became a reality and he was appointed General Officer Commanding (GOC) of the newly created 1st Airborne Division in November 1942.

Maureen Luschwitz had been born and brought up in India, and like many young people of her generation, with parents who had settled overseas, she had joined the armed forces so that she could 'do her bit' for King and Country following the outbreak of WWII. Because there were few women in the area, when there was a social event to entertain high ranking or visiting military personnel Maureen would be invited. In the autumn of 1943 Tommy travelled to India to inspect the India Airborne Division and it was during this trip that he met Maureen at one of these social events, a cocktail party. As they got to know each other Tommy soon recognised that Maureen was not only fun to be with, but she would also be an invaluable person to have working for him.

Working as Tommy's personal assistant opened opportunities for Maureen to travel, to mix with some of the most important people of the time and to meet the man she would marry. Towards the end of 1944, following Operation Market Garden, Tommy was appointed as Chief of Staff to Admiral of the Fleet Louis Mountbatten at South-East Asia Command based in Kandy, and among the members of his team that Tommy took with him was his PA Maureen. Tommy would work with Mountbatten until the end of the war, and through him, get to know Mountbatten's nephew Lieutenant Phillip Mountbatten RN, who would marry Princess Elizabeth who later became our Queen. During their time in Ceylon, Maureen met Monty Baker-Munton, a Spitfire pilot, who was in Kandy following a period of time flying in Burma.

Following the end of WWII Tommy was finally able to return home to his wife and family in July 1946. It has often been documented how this reunion went, and indeed if the quotes from letters that they wrote to each other in the time leading towards their reunion are to be believed, one wonders if they were exactly on the same page as regards their future together. But none the less, Daphne was stood on the runway looking young and beautiful and healthy, clearly thriving from her life at Menabilly and Tommy came down the steps from the plane, handsome but somehow remote, and behind him came the most beautiful young woman, who Daphne immediately assumed must be involved romantically with Tommy. Of course, it was Maureen and of course there was no romantic entanglement between her and Tommy, and never had been, and thankfully Daphne realised this and quickly learned to accept and understand Maureen's place in Tommy's life, in including the fact that she was going to continue to work for him even though the war was over.
Very soon after arriving back in the UK Maureen travelled down to Cornwall and made the first of many visits to Menabilly. She quickly found that she got one well with Daphne, and her fun-loving personality ensured that she was popular with the children too. She enjoyed the 'jam a long' way of life at Menabilly and soon became part of it. After a few weeks break during the summer of 1946 Tommy returned to London to take up his new and last major military role, as Military Secretary of the War Office, with Maureen at his side. She became indispensable to both Daphne and Tommy and would often be found working as a part time secretary for Daphne or helping with the children and even running errands for Daphne in London while she stayed put in Cornwall.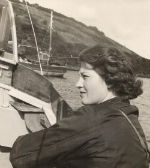 Maureen on Tommy's boat Fanny Rosa at Fowey
Tommy's next work-related move came in January 1948 when he became Comptroller and Treasurer to Her Royal Highness the Princess Elizabeth and her new husband Prince Philip, and again Maureen went with Tommy as his PA. Lord Mountbatten had recommended Tommy for his appointment having appreciated his worth during the time they worked together in Asia during the war. Tommy had of course already met Philip during that time too. In this role Tommy became head of the Princess' staff and he and Maureen travelled with them extensively including the occasion of the Princess and her husband's Royal Tour that ended abruptly when King George VI died, and Elizabeth returned to the UK as our Queen. The Queen now had her own household and so Tommy's role within the Royal family changed and he was appointed Treasurer to the household of the Duke of Edinburgh, with offices in Buckingham Palace and Maureen remaining as his PA.

In the early 1950s Maureen, who had first met Monty Baker-Munton during her time working in Ceylon, met up with him again in London and this time they started a serious relationship. After the war he had returned to Bedford and was working in the family business of Maltsters. Monty, known as Bim, soon got to know Daphne and Tommy and became a welcome visitor at Menabilly. From the very first Daphne had a great affection for Bim and a high regard for his capabilities as a businessman, something that was later going to be a huge help and support to her. Maureen and Bim married in July 1955, with Daphne and Tommy attending the wedding and as was the usual custom of the time Maureen gave up her job at the Palace.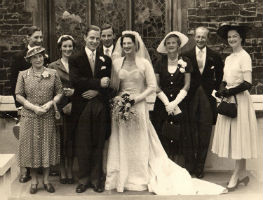 The wedding of Maureen Luschwitz and Monty Baker-Munton
The relationship between Maureen and the Brownings had shifted over time from a work-based friendship to one of depth and great affection, so it was inevitable that the bond between the two families would grow. Soon Maureen and Bim had a little boy called Kristen, Tommy became his Godfather, and annual family holidays at Menabilly became part of the routine, with Kristen joining the ranks of children who played with bows and arrow in the Menabilly woods and had adventures in the Happy Valley on the way down to the 'Rebecca' beach at Pridmouth for fun and games on the beach and in the sea.

Whatever happened in the Brownings' life, Maureen and Bim could be relied upon to be on hand with any help or support that might be needed. When Tommy had his breakdown in the 1950s Maureen and Bim were the only people outside the immediate family who knew in any detail what was happening and Maureen in particular spent time with Tommy, both at the hospital and afterwards, while at the same time supporting Daphne. Then later, when Tommy died, Maureen travelled straight down to Menabilly to support Daphne and help her to reply to the avalanche of letters of sympathy that arrived.

The trust and confidence that Daphne had for Bim became more important during the early 1960s when she appointed him her trustee and, in conjunction with other advisors, he helped her with a range of business issues from investments to work on Kilmarth and dealing with her literary agents Curtis Brown. He became a Director of du Maurier Productions and he and Maureen continued to support Daphne in any way that they could.
Daphne in front of a favourite portrait of Tommy
During the time that Daphne was writing her autobiography, Growing Pains: The Shaping of a Writer, (later known as Myself When Young: The Shaping of a Writer), she turned back to the diaries that she had written throughout her young life until her marriage. When the book was complete, she pondered on the future of her diaries and was anxious about her private thoughts from her youth becoming public property. She turned to Bim with her concerns and it was he who organised a fifty-year embargo on the diaries following Daphne's death. Daphne loved and trusted Maureen and Bim and not wanting to be one of those widowed mothers that leans too heavily on her children, she asked Bim to be Executor of her estate and gave Maureen Power of Attorney.

To celebrate Daphne's eightieth birthday and with the approval of the family Bim contacted Gollancz and suggested that a collection of Daphne's short stories should be published. This negotiation resulted in the publication of Daphne's final book Classics of the Macabre, a beautiful publication containing a selection of Daphne's finest short stories and with stunning illustrations by Michael Foreman.

It is well documented that Daphne had periods of ill health and stays in hospital during the last few years of her life and as always Maureen was one of a small group of trusted friends and family who helped to look after Daphne during this time and continued to always be available, should she be needed, right up until the end. When Daphne died Bim registered her death and he and Maureen joined family at Daphne's cremation and then the service of thanksgiving at Tregaminion chapel. Their work was almost done, in her will Daphne had named Bim as joint literary executor with her son Kits. Forty years of close and loving friendship had drawn to a close.

It is sad but understandable that biographers have not really picked up on the important role that the Baker-Muntons held in the story of Daphne and Tommy's life, but I think that, aside from Maureen's absolute discretion of course, this is probably largely to do with Daphne herself. In my view she definitely compartmentalised her friendships, so there was not a natural flow, among her friends, between one another. This would have meant that when interviewed each person would only have their part of the story to tell and there would not have been a great overlap. In the case of Maureen and Bim this seems to have had the effect of their importance going unrecognised. Their archive holds the clues to their part in Daphne's life and because of the decision to auction it all, the opportunity to tap that archive has gone. I think Daphne would have wanted that, she needed her privacy, after all it is why she asked Bim to organise the embargo on her diaries. It will be a long time yet, if ever, before we know who the real Daphne du Maurier really was, and perhaps that is how it should be.

© Ann Willmore 2019