Daphne du Maurier's appearances in other writers' work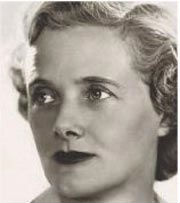 The fictional works of Daphne du Maurier are so embedded in English literature that it is not uncommon for her name, or reference to her or her writing, to appear in other authors' novels. Rebecca is the prime candidate for this treatment of course but all sorts of quotes and references feature in many different authors' work too. In this 'Interesting Fact' we showcase the variety of ways in which Du Maurier appears in a diverse group of writers' works, spanning the twentieth century.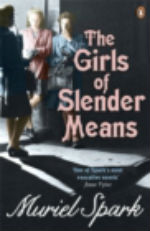 The first example is a reference to Daphne du Maurier herself in The Girls of Slender Means by Muriel Spark, first published in 1963.

In this novel the character Jane is writing to various notable literary people, as instructed by her employer Rudi, in order to obtain autographed replies, which have a value if resold.

Jane learned by experience. Her illegitimate-child letter brought a sympathetic reply from Daphne du Maurier, for which Rudi paid his price. (p. 161)

Although this is just a small moment in the novel, it is realistic and confirms what we know about Daphne's generosity in responding to her fan mail. She often replied to letters and queries and in some cases, even enjoyed a lengthy correspondence with fans who became friends, such as Julie Myerson who went on to become a novelist herself and to write the introductions to the Virago editions of Daphne's novels Julius (1933), Frenchman's Creek (1941), and The Parasites (1949).
In Life After Life by Kate Atkinson (2013), on the other hand, we find reference to Daphne's most popular novel, Rebecca.

Izzie had, sensibly, not chosen to stay at Fox Corner with 'the grieving widow' as she referred to Sylvie, as 'we shall fight like cats and dogs'. Instead, she had decamped to Cornwall, to a house on top of a cliff ('like Manderley, terrifically wild and romantic, no Mrs Danvers though, thank goodness'), and had started 'churning out' an 'Adventures of Augustus' comic strip for one of the popular dailies. (p. 514)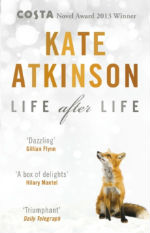 Here the references to Manderley and Mrs Danvers stand alone as both the house and its sinister housekeeper have such power in the literary imagination that neither the original novel nor its author needs to be named. The allusion to Rebecca immediately conjures up the 'wild and romantic' Cornish landscape that Atkinson has in mind.
More unusually Daphne can become a character in another authors' novel as in the case of Jeeves and the Feudal Spirit by P.G. Wodehouse, first published in 1954, when Daphne was at the height of her fame. Here we find a minor but important character called Daphne Dolores Morehead a successful author who visits the house of Bertie Wooster's Aunt Dahlia, whose magazine Milady's Boudoir is often embroiled in financial difficulties in the Wodehouse series. In this novel, Aunt Dahlia has persuaded Morehead to write a serial for the magazine in the hope that the famous author's name will boost the magazine's popularity so that Aunt Dahilia can then sell it on and resolve the financial pickle that she has got herself into.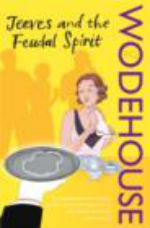 There are many references to Daphne Dolores but in this quote, she has just arrived at the house.

Seppings (the butler) flung wide the gates, there was a flash of blond hair and a whiff of Chanel Number Five and a girl came sailing in, a girl whom I was able to clarify at a single glance as a pipterino of the first water…

she had hair the colour of ripe corn and eyes of cornflower blue…

'Is Mrs Travers around?' inquired this vision, addressing herself to Seppings. 'Will you tell her Miss Morehead has arrived'. I was astonished. For some reason, possibly because she had three names, the picture I had formed in my mind of Daphne Dolores Morehead was of an elderly female… (pp. 173-174)

The initials 'DDM' give us a clue that Daphne Du Maurier is behind Wodehouse's glamorous fictional novelist and the blonde hair, blue eyes, and attractive appearance immediately conjure up Daphne's beautiful image. Wodehouse would have known Daphne, as she grew up and as her writing career soared, through a number of associations with the du Maurier family. They shared a friendship with JM Barrie, in whose famous Allahakbarries cricket team Wodehouse occasionally played, and Daphne's father Gerald and Wodehouse's paths crossed on several occasions in relation to their work in the theatre. So, it is unsurprising that this affectionate portrayal of Daphne and acknowledgement of her success as a writer was his homage to her in his own very successful Jeeves and Wooster stories.
The Daphne du Maurier website would love to hear from you if you have more references to Daphne du Maurier and/or her writing appearing in other authors' fiction. You can contact us by clicking on 'Enquiries' on the website's home page. Please give us as much detail as possible when sending in your quotes and try to include the title, author, publisher, date of publication and page reference. We look forward to hearing from you.

Bibliography:
Atkinson, Kate. Life After Life. (Black Swan, London, 2014)
Spark, Muriel. The Girls of Slender Means. (Everyman Library, New York, 2004)
Wodehouse, PG. Jeeves and the Feudal Spirit. (Arrow, London, 2008)
© Ann Willmore 2018.