Manderley Forever by Tatiana de Rosnay: The UK Launch by Dr Laura Varnam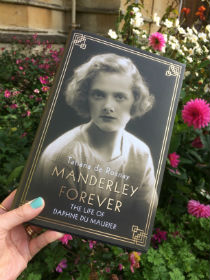 October 5th was a very special day for Daphne du Maurier fans as it saw the UK publication, by Allen and Unwin, of Tatiana de Rosnay's magnificent biography, Manderley Forever: The Life of Daphne du Maurier. This captivating and fascinating biography was first published in France in 2015 and it has since been published in Italy, Denmark, Holland, America, and finally in the UK. Tatiana de Rosnay is a Franco-British novelist and writer who lives in Paris and she is a firm favourite of Fowey Festival-goers after her two appearances in May 2017, in interview with Dr Laura Varnam to discuss Manderley Forever and in a panel event before the UK premiere of the Arte documentary, Daphne du Maurier: Sur les traces de Rebecca ('in the footsteps of Rebecca'), in which Tatiana played a vital role. For the UK publication of Manderley Forever, we were delighted that Tatiana travelled to London and Oxfordshire for three very special events to discuss the life, works, and legacy of Daphne du Maurier.
On 5th October, an audience of around eighty du Maurier fans and family members attended a unique event at the Institut Francais in Kensington, London. Tatiana was in conversation with Daphne's eldest daughter, Lady Tessa Montgomery, interviewed by Dr Laura Varnam (University College, Oxford). Tatiana discussed the process of writing the biography and researching Daphne's life, and the close working relationship that she established with Tessa. A particular strength of the biography is Tatiana's rich and illuminating depiction of Daphne's time in Paris in the 1920s, a part of Daphne's life often neglected by biographers, and both Tessa and Tatiana talked about Daphne's deep love for France and pride in her French heritage. Tatiana explored the way in which Daphne often attributed the dark side of her imagination to her 'French blood' and she also discussed the research that Daphne undertook into her French ancestors that culminated in her 1963 novel The Glassblowers - and her realisation that her family were not descended from French aristocrats called 'du Maurier' after all, but glassblowers called 'Busson'! As a Franco-British novelist, Tatiana is perfectly placed to tell the story of Daphne's life and it was both this dual identity and her wonderful novels that encouraged Tessa, and the rest of the du Maurier family, to trust her to write Manderley Forever. Tatiana's novels- such as The House I Loved, set during Haussman's remodelling of Paris in the nineteenth century- are steeped in du Maurier themes such as family secrets and enchanting, mysterious houses and Tatiana talked evocatively about how du Maurier's works captured her imagination from an early age. Before Tatiana's biography, little was known in France about du Maurier's life and Manderley Forever has now introduced Daphne to a whole new readership and a new translation of Rebecca has been published as a result.
| | | |
| --- | --- | --- |
| | | |
Tatiana de Rosnay, Lady Tessa Montgomery and Dr Laura Varnam at the Institut Francais on 5th October 2017
Both Tessa and Tatiana talked warmly and affectionately about Daphne's personality and character. Tessa recalled a mother full of life and humour, but who shunned the public eye and hid upstairs at Menabilly when the American soldiers came to ask her to sign their copies of Rebecca in the 1940s. An amusing story of Tessa's goats causing hilarity and upsetting a society photographer who had come to Menabilly to photograph Daphne and her children perfectly captured the du Maurier sense of humour. Tessa also spoke about holidays with her mother once she was grown up and about accompanying Daphne on research trips, such as to the Brontë Parsonage in Haworth. Daphne was a wonderful travelling companion and she was close to all of her three children- Tessa, Flavia, and Kits- throughout her life.
In all three Manderley Forever events, the issue of du Maurier's legacy and reputation were at the forefront of discussion. Both Tessa and Tatiana agreed that the popularity of Rebecca and du Maurier's publisher Victor Gollancz's insistence on marketing her as a 'bestseller' did damage to her reputation. In response to a question from the audience, Laura and Tatiana discussed Daphne's prodigious talent for research, in. for example, her 1960 biography The Infernal World of Branwell Brontë, which was the first biography to take the fourth Brontë sibling seriously and to treat him with compassion and empathy. The subject of film adaptations of du Maurier- from Hitchcock's Rebecca and The Birds to Nicolas Roeg's Don't Look Now and the 2017 blockbuster My Cousin Rachel - also raised questions of influence and legacy. Although Tatiana, Tessa, and Laura agreed that no adaptation could be as good as the original books!
It was a unique and special privilege for du Maurier fans to listen to Tessa talking about her mother and we are very grateful for her participation in the event.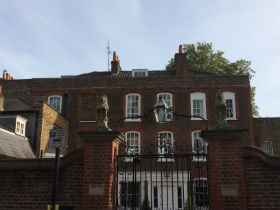 Cannon Hall, Hampstead
On Friday 6th October, Tatiana and Laura went to the Hampstead branch of Waterstones to discuss Manderley Forever. The Hampstead location was perfect for this event because Daphne grew up in Hampstead and so the event began with Tatiana discussing the importance of houses to Daphne's life and work, and the way in which visiting those locations helped her to structure Manderley Forever and to find a way in to the story of Daphne's life. Before the event, Tatiana and Laura visited the churchyard in which many of the du Mauriers are buried - including Daphne's grandfather George du Maurier, the illustrator, Punch cartoonist, and author of Victorian bestseller Trilby; her mother Muriel and her father Gerald, the great actor-manager; and the Llewellyn-Davies family (Gerald's sister Sylvia and her husband Arthur, and their children, who were JM Barrie's inspiration for the 'lost boys' of Peter Pan). Tatiana and Laura also went to see Cannon Hall, the eighteenth-century mansion near Hampstead Heath where Daphne grew up, surrounded by her father's theatrical friends, and at the Waterstones event Tatiana talked about the contrast between Daphne's childhood and teenage years in Hampstead and the freedom represented by her move to Cornwall.
As well as discussing the houses that inspired her fiction, Tatiana's talk ranged widely across du Maurier's works, recognising the multiple genres in which she wrote, from plays to biography, novels to short stories. From the terrifying tales of The Birds and Don't Look Now, to the psychological exploration of The Blue Lenses and The Apple Tree, it became clear that du Maurier's short stories deserved to be better known and that, like her novels, their style and tightly woven plots would transfer brilliantly to the television screen. Once again the event had an enthusiastic and engaged audience, and we were especially delighted to welcome author Kate Morton, whose own novels also show the influence of du Maurier.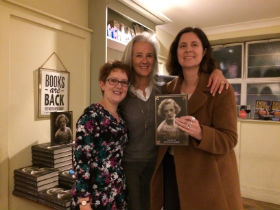 Tatiana and Laura with Allen & Unwin publisher Clare Drysdale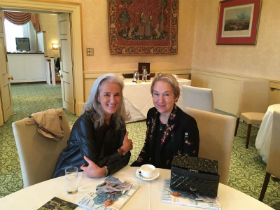 Tatiana and Justine at the Blenheim Literary Festival
The final event took place on 14th October in the exquisite location of Blenheim Palace, at the Blenheim Literary Festival in Oxfordshire. Tatiana was in conversation with Justine Picardie, editor-in-chief of Harper's Bazaar and Town and Country magazines and also a du Maurier expert, having published the novel Daphne in 2008. Daphne focuses on du Maurier's life at the end of the 1950s when she wrote her biography of Branwell Brontë. In a wide ranging and fascinating discussion, Tatiana and Justine discussed the mixture of fiction and biography in their books about Daphne and their own personal relationships with du Maurier's work and life. Both emphasised that had du Maurier been a man, many of the criticisms of her life and work simply would not have been voiced. Throughout the Manderley Forever events Tatiana discussed du Maurier's legacy and both she and Justine Picardie emphasised the modern women writers for whom du Maurier is a major influence (Sally Beauman, Susan Hill, Sarah Waters, Sarah Dunant, Liz Fenwick, to name but a few) and they highlighted the importance of du Maurier's works being published by Virago as modern classics.
With the publication of Tatiana de Rosnay's Manderley Forever, Daphne du Maurier's life and works are back in the public eye and her reputation continues to rise. The du Maurier family were delighted with Tatiana's biography and du Maurier fans will be too. Written with empathy, insight, and intelligence, it is a truly wonderful portrait of a brilliant writer- and just as page-turning as a du Maurier novel. We at the Daphne du Maurier website cannot recommend it highly enough.
Laura Varnam © October 2017.