Welcome to the Daphne du Maurier website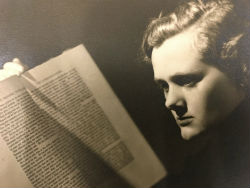 A particularly beautiful picture of a young Daphne du Maurier reading
Interesting pieces of information and news items about Daphne du Maurier are brought to our attention all the time so, to keep up to date, check the website and especially the news pages, regularly.

New to the website this week (8th November 2019), on our du Maurier family page, is a photograph of the marble bust of Mary Anne Clarke. Mary Anne was Daphne du Maurierís great, great grandmother, a courtesan who had a relationship with the Grand Old Duke of York of nursery rhyme fame. It is a very beautiful piece of sculpture, so do have a look.

New to the website this week (24th September 2019) is a piece on the original working title of Rule Britannia and the ongoing relevance of that novel to the current situation with Brexit in the UK. Find this article by clicking on the first item on the Interesting Facts page.

There are two interesting pieces recently added to the website, both relating to Daphne du Maurierís most famous short stories. Firstly, there is a comprehensive review of Donít Look Now by Dr Laura Varnam which you will find on the Interesting Facts page and secondly, donít forget to have a look at Sean Fitzpatrickís interesting review of The Birds in the Book and Play Reviews section. Also, donít forget that we would love you to contribute to the Forum Page, ether with a new question or comment or by responding to some of the strings which have already started.

Thank you all for sharing our interest in, and love for, Daphne du Maurier and for your continued support of our website, Facebook and Twitter pages. Your thoughts and comments are always valuable, and we could not run this website without all of you out there cheering us on.


2018 was a special du Maurier year, the main highlight being the 80th anniversary of Rebecca. This year promises to be a great year for du Maurier followers too. Filming of the new adaptation of Rebecca begins in May, with Lily James as the second Mrs de Winter and Armie Hammer as Maxim. This is to be a collaboration between Working Title and Netflix, with Jane Goldman writing the script and Ben Wheatley directing. There is much excitement and speculation about who will play the role of Mrs Danvers, but the most exciting thing will be how this classic novel will be interpreted for the 21st century.

Other important milestones to remember in 2019 are the 70th anniversary of The Parasites, Daphneís wonderful novel of life in a theatrical family, a book which reveals a lot about Daphne herself, and the 50th anniversary of The House on the Strand. Although these books are less well known than Daphneís big four Cornish novels, they are absolute favourites among followers of her work.

We will be celebrating these anniversaries, along with many other facets of Daphneís life and work, at the Fowey Festival in May. More information about that will appear on our Fowey Festival news page as plans progress.


Watch this space as interesting things happen and new facts come to light in the world of Daphne du Maurier.



In March 2016 we re-launched the Daphne du Maurier website. We extend thanks to the du Maurier Browning family for its on-going support and to John Baxendale for all his work running the site for so many years.

On this site you will find information about Daphne du Maurier's life and work and about her family and associates. There is a forum which provides an opportunity for Daphne's readers, followers, admirers and fans to contribute their views and knowledge, a news page to keep you up to date with the latest information on people, places and events connected with Daphne and much more.

Pictured above is the Gribbin Head, just outside Fowey, a feature of the landscape that was so important to Daphne du Maurier and her writing.

Sir Arthur Quiller-Couch, the great writer and important literary man of Fowey, was often referred to as Q. Recently the Daphne du Maurier website was approached by The Sir Arthur Quiller-Couch Memorial Fund (the Q Fund) asking if we would consider giving him an internet presence. Because of the close links between Daphne du Maurier and Q we happily agreed to this and so it is with real pleasure that the du Maurier Browning family and the Daphne du Maurier website welcome this new section to the website dedicated to Sir Arthur Quiller-Couch. Just click on the Sir Arthur Quiller-Couch link in the side menu to read what we have included so far.

We would be interested in including your articles, news, reviews and snippets of information on the website so come on all you Daphne du Maurier and Q followers, make this your website by getting in touch and sharing what you know.

"I walked this land with a dreamerís freedom and with a waking manís perception Ė places, houses whispered to me their secrets and shared with me their sorrows and their joys. And in return I gave them something of myself, a few of my novels passing into the folk-lore of this ancient place."
(from page 7, Enchanted Cornwall, Penguin Group 1989)