Welcome to the Daphne du Maurier website
| | | | | |
| --- | --- | --- | --- | --- |
| | | Hello to new readers, and welcome back everyone else, as we begin another year at the Daphne du Maurier website. I don't usually comment very much on anything outside of the subject of du Maurier. But the pandemic is something that we cannot, and should not ignore. I think I can safely say that many of us, all across the world, are glad to see the end of 2020 and the difficult times | | |
we have all endured, because of the pandemic, which shook the world in the early part of last year and has been affecting our lives ever since. As we begin 2021 things are still pretty wobbly, with large areas of many countries in lockdown and restrictions almost everywhere. However, we have to remember that the legislation currently curtailing our freedom keeps us safe. The scientists working so successfully on vaccines will, hopefully, soon help us regain our freedom.
Happy New Year everyone.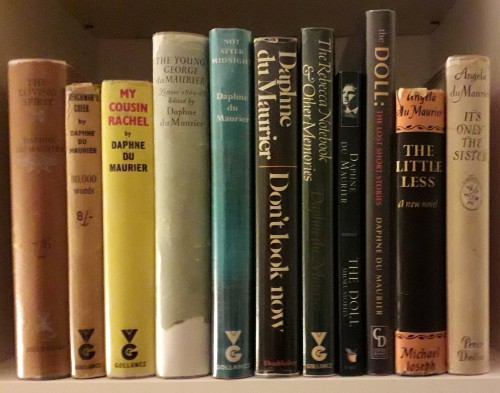 A shelf of books, all celebrating anniversaries in 2021
March 2021
The highlight of our new items on the website during March is the article Sources of Truth by Chris Main, in which he looks at what we know about our very own Daphne du Maurier and how much we can rely on what her biographers have written about her. It is an excellent article, so if you haven't already read it, click on the link now. https://www.dumaurier.org/menu_page.php?id=180
We have added two more snippets to the new section we started last month. This time we have a piece about Robert Maxwell – who would have thought he would pop up on the Daphne du Maurier website! And also, an interesting snippet about the figurehead of the Jane Slade. https://www.dumaurier.org/menu_page.php?id=176
There is a piece about 'Fordie', a car owned by Daphne du Maurier's husband Boy Browning, when their children Tessa, Flavia and Kits were young. https://www.dumaurier.org/menu_page.php?id=181
And lastly, for March, we wrote a piece for you all about Daphne du Maurier: Looking Inward by Teresa Petersen. https://www.dumaurier.org/menu_page.php?id=182


February 2021
February on the website brought us a wide variety of items. Daphne du Maurier's grandson Ned shared a beautiful piece of music with us - his alternative theme for Rebecca. https://www.dumaurier.org/news_details.php?id=747&nc=2
We reviewed Justine Picardie's novel Daphne https://www.dumaurier.org/menu_page.php?id=175 and Suzi Bamblett's timeslip novel The Travelling Philanthropist. https://www.dumaurier.org/menu_page.php?id=177
We began a new page for questions, answers and snippets of information and started with a small piece about una rebeca, which means a cardigan in Spanish. https://www.dumaurier.org/menu_page.php?id=176
Chris Main wrote a fascinating article, for the website, about Milton Hall, the house that inspired Manderley. https://www.dumaurier.org/menu_page.php?id=178
Daphne du Maurier's first novel, The Loving Spirit, reach its 90th anniversary, and to celebrate that event, I wrote an article about Daphne, her family, the Slade family of shipbuilders and how the story of The Loving Spirit came to be written. https://www.dumaurier.org/menu_page.php?id=179
We announced the publication of the English language edition of Tatiana de Rosnay's beautiful new novel – Flowers of Darkness, which is a book that we cannot recommend too highly. You must read it! https://www.dumaurier.org/news_details.php?id=758&nc=2
The one sad announcement that we had to make was that the Fowey Festival of Arts and Literature would not be able to go ahead this year because of ongoing restrictions to keep us safe during the pandemic. However, we had an extra special Festival to look forward to in 2022 and some great zoom events for us to enjoy in the meantime. https://www.dumaurier.org/news_details.php?id=756&nc=2

January 2021

During January we have put various new pieces of information onto the website.
We received news from our colleagues across the pond, in the Daphne du Maurier Society of North America, telling us about their Christmas in Cornwall Luncheon, and putting forward their programme of events for 2021: https://www.dumaurier.org/news_details.php?id=738&nc=2 They also sent us a lovely piece of writing from the daughter of one of their members, 12-year-old Madison, one of Daphne du Maurier's younger followers: https://www.dumaurier.org/news_details.php?id=742&nc=2
Chris Main and I collaborated on an article about Collecting Daphne: https://www.dumaurier.org/news_details.php?id=740&nc=2
and Jo Wing shared some of her beautiful photographs of Daphne du Maurier's Cornwall with us: https://www.dumaurier.org/gallery.php?id=5
We shared with you a great article from Julianna's blog called The Other Rebecca: A trail of books: on Carolina Nabuco's A Sucessora ('The Successor', 1934) and the plagiarism charges against Daphne Du Maurier's Rebecca (1938): https://www.dumaurier.org/menu_page.php?id=173
And we asked if anyone knew of the existence of a biography about Daphne du Maurier in Spanish: https://www.dumaurier.org/news_details.php?id=741&nc=2
We ended the month with Chris Main's article about Daphne's Cousin Dora, an extraordinary old lady, who decided to come and live just minutes up the road from Menabilly, without checking with Daphne first. But brought with her a fascinating history of life in the du Maurier family from late 19th century onwards: https://www.dumaurier.org/menu_page.php?id=174
**********
In the world of Daphne du Maurier, 2021 is an important year with some special anniversaries for us all to consider. The Loving Spirit, Daphne's first novel was published in the UK on 23rd February 1931 and so celebrates its 90th anniversary on that day. This much-loved debut novel is a family saga, based on a real family and set in and around Fowey in Cornwall, where Daphne was to find so much inspiration for her writing. This first novel was, of course, the beginning of a canon of work that we all love to read, re-read, and discuss all these years later. This on-going love for her work confirming that Daphne, who struggled with the title of romantic novelist throughout her lifetime, is a truly great writer, whose importance in literature is growing with every year that passes.
| | | |
| --- | --- | --- |
| | | |
There are several more anniversaries in 2021. In the UK, Frenchman's Creek celebrates its 80th year since publication and My Cousin Rachel its 70th. The collection of short stories called Not After Midnight and Other Stories, published as Don't Look Now and other Stories in the US, celebrates 50 years in 2021. And the book that we are personally immensely proud of here at the Daphne du Maurier website, The Doll: Short Stories is ten years old, this May, both here and in the US.
Then there are two biographical works with special anniversaries. This year is the 70th anniversary for The Young George du Maurier: A Selection of his Letters 1860-67, edited by Daphne and published by her cousin Peter Davies, this book is an excellent contribution to what we know about George du Maurier. It is also a great collaboration by two of his grandchildren. This book is probably one of the least well-known books in Daphne's canon, but it is definitely worth reading if you can find a copy. The last of Daphne's books to celebrate a special anniversary this year is, The Rebecca Notebook and Other Memories published in 1981 in the UK, and so is 40 years old this year.
I also want to mention Angela du Maurier, because two of her books, and perhaps the most important two, also celebrate special anniversaries this year. They are the novel The Little Less, published in the UK and the US in 1941, so eighty years ago, which is remarkable when you consider that this is her controversial lesbian novel. And then there is Angela's first volume of autobiography, It's Only the Sister, published in 1951 and so 70 years old this year. Do try to get hold of a copy of this book. It was reprinted in paperback in 2003, and second-hand copies of that edition should only cost a few pounds. I am sure you would find this book a fascinating read. Daphne said that it was better than her own autobiography Growing Pains. Angela certainly does tell a wonderful tale of herself and her two sisters as they grow up and spread their wings, including the reason for the title of the book, when she was mistakenly recognised as Daphne and then dismissed as – only the sister!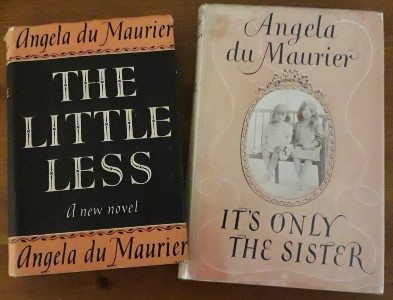 With all these titles celebrating special anniversaries this year, you have immediately got some super choices to add to your 2021 reading lists. What an opportunity to read for the first time or re-read some of Daphne du Maurier finest work.
Keep an eye on this Home Page, our News Page and the Fowey Festival pages, because we will be adding to them as the year goes by.
Your thoughts and comments are always valuable, and we could not run this website without all of you out there cheering us on, so get in touch by email, via the forum or on Facebook and Twitter.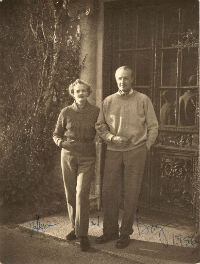 Daphne and Tommy outside Menabilly


In March 2016 we re-launched the Daphne du Maurier website. We extend thanks to the du Maurier Browning family for its on-going support and John Baxendale for all his work running the site for so many years.
You will find information about Daphne du Maurier's life and work, and her family and associates, on this site. A Forum provides an opportunity for Daphne's readers, followers, admirers, and fans to contribute their views and knowledge, a News Page to keep you up to date with the latest information on people, places, and events connected with Daphne, and much more.
At the top of the page, is a picture of the Gribbin Head, just outside Fowey, a feature of the landscape that was so important to Daphne du Maurier and her writing.
Early in 2020, a new organisation called the Daphne du Maurier Society of North America was formed, with their base in Dallas, Texas. They suggested that we forge links with them, and, with the blessing of the du Maurier Browning family, that is precisely what we did. By joining together, we can promote their events and learn from any discoveries that come about through their meetings. We can also share the knowledge and information that is continually growing on our website. Click here to find out more about them: https://daphnedumauriersociety.org
Sir Arthur Quiller-Couch, the great writer and important literary man of Fowey, was often referred to as Q. Some years ago, the Daphne du Maurier website was approached by The Sir Arthur Quiller-Couch Memorial Fund (the Q Fund) asking if we would consider giving him an internet presence. Because of the close links between Daphne du Maurier and Q, we happily agreed to this. So, it was with real pleasure that the du Maurier Browning family and the Daphne du Maurier website welcomed this section to the website dedicated to Sir Arthur Quiller-Couch. Just click here to find out more: https://www.dumaurier.org/sirarthurquillercouch.php
We are always interested in including your articles, news, reviews, and snippets of information on the website. So, come on all you Daphne du Maurier and Q followers, make this your website by getting in touch and sharing what you know.

"I walked this land with a dreamer's freedom and with a waking man's perception – places, houses whispered to me their secrets and shared with me their sorrows and their joys. And in return I gave them something of myself, a few of my novels passing into the folk-lore of this ancient place."
(from page 7, Enchanted Cornwall, Penguin Group 1989)