"I walked this land with a dreamer's freedom and with a waking man's perception – places, houses whispered to me their secrets and shared with me their sorrows and their joys. And in return I gave them something of myself, a few of my novels passing into the folk-lore of this ancient place."
(from page 7, Enchanted Cornwall, Penguin Group 1989)
Welcome to the Daphne du Maurier website
The Daphne du Maurier website wishes everyone a very happy New Year, as we say hello to new readers and welcome back everyone who regularly connects with us through the website and our Facebook and Twitter pages.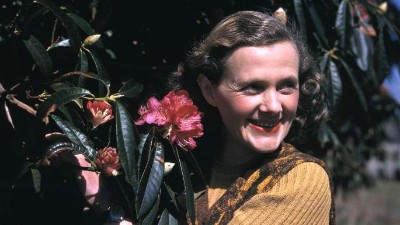 Daphne du Maurier and Rhododendrons at Menabilly
We begin the year by looking at what du Maurier related anniversaries will be coming along in 2022.
On 13th May 2022, it will be 115 years since Daphne du Maurier was born. As many of you know, Daphne's first published work was the short story Terror, which appeared in The Bystander magazine on 26th December 1928. She continued writing and publishing until 1987, when her final work, Classics of the Macabre, was published to celebrate her 80th birthday. This book celebrates its 35th anniversary in 2022.
Classics of the Macabre (left), the signed limited edition (right), and an example of the signatures of Daphne du Maurier and the illustrator Michael Foreman in the limited edition (middle)
Enchanted Cornwall was also published before Daphne died. It was a collaboration between her son, Kits Browning, and the writer Piers Dudgeon and included text from Daphne's Cornish writing.
Daphne met Frederick Browning, known by his colleagues as Boy, and by family as Tommy, when he sailed down to Fowey with his friend John Prescott to see if he could meet the author of The Loving Spirit, which he had just read. Tommy succeeded in his mission on the second attempt, and they were married three months later at St Wyllow Church, Lanteglos by Fowey. So, this is our next significant anniversary as it is 90 years since Daphne and Tommy were married on 19th July 1932.
2022 brings us several other anniversaries relating to the works of Daphne du Maurier. In May 1932, Daphne's second novel, I'll Never Be Young Again, was published, making that another 90th anniversary to celebrate. This was a very differently-paced novel compared with the family sage told in The Loving Spirit. It was a contemporary novel, and Daphne drew on her own experiences and observations to write it. It was the first of five novels that she wrote as the male narrator, a device that she used to significant effect. The book tells a story in two halves of a young man's experiences as he travels and later lives in Paris.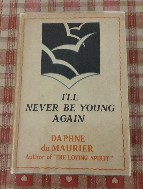 A scarce first UK edition copy of Daphne du Maurier's second novel I'll Never Be Young Again

Other books which celebrate an anniversary this year are The du Mauriers, Daphne's biography about her ancestors, published in March 1937; the single short story Happy Christmas, published in the UK in December 1942; and The Apple Tree, a collection of short stories published in the UK in August 1952 and later known as The Birds and Other Stories. In addition, three novels celebrate anniversaries. The Scapegoat is 65 this year; Castle Dor is 60; Rule Britannia is 50. Vanishing Cornwall was published 55 years ago, and Growing Pains: The Shaping of a Writer, later known as Myself When Young: The Shaping of a Writer, celebrates its 45th anniversary. Sometimes a writers work becomes dated and old fashioned, but one of the interesting things about Daphne du Maurier's writing is that it doesn't date and is as relevant today as it has always been. Rule Britannia is an excellent example of this, having gained a considerable resurgence of interest during the Brexit debacle.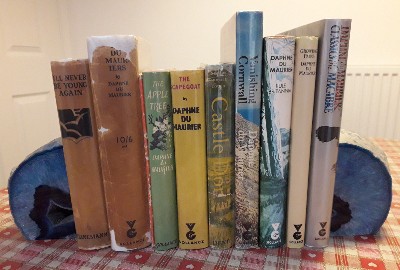 The books celebrating anniversaries in 2022. This copy of The du Mauriers, while rather fragile, is very special because it belonged to Daphne's cousin John Llewelyn Davies, known as Jack, and later his daughter Henrietta
We must mention that Angela du Maurier died twenty years ago, on 5th February 2002.
She also has three books with anniversaries in 2022. Treveryan, published in 1942, is a novel set in Cornwall and probably one of her best works, so definitely worth reading if you haven't already. Shallow Waters, the story of a talented young actress who has to choose between her career on stage and her equally promising career as a wife, published in 1952 and Pilgrims by the Way, Angela's biographical work, based on her visit to the Holy Land, published in 1967.
An image of Angela du Maurier aged about 26, and her three books celebrating anniversaries in 2022
With all these titles celebrating special anniversaries this year, you have immediately got some super choices to add to your 2022 reading lists. What an opportunity to read for the first time or re-read some of Daphne du Maurier's finest work.
Keep an eye on this Home Page, our News Page and the Fowey Festival pages, because we will be adding to them as the year goes by.
Your thoughts and comments are always valuable, and we could not run this website without all of you out there cheering us on, so get in touch by email, via the forum or on Facebook and Twitter.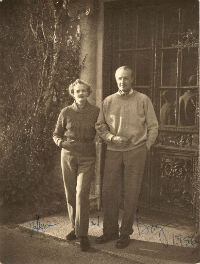 Daphne and Tommy outside Menabilly


In March 2016 we re-launched the Daphne du Maurier website. We extend thanks to the du Maurier Browning family for its on-going support and John Baxendale for all his work running the site for so many years.
You will find information about Daphne du Maurier's life and work, and her family and associates, on this site. A Forum provides an opportunity for Daphne's readers, followers, admirers, and fans to contribute their views and knowledge, a News Page to keep you up to date with the latest information on people, places, and events connected with Daphne, and much more.
At the top of the page, is a picture of the Gribbin Head, just outside Fowey, a feature of the landscape that was so important to Daphne du Maurier and her writing.
Early in 2020, a new organisation called the Daphne du Maurier Society of North America was formed, with their base in Dallas, Texas. They suggested that we forge links with them, and, with the blessing of the du Maurier Browning family, that is precisely what we did. By joining together, we can promote their events and learn from any discoveries that come about through their meetings. We can also share the knowledge and information that is continually growing on our website. Click here to find out more about them: https://daphnedumauriersociety.org
Sir Arthur Quiller-Couch, the great writer and important literary man of Fowey, was often referred to as Q. Some years ago, the Daphne du Maurier website was approached by The Sir Arthur Quiller-Couch Memorial Fund (the Q Fund) asking if we would consider giving him an internet presence. Because of the close links between Daphne du Maurier and Q, we happily agreed to this. So, it was with real pleasure that the du Maurier Browning family and the Daphne du Maurier website welcomed this section to the website dedicated to Sir Arthur Quiller-Couch. Just click here to find out more: https://www.dumaurier.org/sirarthurquillercouch.php
We are always interested in including your articles, news, reviews, and snippets of information on the website. So, come on all you Daphne du Maurier and Q followers, make this your website by getting in touch and sharing what you know.