Welcome to the Daphne du Maurier website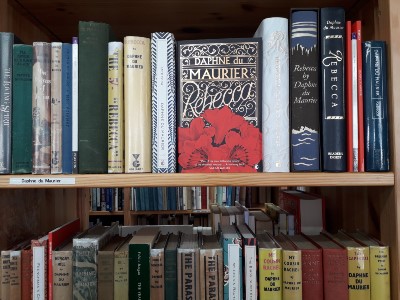 | | | | | |
| --- | --- | --- | --- | --- |
| | | The Daphne du Maurier website extends a warm welcome as you join us through the pages at this site, and our Facebook and Twitter pages. Whether this is your first visit, or if you are coming back to us as a regular follower, we look forward to sharing news and information with you all, as we move through 2020 and all that the year will hold. | | |
As many of you will know, we run Bookends of Fowey, the new, second-hand and antiquarian bookshop in Daphne du Maurier's hometown of Fowey as well as the Daphne du Maurier website. We are operating on a mail/telephone order basis currently, and we would love you to buy your du Maurier books from us, and indeed any other books that you want to read during this time.

Go to our website http://www.bookendsoffowey.com/ and click on 'Covid-19 What we're doing at Bookends' for full information on ordering from us.

*************

May 2020

New to our website is a gorgeous montage of pictures of Daphne du Maurier taken at different times throughout her life. We have put these pictures onto the website now to celebrate the day of Daphne's birth, on May 13th 2007. We also hope it will cheer up everyone who was expecting to have been in Fowey at the Fowey Festival of Art and Literature which take place each May, but which had to be postponed because of the Covid-19 pandemic. You will find the pictures in the Pictures of Daphne du Maurier Photo Album or by clicking here: https://www.dumaurier.org/gallery.php?id=4

If you haven't seen it before, we introduce you to the Daphne du Maurier Perpetual Calendar with artwork by Pat Thuysbaert click here: https://www.dumaurier.org/news_details.php?id=660&nc=2

We also have two fascinating articles based on both the novel and the early film of Jamaica Inn. You will find them within the top item on our Interesting Facts page or by clicking here: https://www.dumaurier.org/menu_page.php?id=161


April 2020

In April we brought you news from the Daphne du Maurier Society of North America, we celebrated the 80th anniversary of the classic film of Rebecca directed by Alfred Hitchcock. We also brought you news of an article from Irish film director, screenwriter, novelist and short story writer Neil Jordan, in which he discussed Daphne du Maurier's short story The Birds. On our Interesting Facts page, we brought you information about Alec Guinness and Cecil Beaton and their connection to Daphne. Then, on the Book Recommendations page, we made some suggestions of books that you might like to read during the lockdown, that we are in the midst of, three books which all have a link to Daphne du Maurier. Watch this space and see what we have in store for May.

March 2020

As you know the Fowey Festival of Arts and Literature due to take place in May has been postponed until late September. The good, indeed excellent, news is that our wonderful Festival Director, Brenda Daly supported by the Board of Trustees has managed to re-book nearly everyone, so the structure of the September Festival looks almost the same. The not so good news is that, as a non-profit charity, the Covid-19 pandemic has come at a terrible time financially. To lose our festival because of financial problems at this stage would be very sad indeed. 2021 will mark the 25th anniversary of the Fowey Festival; a milestone everyone would like to reach.

But you can help.

To raise emergency funds to cover ongoing costs and ensure the festival survives, please join in our crowdfunding scheme and donate what you can. Click here for full information: https://uk.virginmoneygiving.com/charity-web/charity/displayCharityCampaignPage.action?campaignId=11702

March 17th 2020: A statement from the Fowey Festival of Arts and Literature trustees has confirmed that the Fowey Festival has been postponed to September 25th – October 3rd, 2020. For full information, please go to the Fowey Festival page on our website or to the Fowey Festival website www.foweyfestival.com

February 2020

As a new month begins, we have exciting news here at the Daphne du Maurier website. The Daphne du Maurier Society of America is joining us. By joining together, we can promote their events and learn from any discoveries that come about thorough their meetings, and we can share the knowledge and information that is constantly growing here on our website. For more about this exciting development look at our news page http://www.dumaurier.org/news_details.php?id=626&nc=2 and click on the Daphne du Maurier Society of North America link halfway down the righthand side of this page. We are sure you join us in welcoming this new society as we move forwards together in spreading the word about Daphne du Maurier and her writing.

Also new for February, du Maurier expert Dr Laura Varnam attended the Society for Analytical Psychology event about The Scapegoat on Sunday 2nd February. At the event, there was a special screening of the 1959 adaptation of Daphne du Maurier's novel The Scapegoat, followed by a panel discussion about the book and the film. Laura has written an article, for the Daphne du Maurier website, in which she reviews the event and shares some of her research on the adaptation. For the full article, go to our Interesting Facts page or click here: https://www.dumaurier.org/menu_page.php?id=157
Last year we were approached by the new Cultural Centre in Platres, Cyprus, asking us to provide them with information about Daphne du Maurier, who had stayed at the Forest Park Hotel in Platres as a young woman. You can now share with them the information that we sent to Platres by going to the 'About Daphne du Maurier' page and clicking on the second item in the list.
| | | |
| --- | --- | --- |
| We have discovered some fascinating information about the real location of the Rebecca boat-house, which plays an important role in Daphne du Maurier's most famous novel Rebecca. Read all about it on our Interesting Facts pages. | | |
Interesting pieces of information and news items about Daphne du Maurier are brought to our attention all the time, so to keep up to date, check the website, and especially the news pages, regularly.
January 2020

We take this opportunity to look at what anniversaries there are concerning Daphne and her work this year. The original black and white film of Rebecca, starring Joan Fontaine as the second Mrs de Winter and Lawrence Olivier as Maxim, was released in 1940 and so we will be celebrating its 80th anniversary in 2020. This classic film has become a favourite and much-loved interpretation of the novel Rebecca, which Daphne wrote in 1938. Much excitement surrounds the fact that the new adaptation of Rebecca, directed by Ben Wheatley and starring Lily James and Armie Hammer, is due to be shown on Netflix in 2020, an exact date for when this will be has not yet been announced. It will be interesting to see how people favour the new production, which will inevitably be compared with the original.

All the books that celebrate special anniversaries this year are lesser-known works by Daphne du Maurier. Come Wind, Come Weather will be 80 years old in 2020. This unusual little book comprises a collection of wartime stories compiled by Daphne du Maurier for the Oxford Group Moral Re-Armament Movement. Local papers up and down the country published many of the stories, and William Heinemann, who published Daphne's first three novels, produced the collection. It was sold for sixpence a copy, with royalties from the sales going to the charity The Soldiers', Sailors' and Airmen's Association. Each story told a tale intended to encourage and motivate people during the dark days of the war.
The other books celebrating special anniversaries are The Infernal World of Branwell Brontë (1960) Daphne's splendid biography of the Brontë sisters brother Branwell, The Treasury of du Maurier Short Stories (1960), a collection comprising the short stories found in two previous collections, The Apple Tree and The Breaking Point. Both these books celebrate their 60th anniversary in 2020. Lastly, The Rendezvous and Other Stories was published in 1980 and so celebrates its 40th anniversary.
The New Year begins with the second part of the Theatre Royal, Bath's tour of My Cousin Rachel starring Helen George in the titular role. Look out for dates on our news page.

Then in a few weeks, we will have news of what we can expect at this year's Fowey Festival of Arts and Literature the dates of which are 8th – 16th May 2020. Keep an eye on the Fowey festival news page for updates as they come along.

Don't forget to check out our winter reading suggestions by clicking on the Book Recommendations page.

Your thoughts and comments are always valuable, and we could not run this website without all of you out there cheering us on, so get in touch by email, via the forum or on Facebook and Twitter.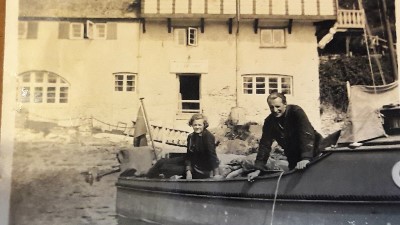 Daphne and Tommy on the river in front of Ferryside


In March 2016 we re-launched the Daphne du Maurier website. We extend thanks to the du Maurier Browning family for its on-going support and to John Baxendale for all his work running the site for so many years.

On this site you will find information about Daphne du Maurier's life and work and about her family and associates. There is a forum which provides an opportunity for Daphne's readers, followers, admirers and fans to contribute their views and knowledge, a news page to keep you up to date with the latest information on people, places and events connected with Daphne and much more.

Pictured above is the Gribbin Head, just outside Fowey, a feature of the landscape that was so important to Daphne du Maurier and her writing.

Sir Arthur Quiller-Couch, the great writer and important literary man of Fowey, was often referred to as Q. Recently the Daphne du Maurier website was approached by The Sir Arthur Quiller-Couch Memorial Fund (the Q Fund) asking if we would consider giving him an internet presence. Because of the close links between Daphne du Maurier and Q we happily agreed to this and so it is with real pleasure that the du Maurier Browning family and the Daphne du Maurier website welcome this new section to the website dedicated to Sir Arthur Quiller-Couch. Just click on the Sir Arthur Quiller-Couch link in the side menu to read what we have included so far.

We would be interested in including your articles, news, reviews and snippets of information on the website so come on all you Daphne du Maurier and Q followers, make this your website by getting in touch and sharing what you know.

"I walked this land with a dreamer's freedom and with a waking man's perception – places, houses whispered to me their secrets and shared with me their sorrows and their joys. And in return I gave them something of myself, a few of my novels passing into the folk-lore of this ancient place."
(from page 7, Enchanted Cornwall, Penguin Group 1989)