Reading Rebecca as Gothic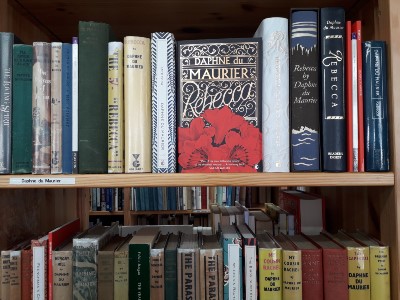 Rebecca is often referred to as a Gothic novel, but what exactly does that mean? Last month at the Fowey Festival of Arts and Literature, Dr Serena Trowbridge presented a talk on the subject, describing what makes a novel Gothic and explaining the rules of what needs to be in a Gothic novel. It is a genre of literature which goes back to the 18th century. Yet, Daphne du Maurerís most famous novel, Rebecca, published in 1938 and still as popular today as it was then, fulfils many of the criteria of the Gothic novel.

Serena is Reader in Victorian Literature at the School of English, Birmingham City University. She teaches a module on Gothic Literature to her final-year students. In the module, they consider novels in the genre, including Jane Eyre (1847) by Charlotte BrontŽ, Rebecca (1938) by Daphne du Maurier and The Little Stranger (2009) by Sarah Waters.
Last year we brought you some excellent essays written by Serenaís students. They described Gothic literature by discussing and comparing a number of different novels in the genre and the elements of the novels that mean they conform to the Gothic.

This year we are delighted to be able to bring you examples of coursework from three of this yearís students. Each of these essays was exceptional and gained their writerís the highest marks. Each takes a Gothic novel and compares aspects of it with Rebecca.
In her essay, Deb Daniel asks the question, Is the passive woman the ideal woman? She writes about The Castles of Athlin and Dunbayne by Ann Radcliffe, published in 1789, and Rebecca by Daphne du Maurier.
Cameron Aitkenís essay, Surface, Appearance, and Representation in Gothic Literature: A Psychoanalytic Approach to Terror and Horror, discusses The Monk by Matthew Lewis, published in 1796 and Rebecca.
How is female sexuality explored in Jane Eyre and Rebecca? in the name of Georgiana Copeland-Brownís essay, in which she discusses Jane Eyre by Charlotte BrontŽ, published in 1847, and Rebecca.

To read the essays on the Gothic that the students at Birmingham City University contributed to the Daphne du Maurier website in 2022, please click
here
.
Ann Willmore June 2023.