University of Exeter Special Collections Archive – significant new acquisitions from the Maureen Baker-Munton Auction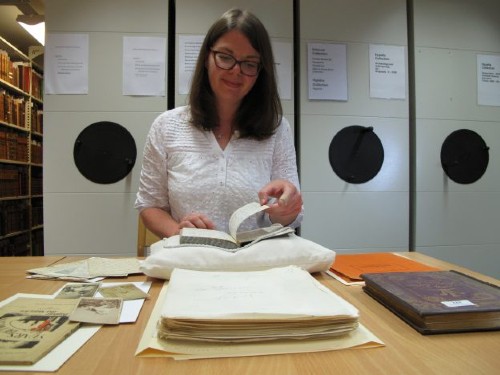 Annie Price with items from the collection
On Saturday 27th April 2019, over 350 lots, comprising the most comprehensive and spectacular collection of books, manuscripts, letters, photographs, and all sorts of pieces of ephemera, originally belonging to Daphne du Maurier, went up for auction at Rowley's Antiques and Fine Art Auctioneers in Ely. This vast collection had come into the possession of Daphne's dear friend and confidant Maureen Baker-Munton, and it was Maureen's death in 2013, which ultimately prompted the auction. There were a number of major bidders at the auction, one of which was representing the Special Collections Archive at the University of Exeter.
Since the auction, Annie Price, an archivist working in the Special Collections Archive at the University of Exeter, has been working on the new acquisitions, cataloguing and recording all the items. We were delighted to discover that during her time working on this archive, she found the information on the Daphne du Maurier Website invaluable to her, as she gradually built a picture of Daphne and grew to know her through the items in the collection. The work is now complete, and from this week, it is possible to search the archive, and indeed to go to the University and use the documents for research purposes.
These acquisitions provide a remarkable and wide-ranging resource on many aspects of Daphne du Maurier's work and life and papers relating to other members of the du Maurier family.
The collection, reference: EUL MS 462, entitled Maureen Baker-Munton collection of papers relating to Daphne du Maurier, contains documents dating from c1809 – 2008.
The items fall into three distinct sections – literary papers, personal papers, and family papers. An unusual aspect of this collection is that Maureen Baker-Munton annotated many of the documents with explanatory notes, giving a personal and valuable first level of curation. This newly acquired material complements and expands the collection relating to Daphne du Maurier that already existed in the Special Collections Archive.
The literary papers, in the new archive, include a fascinating manuscript notebook containing plot notes for Le Remplacant (The Scapegoat), The House on the Strand and The Flight of the Falcon and other papers relating to these three novels, and to Castle Dor. Documents relating to The Young George du Maurier, a book of letters written by George between 1860-1867, which Daphne edited, and her cousin Peter Davies published. Typescript drafts of The Rebecca Notebook and other Memories. Some, sometimes incomplete, typescript drafts of a number of short stories. A manuscript of the poem The Old Ship, some other unpublished poems, assorted research papers and a variety of articles, essays and forewords. Also, within the literary papers are documents related to the court case that Daphne had to attend in New York regarding her novel Rebecca. The family of Edwina Levin MacDonald brought a lawsuit and plagiarism charges against Daphne du Maurier, her American publisher, Doubleday, and David O. Selznick's organisation, which produced the film Rebecca in 1940.
This extensive group of literary papers undoubtedly provides a massive opportunity for students to discover new and different areas of study, for researchers to gain a broader understanding of Daphne du Maurier than the one that already existed, and increases our biographical knowledge of this remarkable writer.

The personal papers include reference to Ellen Doubleday. However, they are mainly an ongoing correspondence that Daphne carried out with Maureen over many years, discussing a wide range of subjects from trivial day-to-day matters to situations of much greater concern. Again, these provide biographical input probably not previously considered.

The third and last section comprises family papers. This fascination section will be of interest to anyone researching du Maurier and her ancestry. It includes documents relating to many family members, including Mary Anne Clarke, George du Maurier and his brother Eugene, Daphne's parents, maternal grandmother and aunt, and Daphne's sister Jeanne.
Used on its own or in conjunction with the du Maurier family papers already lodged in the Special Collections Archive at the University of Exeter, this is a hugely valuable collection, expertly curated by Annie Price.
It is important to remember that while all the du Maurer related documents and papers in the collection are accessible for research purposes, all rights are reserved by The Chichester Partnership. No written material may be reproduced in part or in full without the express prior written permission of the Chichester Partnership c/o Curtis Brown Group Ltd.
Useful links:
The catalogue for the collection is now live:
Please click here: Search Results (ex.ac.uk)

You can browse the collection by clicking on the collection reference number – EUL MS 462. This will take you to a hierarchical view of the collection. Click on the + symbols to expand the folders. You can find a full description of each file or item by clicking on the title of each folder.
There is a blog post about the collection on the Special Collections blog:
https://specialcollections.exeter.ac.uk/2021/08/03/newly-catalogued-the-maureen-baker-munton-collection-of-papers-relating-to-daphne-du-maurier-eul-ms-462/
The article on our website - Maureen Baker-Munton (1922–2013) - a short essay inspired by the sale of her archive of Daphne du Maurier related material, provides background information to Maureen Baker-Munton and how she became such a vital and integral part of Daphne du Maurier's life.
https://www.dumaurier.org/menu_page.php?id=147