Into A Cornish Wind by Kate Ryder – a novel set in Fowey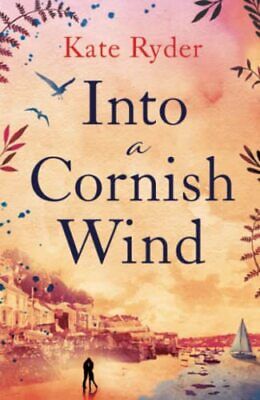 As we move into the month of March, the days are lengthening, and although some days are still very cold and some are a little bit grey, there is a definite feeling that Spring is just around the corner here in Fowey. But, of course, this means it will only be a few more weeks before visitors are heading back to Cornwall for their holidays.

With holidays comes time to relax, and what could be better than a new book to read, something light and romantic that fits the holiday mood. Into A Cornish Wind by Kate Ryder is one such book. First published in September 2022, this is the latest in a number of books with a Cornish setting by this author, who herself lives in Cornwall. Following on from Summer in a Cornish Cove (April 2018), Cottage on a Cornish Cliff (October 2018) and Beneath Cornish Skies (April 2021), Into A Cornish Wind is a particular favourite here at the Daphne du Maurier website because the novel is set mainly in Fowey and includes lots of references to Daphne du Maurier, and locations in the town and further afield. So for any of you who are interested in Daphne du Maurier or who love Fowey, this book will bring the whole atmosphere of the town to you while you enjoy a leisurely holiday read with a difference.

The extra treat with Kate Ryder's writing is her use of magical realism to create a beautiful romance with a touch of ghostliness that will leave you longing for a holiday in Cornwall! And, for those of you who live just too far away to visit, reading Kate's latest novel will bring you to Fowey in your imagination.
I don't want to give away any of the plot, but I can tell you that a young woman called Kat Maddox moves to Fowey for a six-month assignment to illustrate a book about some of Cornwall's great and historic houses. During her time there, she meets, among others, Mac, who is working out of the harbour chartering his yacht, Windsong. Add a little bit of Daphne du Maurier, mentions of The Wind in the Willows, and much more about Fowey, and you can't go wrong.
Into A Cornish Wind by Kate Ryder is published by Embla Books. ISBN: 9781471412509.

March 2023.