The Daphne du Maurier Society of North America – Dates for your diary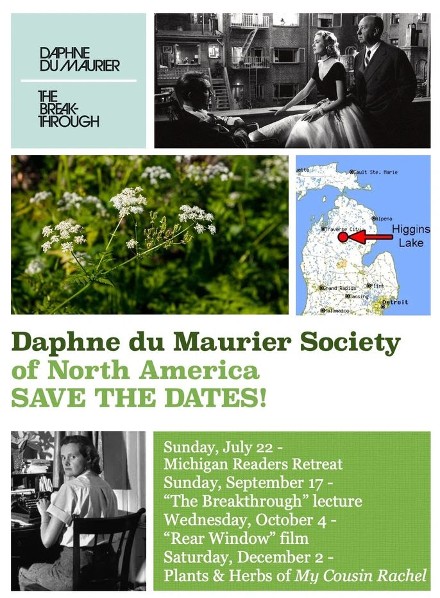 Here are the dates of the Daphne du Maurier Society of North America events from July through to early December 2023.

On Sunday 22nd July, 2pm – 3.30pm, the Daphne du Maurier Society of North America will hold its first reading retreat at Higgins Lake, Michigan. Tea and coffee will be served. The Society has many members in the Higgins Lake – Traverse City area, so it is hoped that lots of you will be able to go along to mix and mingle with other Daphne du Maurier devotees.
The address for the event is:
Cottage Grove Association Dining Hall
212 Old Stage Road
Roscommon Michigan 48653
Higgins Lake.
Regrettably, this event will not be available via ZOOM.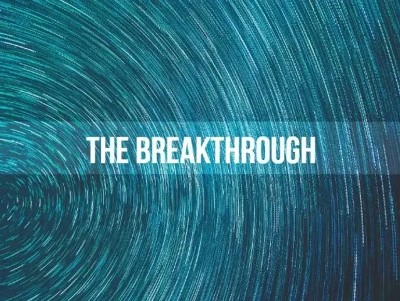 On Sunday 17th September, 1pm – 3pm, the Daphne du Maurier Society of North America will be holding their Fall event, at which University of Dallas scholar Sarah Berry, PhD, will review their 2023 Short Story Study -
The Breakthrough
. Tea will be served. The event takes place at 5214 Palomar Lane, Dallas, TX 75229, and will be available via ZOOM.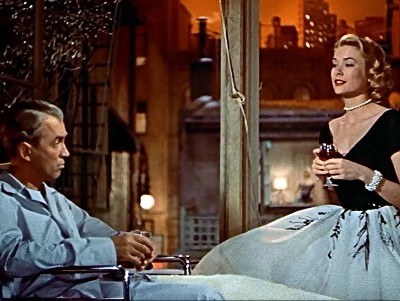 Rear Window, starring James Stewart and Grace Kelly

On Wednesday 4th October, at 7pm, the Society will hold its annual Hitchcock-inspired movie night. Regrettably, no Daphne du Maurier-inspired Hitchcock film is on the schedule this year. However, the chosen film will be Rear Window. This is one of Alfred Hitchcock's best films. The plot is about photojournalist L.B. Jeffries, played by James Stewart, who is laid up with a broken leg and confined to his tiny apartment. To pass the time between visits from his nurse and his fashion model girlfriend, played by Grace Kelly, the binocular-wielding Jeffries stares through the rear window of his apartment and casually concocts a scenario in which a neighbour across the courtyard has murdered his wife. The trouble is, Jeffries' musings may just be the truth!

To book your tickets, please click
here
and follow the link.
The movie will be at the usual venue of:
ANGELIKA DALLAS
5321 E. Mockingbird Ln,
Dallas, TX 75206.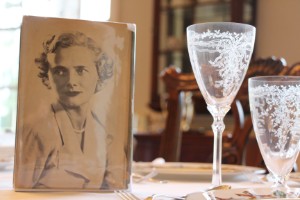 Saturday 2nd December, from noon to 2.30pm, is a most important date, as it is the annual Christmas in Cornwall Luncheon (held in Dallas, Texas rather than Fowey, unfortunately). This year, the day will feature Daphne du Maurier Society President Shirley Kinney, PhD, who will discuss past poisons in her review of the various herbs and plants in Daphne du Maurier's My Cousin Rachel.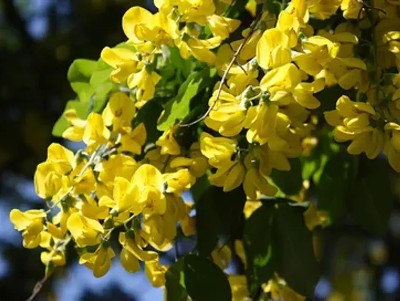 Laburnum!

Luncheon will be served. (no Laburnum, of course).
The event will take place at:
Mena-kinney
5214 Palomar Lane
Dallas, TX 75229
This event will be available via ZOOM.
So get booking everyone, and enjoy! All the links for booking are
here
.