Celebrating the Coronation of King Charles III – 6th May 2023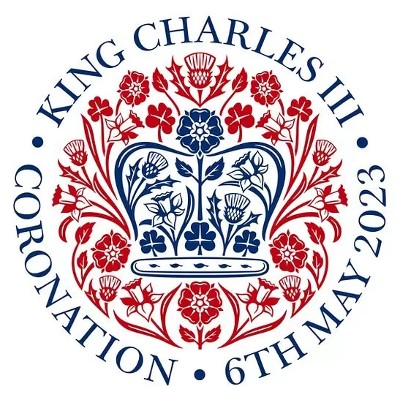 As just about everyone in the country, the Commonwealth, and the wider world must know, on Saturday 6th May, we celebrate the Coronation of King Charles III and his Queen Consort, Camilla.

Everyone is invited through the media of television and the internet. When Queen Elizabeth II was crowned in 1953, hers was the first British Coronation to be televised and so reached vast audiences. It is hard to believe now, but people bought their first television sets specifically to watch the Coronation in 1953. This time the number of people able to share this wonderful day will possibly achieve the largest viewing audience of any event to date.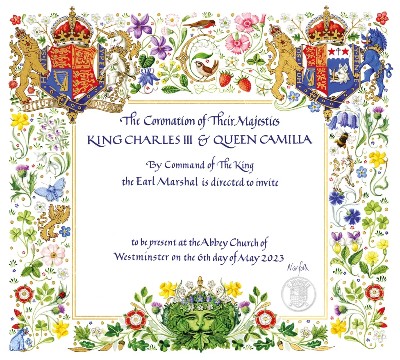 An invitation to the Coronation

This is a tremendously exciting occasion because it will be the first Coronation in living memory for nearly all of us. Britain is second to none when it comes to pomp and ceremony. The Coronation will be filled with traditions and customs from the Coronations of nearly a thousand years of Kings and Queens in this country, with some new and modern touches, particularly requested by our new King.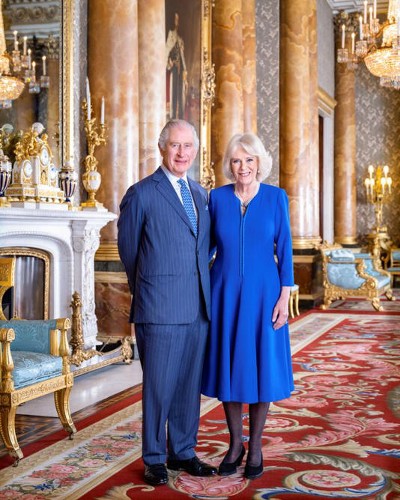 An image of King Charles III and Queen Camilla released just before the Coronation

Because this is the Daphne du Maurier website, I would like us to cast our minds back to Queen Elizabeth II's Coronation and the role that Daphne du Maurier's husband Lieutenant-General Sir Frederick (also known as Boy or Tommy) Browning, played in it.

During the later part of WW2, Boy Browning was appointed Chief of Staff to Louis Mountbatten, Supreme Allied Commander of the South East Asia Command (SEAC). During this time, he met Mountbatten's nephew, Lieutenant Philip Mountbatten RN. In 1947 when Princess Elizabeth married Philip Mountbatten, it was at Louis Mountbatten's suggestion that Boy Browning was appointed Comptroller and Treasurer to the Household of Princess Elizabeth, a role he took up in April 1948, working in offices at Clarence House, Princess Elizabeth and the Duke of Edinburgh's London home. However, when King George VI died, and Elizabeth became Queen, Browning's role changed. He became Treasurer to the Duke of Edinburgh and moved offices to Buckingham Palace.

Because of the role that Boy Browning held within the Royal Family, he and Daphne were invited to the Coronation. Their seats in Westminster Abbey were in block A4, a gallery on the west side of the north transept, which seems to have been reserved for members of various royal households. However, as well as taking his seat in Westminster Abbey, Boy took part in the Procession that followed the Coronation and took the newly crowned Queen from Westminster Abbey back to Buckingham Palace. According to the Picture Post Magazine's Special Coronation Souvenir edition, dated 6th June 1953, the Procession led the Queen and the Duke of Edinburgh on a journey of 5 miles 250 yards and took 1 hour 40 minutes to complete. The Procession itself was 2 miles long, and Browning, mounted on horseback, was just seven rows behind the Queen and the Duke of Edinburgh's Gold State Coach, with other Equerries to the Queen. In a letter to Ellen Doubleday, Daphne told her that Tommy could be seen in the Procession in the movies. However, Daphne's celebrations did not end at Westminster Abbey. She also attended a State Banquet and ate off gold plate! Then went to a Ball at Hampton Court, where she told Ellen that nobody had danced since the time of Charles II.

Images of General Browning, the Queen and the Duke of Edinburgh during the years that he worked for them.

In 2018, the then Duke and Duchess of Cornwall came to Fowey during one of their many visits to the County. They visited several businesses in the town and spoke to many local Fowey people. We were honoured that Bookends of Fowey was one of the businesses they wanted to visit. Prince Charles immediately caught sight of the Daphne du Maurier books on our shelves. He told us that he remembered Boy Browning at Buckingham Palace, working for his father, Prince Phillip when he was a little boy and was very interested to see the wide range of titles of Daphne's books that we sold in the bookshop. It is well known that Queen Camilla has a considerable interest in books and does a great deal to promote books and literature on many different levels. She was delighted to call into Bookends and said she could never resist a bookshop.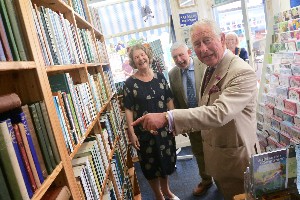 The then Duke of Cornwall at Bookends with Ruth Findley, Mayor of Fowey, David and myself in 2018.

The memory of the now King and Queen visiting our bookshop a short while before we retired is one of the significant landmarks of our time at Bookends and one that we will remember as we watch the Coronation.

Images of the King and Queen released just before the Coronation
We, and we are sure all of you, wish King Charles and Queen Camilla a happy, healthy and long reign as their names are added to the long line of Kings and Queens in this country's history.
© Ann Willmore, May 2023.