A Watercolour by George du Maurier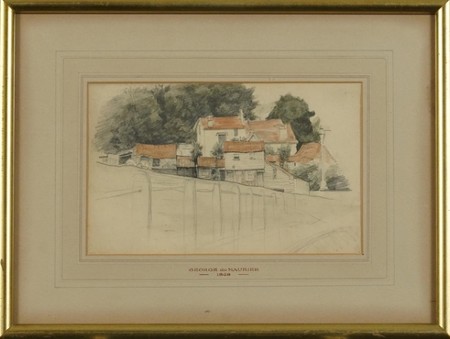 A watercolour by George du Maurier

The Daphne du Maurier website has acquired an unfinished George du Maurier watercolour. It is a scene of the countryside, which could be in France or England, with trees in the background, a group of buildings that look like houses and possibly farm buildings, with fields, fencing, a streetlamp and a path or road in the foreground. The picture has been sketched, but only part of the painting has been completed. George du Maurier is famous as an illustrator for Punch magazine and much less well-known for his watercolours. Indeed, to find a watercolour by George du Maurier is quite a rare thing.
George started his career as an artist after his father had died, and his mother allowed him to return to France and join Atelier Gleyre in Paris, where he learned to paint with other promising artists, including Edward Poynter, Valentine Prinsep, Thomas Armstrong and James McNeil Whistler. Sadly, he was still only a young man when he lost the sight in one of his eyes, ending his hopes of making a career as an artist. However, with encouragement from his dear friend Thomas Armstrong, George returned to London and carved out a career as an illustrator. He began by working for magazines such as Once a Week and Punch Magazine and illustrating books by authors including Elizabeth Gaskell and William Makepeace Thackeray. When a vacancy became available, George joined the permanent staff at Punch, establishing his career with them for the rest of his life. However, George did paint for pleasure, and this watercolour, dated 1868, is probably one such example.
This painting, which does not seem to have a name, does have some provenance, establishing it as a genuine work by George du Maurier. On the reverse are the words:
Given to me by Mary Millar, great grand daughter of George du Maurier 17/5/58.

While we don't know who "me" is, we do know that George's oldest daughter Beatrix married Charles Hoyer Millar and had four sons. Mary was the daughter of their youngest son Gerald Arthur Millar and his wife, Ruth.

The inscription on the back of the painting, which is rather indistinct because of the dark background

When the painting arrived, the back of the frame was a bit untidy, with some of the picture framing pins coming loose, making the whole thing somewhat unstable. We took it to the Atishoo Gallery in Charlestown, and they did an excellent job restoring it without taking away any of the age of the painting and its frame. The watercolour is a beautiful example of George du Maurier's artistry, and we are delighted to have been able to give it a home.
Note: The Atishoo Gallery supports the Fowey Festival of Arts and Literature by sponsoring the Artist section of the Young Writers and Artists Awards each year. They frame the winning entries, enabling the children's work to be beautifully displayed at the Fowey River Gallery in Fowey. Then, after the presentation ceremony, the winning children take home their own framed artwork.

Atishoo is a Cornish art gallery in Charlestown. As well as picture framing, they sell original art, prints, pottery, jewellery, decorative glassware and homewares by British-based artists, craftspeople and design makers.

For details about Atishoo, please click
here.