Daphne du Maurier Museum at Jamaica Inn – Spring 2023
In August 2022, we brought you news that Jamaica Inn had changed ownership and was now to be run by The Coaching Inn Group. We speculated on what the future of Jamaica Inn would hold and particularly what the future of the Daphne du Maurier museum within the Inn would be.
We are happy to be able to tell you that much work has been going on since then. The Daphne du Maurier and the Smugglers museums were closed for a short time at the beginning of this year. And now, the Inn has re-opened the two museums, refurbished and looking splendid.
There has been a Daphne du Maurier museum and a Smugglers Museum at Jamaica Inn for many years. Indeed, at one time, the famous Mr Potter's Museum of Curiosities was also housed at Jamaica Inn, but that was sold at auction in 2003.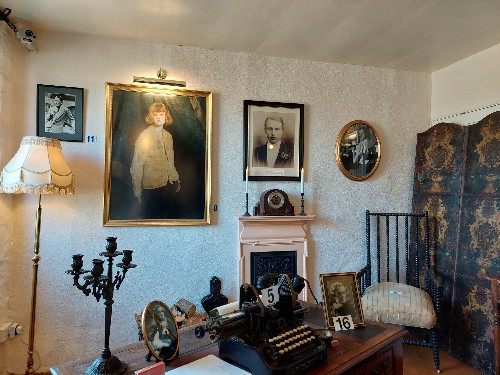 The newly decorated original room in the Daphne du Maurier museum at Jamaica Inn

The original Daphne du Maurier museum opened in 1990 and initially comprised a single room furnished with items purchased at the Kilmarth Sale following Daphne du Maurier's death. The room was laid out with a desk and a typewriter, a chair and other pieces of furniture, ornaments, pictures, photographs and other items, making it look as if Daphne had literally just stepped out of the room. There was also a glass-fronted cabinet displaying a number of Daphne du Maurier's books, some of them foreign language editions. Daphne's grandson, Robert Browning, opened the original museum on 11th April 1990. That room remains an essential part of the Daphne du Maurier museum today. While the work was being carried out at the beginning of this year, the room was redecorated, a few softening touches added, and new information about Daphne's French Grandfather, George du Maurier, put in place.
Over the years, items were added to the museum, most notably in 2019 following the Maureen Baker-Munton auction, at which the then-owner of Jamaica Inn, Alan Jackson, obtained many interesting lots. However, as items were added bit by bit, the clarity of what the museum was saying got somewhat lost, and although there was lots of interest to see, it was not so well organised. The new owners addressed this when the museum was closed at the beginning of this year and now present a beautifully laid out museum, with information in clear sections, looking at different aspects of Daphne du Maurier and her family's life.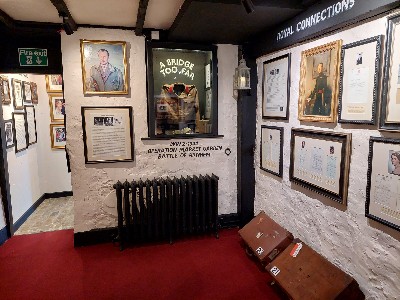 The display showing General Sir Frederick Browning's military career and life working for the Royal Family

As visitors move on from the original room, they are led into a larger space where they can look at different aspects of Daphne's life. Appropriately, this begins with looking at Daphne's parents and her upbringing. Then there are areas looking at Daphne's husband, General Sir Frederick Browning's military career and later role working for the Royal Family. There is a glorious section called
Messing About in Boats
, which looks at the many boats that the du Maurier Browning family owned with lots of interesting photographs. Most important is an area devoted to Daphne du Maurier's writing, including references to her works that were made into film and letters associated with her writing career. There is also a section which looks at Maureen Baker-Munton and her husband, Monty. Maureen was initially Boy Brownings PA, but later she and her husband became lifelong and enormously important friends to Daphne and Boy. Through the items purchased at the 2019 Maureen Baker-Munton auction, this section gels together the story of Daphne's later life bringing together the contents of the museum in a delightful cohesion. Please click
here
to read more about the relationship between Maureen Baker Munton and the du Maurier Browning family.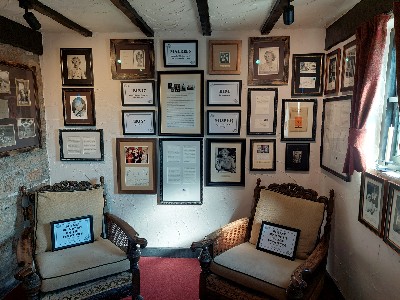 The display showing the important connection between Daphne and Boy Browning and the Baker-Munton's

The last part of the Daphne du Maurier museum is a vast glass cabinet full of books, many signed by Daphne, and some small items of ephemera. A notable treasure in the glass cabinet is a very attractive art deco cigarette box that once belonged to Daphne's father, Gerald du Maurier. It is inscribed with a presentation date of 1916. At some point following Gerald's death, Daphne's mother, Muriel, had given the box to a local woman as a gift. The box was sold many years later (2007) at Jeffery's Auction Rooms in Lostwithiel to Jamaica Inn, where it is now proudly displayed.
When the work was being carried out, other interesting discoveries were two rather special books. One was from the Hollywood actress Joan Fontaine, who played the second Mrs de Winter in the Hitchcock film Rebecca, and Dona St. Columb in Frenchman's Creek. She had presented Daphne with a copy of her autobiography, dedicated to Daphne and thanking her for changing her life by writing Rebecca. It seems Joan visited Daphne at Kilmarth in the late 1970s and may have given her the book at that time. The other book was given to Daphne by the popular Irish singer Val Doonican. Daphne was a fan of Val Doonican and enjoyed his television programmes. When he came to perform in Cornwall, she was not well enough to go and see him, so her housekeeper, Esther Rowe, invited him and his wife to Kilmarth, a visit that Daphne received warmly.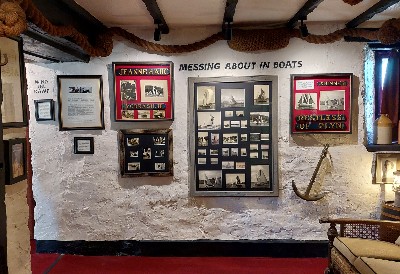 The Messing About in Boats display
The Daphne du Maurier museum then leads into the Smugglers Museum, which is itself full of interesting items and information relating to the long history of smuggling generally and, more specifically, concerning Cornwall. Before leaving the two museums, it is possible to take a seat in the small cinema and watch a film about the history of Jamaica Inn, with a section specific to Daphne du Maurier and her novel, Jamaica inn.
Here at the Daphne du Maurier website, we were delighted to agree that the team carrying out the work on the museum should use information from the website to help them with the display setup and with wording for the new and very tasteful information boards that support the various sections in the museum.
A visit to the museum is a positive delight, and we recommend that people travelling down to Cornwall make a point of breaking their journey at Jamaica Inn. After years of a fairly average experience, which Alan Jackson had made great strides towards improving, the new owners of Jamaica Inn now provide a truly enjoyable visit. We had a delicious lunch in the bar on a quiet wintery day, but there is lots of space, so even on a busy day in high summer, a coffee, snack or some lunch would be a treat.
Visitors can, of course, enjoy an evening meal and can stay at the Inn. Some of the rooms are believed to be haunted, so that will add an extra level of excitement to an overnight stay. And there is even a Daphne du Maurier suite, one of the larger bedrooms, containing duplicates of some of the more pertinent items from the museum to give it a truly Daphne du Maurier feel.
There are two shops at Jamaica Inn, the well-known gift shop, which has been established for many years, selling books, ornaments, gifts, and lots of pocket-money priced toys and souvenirs to suit the budget of visiting children. A more recent addition to the Inn is the Farm Shop, which has a wonderful, principally Cornish range of products and gifts, including teas, biscuits, fudge, and so much more.
The history of Jamaica Inn and its location on Bodmin Moor is vast and fascinating, and does, in no small part, owe a considerable amount of its fame to Daphne du Maurier and her novel of the same name, so do consider a visit if you can.
Ann Willmore March 2023.