Life, Legend and Landscape: the Autobiographical Sub-text and Historical Background to Castle Dor by Sir Arthur Quiller-Couch and Daphne du Maurier by Jane Prince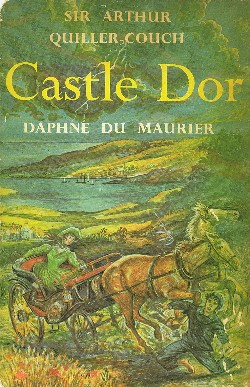 An image of the 1962 Dent edition of Castle Dor (UK first edition)

Last year we introduced you to Jane Prince, who writes for the Arthur Quiller-Couch website. In August 2022, we linked you with her article about Daphne du Maurier and her friendship with Foy Quiller-Couch, Clara Vyvyan and Oenone Rashleigh. To reach this article go to our Interesting Facts page. In November, we put a piece on the Sir Arthur Quiller-Couch section of our website, leading you to more of Jane's articles that, though principally relating to Sir Arthur, had interesting elements referring to Daphne du Maurier as well.
Jane has just published her most recent article on the Sir Arthur Quiller-Couch website entitled Life, Legend and Landscape: the Autobiographical Sub-text and Historical Background to Castle Dor by Sir Arthur Quiller-Couch and Daphne du Maurier. This remarkable article is possibly her finest piece of writing yet and is a must-read for everyone interested in the novel Castle Dor. As you will remember, the novel was started by Sir Arthur and then put away until his daughter Foy discovered it after his death and later asked her dear friend Daphne to complete it. The novel retells the story of Tristan and Iseult, setting it in the Fowey area in the mid-19th century. It is a complex and beautiful story important in its own right because of the two great writers who produced it and because of its links to the legend of Tristan and Iseult and the history of Cornwall.
Jane's paper is an excellent piece of writing, thoroughly researched and full of information drawn from many sources that have never been brought together before. We are confident that you will be fascinated by it and discover much you didn't already know.

Here is the introduction to Jane's paper:

This study is not a literary criticism but a discussion of the background to
Castle Dor
and references in the text, which reflect not only the context of the two authors lives, motivation, and research but also local topography, Cornish history and folklore relating to the legend of Tristan and Iseult, upon which the novel is based.
In her preface to the 1962 Dent edition, Foy Quiller-Couch, daughter of Sir Arthur Quiller-Couch ('Q'), explains how the manuscript came into her possession on his death in 1944 and how in 1959, after re-reading it, she decided to ask her great friend Daphne du Maurier to finish the novel, in spite of Q's opinion that it would never be good enough to publish…
To continue reading Jane's paper, please click
here
.