Isla - The Rook with a Book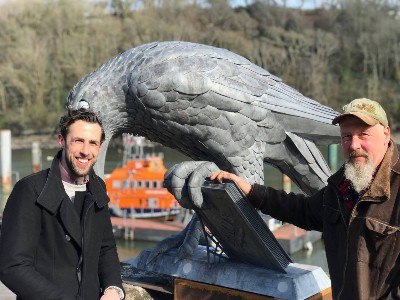 Thomas and Gary with the Rook with a Book at her original loction, Berrills Yard, Fowey

We are always pleased to receive emails via the Daphne du Maurier website, whether from someone offering new information, commenting on something we have written about or asking a question. The interaction we have with you all is one of the best things about running the Daphne du Maurier website.
Last week we received a question about the Rook with a Book, the beautiful sculpture which is now located on the Town Quay in Fowey. It has been some time since we mentioned the Rook, so we thought it was time to write about her. Although there will be many people who know about her and will have seen her, there will be just as many who don't know anything about her.
The story began in 2015, with Fowey businessman Mike Redmond, who, in his role as Chairman of the Port of Fowey Chamber of Commerce, had a conversation with father and son team Gary and Thomas Thrussell, metal sculptors based on Bodmin Moor in Cornwall. Gary and Thomas had made some spectacular giant sculptures of insects that can be seen at the Eden Project. But, unfortunately, Fowey had no public art and nothing to commemorate Daphne du Maurier, the town's most famous author.
Because wonderful things sometimes happen. Gary and Thomas sculpted the most beautiful Rook, clutching a copy of Daphne du Maurier's short story The Birds in her claws, and agreed for her to be installed beside the River Fowey at Berrills Yard in Fowey for a period of two years. She is beautiful and is a perfect monument to Daphne du Maurier, who loved birds and repeatedly wrote many different breeds of birds into her fiction. The Rook is also just a little sinister, and so is a great reminder of Daphne's most famous short story, The Birds.

You will have noticed that I keep referring to the Rook as she. This is because when she was completed and installed at Berrills Yard, the Thrussell family had a new grandchild, a little girl called Isla, and the Rook was given the same name.
Daphne du Maurier's son, Kits Browning, unveiled the Rook with a Book at a well-attended ceremony on a freezing cold day in March 2018. So, there she was, and thousands of people flocked to see her. Hundreds of people had their picture taken with her and soon discovered that if you held your phone or camera at the right angle, you could take a fabulous photograph of Ferryside, the du Maurier Browning family home, in the distance through the curve of the Rook's beak.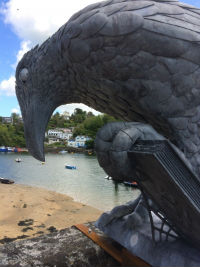 A view of Ferryside within the Rooks beak and claws

When the two years came to a close, Gary and Thomas Thrussell very generously agreed that the Rook could stay in Fowey. So, they built her a new plinth and moved her to Town Quay, where she has lived ever since and will continue to do so. Town Quay is a perfect spot for her as it is somewhere that everyone who comes to Fowey spends time, so now Isla, the Rook with a Book, is seen by even more people and enjoyed by everyone as Fowey's very own beautiful piece of public art.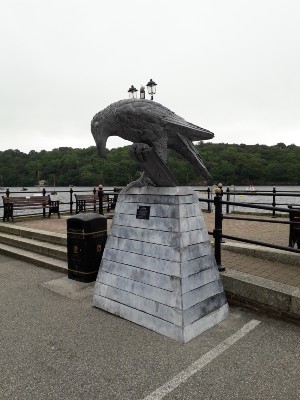 The Rook with A Book in her permanent location on Town Quay, Fowey
The interest in the Rook with a Book was such that the Thrussells decided to make miniature replicas of her. They achieved this by recreating her in dark pewter resin from a 3D scan of the full-size sculpture, with every feather and detail captured to create a true miniature statue. It is possible to buy a miniature statue of the Rook, either on her own, under a glass dome or standing on a small eclectic pile of Observer books.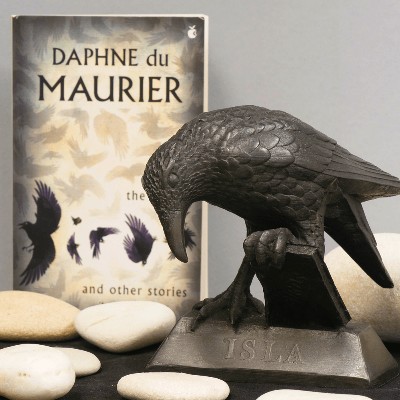 A minature statue of the Rook with A Book, beside a copy of Daphne du Maurier's short story collection

Thrussell's also sell some other merchandise with the Rook with A Book on them, including tee shirts, hoodies, cushions, water bottles, mugs and much more. To find out more about Fowey's beautiful Rook with a book, about Gary and Thomas Thrussell and their work, and how to buy a beautiful little statue of the Rook, please click
here
to reach their website.
Ann Willmore November 2022.