The Doll by Daphne du Maurier – some background information and a Podcast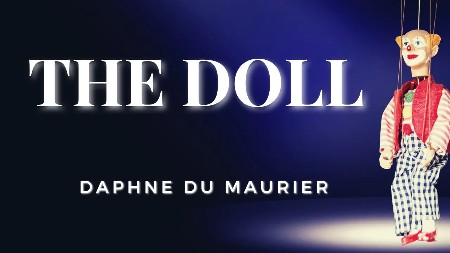 Tony Walker runs the Classic Ghost Stories Podcast. This week he has added a podcast about what must be Daphne du Maurier's most contentious short story, The Doll. Join him as he reads this incredible short story to you and then adds his thoughts on Daphne du Maurier's life and work and this story in particular.

And, here's a little extra information about The Doll.

Many years ago, reading Daphne du Maurier's biography, Growing Pains: The Shaping of a Writer, later renamed Myself When Young: The Shaping of a Writer, I stumbled upon the reference to The Doll. (Growing Pains, published in 1977 by Victor Gollancz Ltd., London, page 117).

Daphne had been allowed to stay on her own at Ferryside so that she could write in peace and solitude. As the New Year of 1928 began and the rest of the du Maurier family returned to London, Daphne was working on a short story called The Doll. Notes about it in her diary reminded her of that moment when she wrote her biography nearly fifty years later. But what had happened to that story? There seemed to be no trace of it anywhere, not at her literary agents, not among her papers. Just a few lines in her biography that told us the story had ever existed.
For years after Daphne died, there was still no trace of that particular short story. Many of her papers had been lodged in the Special Collections Archive at the University of Exeter, including several outlines of potential short stories and completed early short stories, some of which had never been published. But there was no trace of The Doll. I searched the major libraries, such as the Bodleian and the British Library, which have copies of every book published, but nothing. I searched widely on the internet and through the book trade for years until one day, a result popped up on an AbeBooks search. A bookseller had a copy of The Editor Regrets… edited by George Joseph, published in 1937 and comprising fifteen short stories, all of which had been rejected by book and/or magazine publishers. The bookseller had been meticulous in how he entered the book for sale, naming the title of each short story and the author. Without that attention to detail, I might never have found the story, so I am indebted to that bookseller. Of course, I ordered the book immediately.

Even though I knew Daphne du Maurier's writing very well and could appreciate how bizarre some of her short stories can be, I was astonished when I first read The Doll! So, this was the story I had been searching for, for so long. But, my goodness, was I glad I had found it!

Looking at The Editor Regrets…, I could form a theory of how Daphne's short story came to be published in this volume in 1937 rather than when it was written in 1928. First, I believe it is possible that Daphne's father or another family member intervened and discouraged its publication at the time it was written. If this is the case, they were perhaps right to do so because Daphne publishing this particular story at that time could easily have completely altered the path of her writing career.

Curtis Brown was Daphne du Maurier's literary agent from the beginning of her writing career and remains so to this day. In the earliest days, a young man called Michael Joseph handled her work, receiving her short stories, advising her on them and then trying to place them for publication. He later became a publisher, his company being the very well-known Michael Joseph Ltd. This was the company that published The Editor Regrets… and it seems likely that Michael still held the manuscript for the, at that point, unpublished story of The Doll. Unfortunately, The Editor Regrets… is a very scarce book, so obtaining the first publication of The Doll is still by no means easy.
However, we were absolutely delighted when Virago agreed to publish the collection called The Doll: Short Stories in 2011. The collection went on to be published in the US and across the world. The book contains thirteen short stories. Some were originally published in the UK in Early Stories, but others had never been published in book form. There are some great stories within the collection and some fine examples of Daphne's earliest work, but The Doll has inspired the most interest, and why not! It is the most remarkable short story, particularly when you consider that it was written in 1928 by a young woman of only twenty from a relatively sheltered, upper-class family.

For anyone who has not yet read The Doll, I do not want to spoil the element of shock and surprise this story evokes. But where did Daphne's inspiration for The Doll come from?

In the late 18th and 19th centuries, there was tremendous interest in automaton, moving mechanical devices which performed various functions according to a predetermined set of coded instructions. These mechanical devices were often made to imitate humans and produced as clowns, acrobats, musicians, etc.
Automatons found their way into fiction too. Excellent examples can be found in the works of E.T.A Hoffmann, probably best remembered for his story The Nutcracker and the Mouse King (1816) and, more significantly, The Sandman (1817). This story was adapted into the ballet, Coppélia (1870), full of life-sized mechanical dolls. And The Dancing Partner (1893) by Jerome K. Jerome, in which a life-sized male dancing doll crushes his partner.

Daphne du Maurier read widely throughout her life, and it could be that these or other stories about automatons planted the seed in her mind that later became The Doll. But unfortunately, without any documentation about The Doll, other than the brief reference that she quotes from her diaries, we may never know.

If you don't already have this collection of Daphne du Maurier's earliest short stories, do get a copy. But meanwhile, listen to Tony Walker reading
The Doll
to you on his
Podcast
.
Two examples of book covers, both Virago editions of The Doll.

The Doll: Short Stories, published by Virago 2011, ISBN: 9781844087358.


Ann Willmore July 2022.