A look at two letters written by Sir Arthur Quiller-Couch
The section for Sir Arthur Quiller-Couch on the Daphne du Maurier is included because of the close link between Sir Arthur's family, particularly his daughter Foy, and Daphne du Maurier. In Fowey, Q, as he is often known, is the town's, greatest literary man. In his lifetime, he was hugely influential in the town, across Cornwall and in the academic halls of both Oxford and Cambridge.
Sir Arthur Quiller-Couch and Daphne du Maurier are still considered the two great literary voices of Fowey, Q in the late 19th and early 20th century and Daphne following on through the 20th century. Daphne's huge success and popularity somewhat eclipsed the, by then, a little dated writing of Q.
Of course, our main interest on this website will always be Daphne du Maurier. Still, sometimes it is good to take a look back at this remarkable man, Sir Arthur Quiller-Couch. He did considerable good in his lifetime, supporting his town, improving education throughout Cornwall, educating young adults at university level, writing fiction, poetry and factual and educational texts, and much more.

Sir Arthur Quiller-Couch
For many years, I have had in my care two letters that Sir Arthur Quiller-Couch wrote to a family who were friends and neighbours in Fowey. They are both beautiful examples of the writing of a man of great integrity, his incredible ability to use the English language to perfection, and his kindness and understanding of others.
Sir Arthur, his wife Louisa, and their daughter Foy lived at the Haven on the Esplanade. Arthur Hern, the manager of the bank in Trafalgar Square, Fowey, his wife Mercy and their daughter Dorothy lived at Albany Villa, just across the road from the Quiller-Couch's. They were friends for many years. Both families had lost a son. Arthur Hern's baby boy had died of tubercular meningitis in 1893, at only three months of age. And Q's son Bevil had lost his life in Germany in the influenza pandemic of 1919, having survived on the frontline for the entirety of the Great War.
The first letter is practical and down-to-earth but a glowing account, written with Q's characteristic style. It was written as a testimonial or reference, as we would more probably call it now, for Dorothy. Q wrote it from The Haven on 16th September 1921.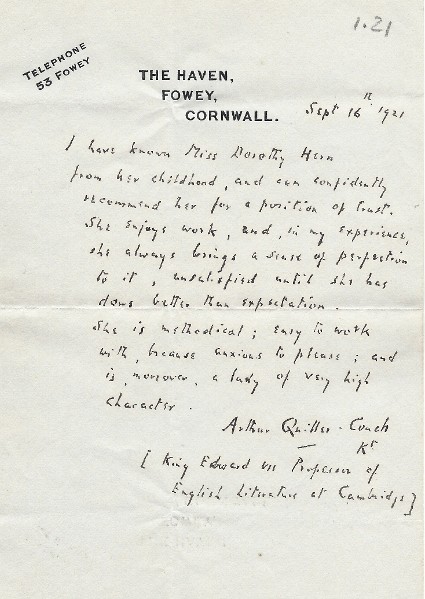 I have known Miss Dorothy Hern from her childhood, and can confidently recommend her for a position of trust. She enjoys work, and, in my experience, she always brings a sense of perfection to it, unsatisfied until she done better than expectation. She is methodical, easy to work with, because anxious to please; and is, moreover, a lady of high character.
Arthur Quiller-Couch Kt (King Edward VII Professor of English Literature at Cambridge).
The second letter is full of sincerity and beautifully constructed. Every word carries weight and holds meaning. The reference to Bevil is particularly moving. On hearing the sad news that his friend had died, Q did not hesitate for a moment. Arthur Hern died on 7th July 1924, and Q wrote to his widow and daughter on the same day.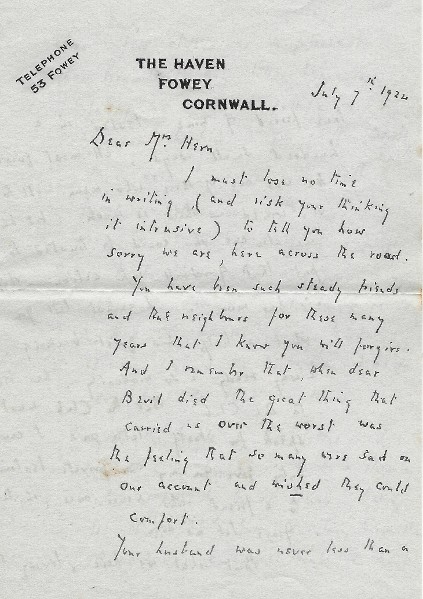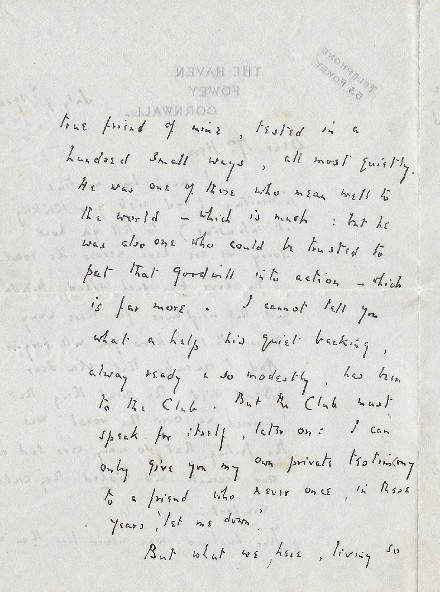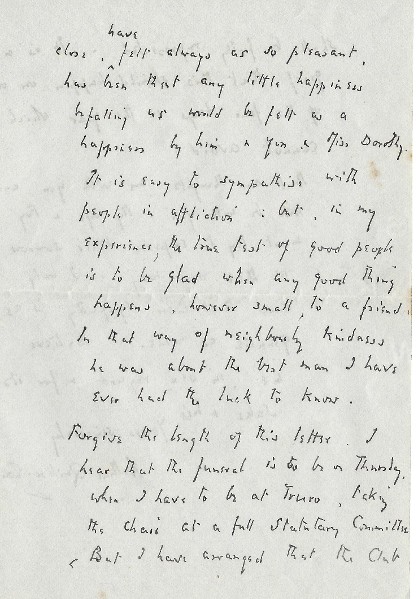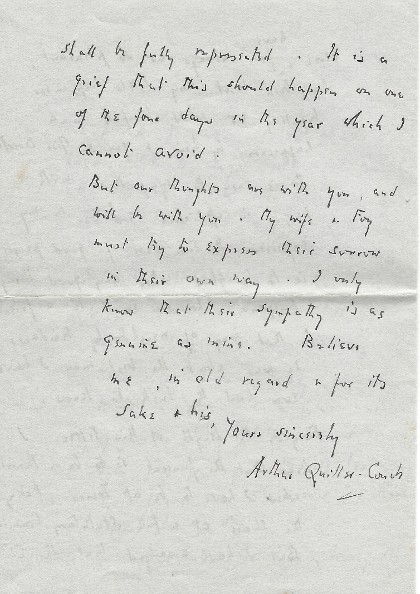 Dear Mrs Hern,
I must lose no time in writing (and risk your thinking it intrusive) to tell you how sorry we are, here across the road. You have been such steady friends and then neighbours for these many years that I know you will forgive. And I remember when dear Bevil died the great thing that carried us over the worst was the feeling that so many were sad on our account and wished they could comfort.
Your husband was never less than a true friend of mine, tested in a hundred ways, all most quietly. He was one of those who mean well to the world – which is much; but he was also one who could be trusted to put that goodwill into action – which is far more. I cannot tell you what a help his quiet backing, always ready and so modestly, has been to the Club. But the Club must speak for itself, later on. I can only give you my own private testimony to a friend who never once, in those years, 'let me down'.
But what we, here, living so close, have felt always as so pleasant, has been that any little happiness befalling us would be felt as a happiness by him and you and Miss Dorothy. It is easy to sympathise with people in affliction, but, in my experience, the true test of good people is to be glad when any good thing happens, however small, to a friend. In that way of neighbourly kindness he was about the best man I have ever had the luck to know.
Forgive the length of this letter. I hear that the funeral is to be on Thursday, when I have to be at Truro, taking the chair at a full Statutory Committee. But I have arranged that the Club shall be fully represented. It is a grief that this should happen on one of the few days in the year which I cannot avoid.
But our thoughts are with you, and will be with you. My wife and Foy must try to express their sorrow in their own way. I only know that their sympathy is as genuine as mine. Believe me, in old regard and for its sake and his,
Yours sincerely
Arthur Quiller-Couch.
We hope you find the contents of these two pieces of Arthur Quiller-Couch's writing both interesting and beautifully worded. It is my privilege to have these letters in my care.
© Ann Willmore, July 2022