Finding Daphne – A companion article to Last night I dreamt I went to Platres again
In July 2021, Helen Barrett contributed a piece of writing to the Daphne du Maurier website entitled Last night I went to Platres again. In this article, Helen told us what she had been able to find out about Daphne du Maurier's time in the Troodos mountains, at the Forest Park Hotel in Platres, Cyprus in the 1930s, when she was accompanying her husband on a military tour of duty to Alexandria in Egypt.

Helen has now submitted a companion article called Finding Daphne. This time she describes her own recent visit to the Forest Park Hotel, Platres and provides us with photographs, so that we can all imagine what it is like, up in the cool Troodos mountains and at the Forest Park Hotel.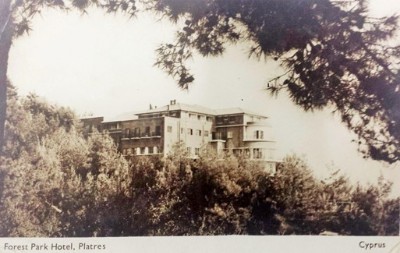 A postcard of the Forest Park Hotel
The room to the top right with the rounded balcony is room 171 – where Daphne stayed in 1936 and Helen stayed in 2020
FINDING DAPHNE
If only there could be an invention that bottled up a memory, like scent. And it never faded, and it never got stale. And then, when one wanted it, the bottle could be uncorked, and it would be like living the moment all over again. ~ from Rebecca by Daphne du Maurier.
These evocative words by my favourite author epitomised how I felt when I was standing on the balcony of Room 171 of the Forest Park Hotel in Platres, Cyprus. I wanted to contain this wonderful feeling forever, so that I could always re-visit it whenever I wanted.
The reason?
This was the very same balcony on which Daphne du Maurier had stood in 1936 when she first visited the island. I was elated to have the experience and privilege of staying in the same room as where the author had written some of the most famous of her books – Rebecca. I tried to absorb some of the "vibes" I thought I felt. As a writer myself, I knew just how fortunate I was to have that opportunity.

So, what led me to this place?
I fell in love with Daphne du Maurier's writing when I read Rebecca in my teens and was enthralled with the classic 1940 film starring Laurence Olivier and Joan Fontaine. Many years later, in 2004, my husband and I visited Fowey, where I immersed myself in the atmosphere of the place where the author had been inspired to write many of her books. We visited Fowey again for the Literary Festival in 2007, the Centenary of the author's birth. I had collected many of her books by this time, some from the wonderful Bookends in Fowey, then run by Ann and David Willmore. Ann was so inspiring in her love of all things Du Maurier. I just wanted to find out more.
Some years later, my curiosity was fired when I chanced upon a post on the Daphne du Maurier website forum. On flitting back through the 1999 posts, I read one from a young Cypriot girl, who proudly stated that the Daphne du Maurier had spent time in Cyprus in 1936 and had signed the register at the Forest Park Hotel in Platres.
Up until then, the only other reference to the author visiting Cyprus had been in the Margaret Forster's biography. I decided it was worth investigating further.
So, on one of our holiday visits to Cyprus, my husband and I decided to take a look at the resort of Platres.
Leaving the hot, dusty towns and resorts of the lower coast and plains, we turned inland to take the long, winding road to the mountains. We drove higher and stopped a few times for cooling drinks and to admire the breath taking views. The sheer drops on some of these bendy roads are quite scary and require careful driving, but the magnificent vistas compensated for taking time.
Eventually, we reached Platres. This quaint, scattered village is set amongst cool forests, and the first thing that strikes you is the silence and the fragrance of the pine trees.
I was struck by the splendid, tall mansions aligning the road, now slightly faded in their grandeur, which had obviously been of some importance in times gone by. I could not help comparing the architecture of these houses to the low, single-storey houses common to most other areas of the island.
As we took the last turn in the village, at the top of the hill, set amongst the tall trees, stood the Forest Park Hotel. It is an imposing building in the Art Deco Bauhaus style, and its sweeping curves and elongated lines with extended front elevations give the impression of a majestic ocean liner.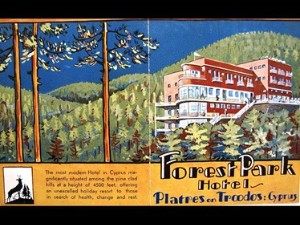 An early advertising poster for the Forest Park Hotel, Platres.

Straight away, I noticed that, despite some extensions and additions to the hotel, there are still many original features that would have been used by Daphne and her family. In the old photographs on the wall, the large lounge is depicted as it would have been then, with opulent mirrored walls and sumptuous thirties furniture. It is interesting to see that bell-boys were an integral part of the hotel staff in those days.
When I enquired about Daphne's stay at The Forest Park, the hotel owner, Mr Herakles Skyrianides, came to greet us and was most welcoming. Over frappes, sitting in the cool of the large lounge, he told me all about Daphne's visit in 1936, when his father had been the owner. The hotel had only just opened a few months before and was one of the most prestigious on the island of Cyprus, indeed, the only hotel in Cyprus with international standards.
Mr Skyrianides told me that, in those days, Platres was an extremely popular retreat for the British (at the time Cyprus was a British colony), the rich and famous of Cyprus and for the elite (including Royalty) from all over Europe. Although the Forest Park Hotel was the most popular, Platres boasted many good hotels and restaurants and served to give the visitor a taste of home – indeed, the social scene was vibrant.
Mr Skyrianides proudly showed us Daphne's photo on the wall and also the Register with Daphne's message of thanks and her signature.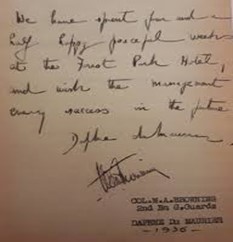 The page from the Forest Park Hotel Register, showing the leaving message written by Daphne du Maurier and Boy Browning [1936]
We have spent four and a half happy peaceful weeks at the Forest Park Hotel, and wish the management every success in the future.


So what had brought Daphne du Maurier to Platres in the first place?
Well, she had been staying in Alexandria with her husband, Lt. Colonel "Boy" Browning, who had been sent there with his battalion. The intense heat and the hectic social life that, as the Commander's wife, Daphne was committed to taking part in, took its toll on the young mother. She felt most unwell, and it was soon discovered that she was pregnant with her second child. So a decision was made to take a holiday somewhere cooler, and Platres in Cyprus was chosen, as it was an accessible sea journey away.
The cool forest resort was just what the young author needed. She could take walks amongst the lavender trails and find the peace and tranquillity she needed for her writing – something she could not find whilst in Egypt. In Platres, she made friends with another young mother – Mrs Theodora Pierides - and they shared many happy days together.
But soon, their time in Cyprus came to an end and Daphne, her husband, daughter Tessa, and their nanny had to return to Alexandria. Later, Daphne, her daughter and her nanny returned to the UK for the birth of Daphne's second child.
Over the next few years, I researched the 1936 visit further. I was intrigued by all the references I found in and around Platres concerning this visit. The yearly festival features the Daphne du Maurier Lavender Trails, and there are guided walks through the pine forests too.
Since we were now living in Cyprus, my interest in the link between the author and my island was even keener.
Then, in my research, I was quite astonished to discover that Daphne du Maurier had visited Cyprus not once but twice! The visit to Platres in 1936 was followed by another in 1937 when she and her husband had again been staying in Alexandria, Egypt. As before, the need for cooler climes meant a trip to Cyprus, and, according to information, Daphne renewed her friendship with Theodora. The material I collected was most interesting. Some of the second visit details were substantiated by conversations with Mr Demetri Pierides, Theodora's son, who lives in Larnaca.
I decided to write an article on Daphne du Maurier's Cyprus visits and to re-visit Platres.
Fast forward to 2020.
Because of the pandemic, we had to wait until rules about movement between towns and cities in Cyprus had been relaxed somewhat. Meanwhile, my husband and I planned a weekend in Platres.
In early October, armed with my researched article and too much luggage, we drove from our home in Oroklini up to the Forest Park Hotel. Once more, we were greeted at Reception by Mr Skyrianides. He is a most charming person, and we were pleased to meet him again. He told us that he had arranged for us to occupy room 171, the VERY same room that Daphne and her husband Lt. Col. Browning had occupied in 1936! I was over the moon with excitement – this room was ours for the three nights of our stay.
The key fob to Room 171.
Helen wanted to keep it, but had to hand it back!
Mr Skyrianides showed us up to room 171 and explained that in 1936, the room had a slightly different configuration, and there had been a small office within what is currently quite a large room area. Margaret, their nanny, and young Tessa stayed in the room next door to theirs with an adjoining door.
The rounded outside wall of the room is Art Deco in appearance, and the two French windows open out to an encompassing wide balcony. Mr Skyriandes explained that the views from this balcony would have been slightly different when Daphne stayed there in 1936. Many of the nearest tall pine trees, now as high as the balcony and beyond, would have just been saplings then, planted when the hotel was built.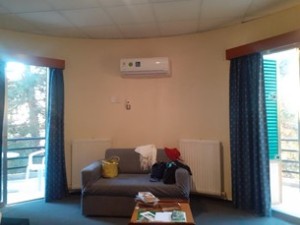 A view inside Room 171 with its two balcony doors, looking out.
The rounded wall is typical of Bauhaus design.
The room is still beautiful, lofty, and spacious and now has every modern convenience for guests. There is an ensuite facility, a large bed and comfortable furniture.
Of course, nowadays, air conditioning is an absolute necessity in Cyprus, as temperatures in mid-summer can reach over 45 degrees F. In 1936, Daphne and her family would have had cooling ceiling fans. They would probably have used them constantly since it can still be quite hot in September. In addition, the wooden shutters on the doors would have afforded shade and kept out the heat.
Soft breezes from the tall pines flow through the two balcony doors, and the light blue walls give the room a cool, restful feel. We soon felt relaxed and refreshed after our long drive up to the hills.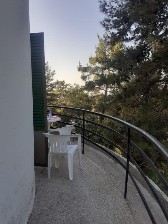 Room 171 - the rounded balcony, looking downhill through the tall forest trees
Early each morning, sitting on the balcony looking down the forested hillside and watching the sunrise, I let myself absorb the quiet atmosphere of Platres and was even inspired to write some lines myself. I tried to imagine what Daphne might have thought and felt. But, of course, it would have been even more peaceful in those days as it was a smaller hotel then with not so many visitors and vehicles.
It seems that she did find peace and inspiration as she set about trying to imagine the plot and characters for her next novel, which she intended to set in her beloved Cornwall. The book was Rebecca. However, she later confided in her friend Theodora that, although the forest landscape helped somewhat, certainly an improvement over the Egyptian desert, it was still not Cornwall. Daphne only found her ultimate inspiration for Rebecca once she had actually returned to Cornwall in 1937.
During our three-day stay, I relished every moment I stayed at the Forest Park Hotel, especially when we ate in the dining room, which has changed very little since Daphne and her family were there. Likewise, the lounge and bar areas are similarly unchanged. Although the furniture is obviously newer these days, my husband and I agreed that these public rooms had a pronounced thirties ambience about them. Indeed, it is hard to believe that it was over 80 years since Daphne's visit, and I was thankful that the hotel management had chosen not to modernise these areas.
The original dining room, with the same rounded wall, directly below Room 171 (left).
The main lounge with outside windows opening to the side of the Hotel (right)

Of course, the hotel is much larger now, and new wings have been added, with all the facilities a guest could need. For instance, there is a large swimming pool and gymnasium. Cypriots, especially, visit cool Platres to escape the heat of the lowlands and for rest and recreation.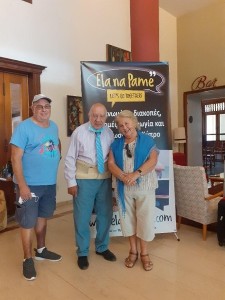 Mr. Herakles Skyrianides, owner of the Forest park Hotel (centre), with Helen and her husband in the Hotel foyer.
Exploring the hotel's environs, we visited the new Cultural Centre, which features the poet George Seferis and, of course, Daphne du Maurier. There is quite a lot of information there, sometimes not entirely accurate unfortunately, and some artefacts to represent the era in which Daphne had stayed in Platres. For instance, there is a vintage car with "1937" as its number plate. A Daphne du Maurier Drawing Room is also on show and a bookcase filled with her books. The Centre is heavy with the scent of the many lavender items on sale there.
Platres is indeed an oasis of calm and tranquillity, and I like to think that the peace and solitude Daphne sought and found on her two visits was beneficial to her and her writing.
I am delighted that I could re-visit the wonderful Forest Park Hotel and stay in Daphne's room. It felt very special, and I shall often "uncork my bottle of memories and re-live the moment all over again", with much fondness.
© Helen Barrett January 2022.