Milton Hall - The House that inspired Manderley
The opening page of Rebecca makes it clear that the location of Manderley is Daphne's 'House of Secrets', Menabilly. In the narrator's dream, she describes walking along the overgrown driveway, now abandoned after fire had destroyed the house. As Daphne wrote that famous opening sequence in the stifling heat of Alexandria in late summer 1937, Menabilly had not been destroyed by fire but was in danger of falling down through neglect. It would be another six years before she was in a position to rescue it.

Milton Hall
The house itself is not Menabilly – it was based on Milton Hall, a place that Daphne had visited twice during the First World War when she was ten years old. These two visits are briefly described in her autobiography Growing Pains. Daphne was overwhelmed by the scale and grandeur of Milton, a house that dated back to 1590, and it left a lifelong impression on her. When Daphne imagined the scene of the Manderley Ball, it was Milton she was thinking of. Years later, she said that the sight of the rather intimidating housekeeper at Milton, all dressed in black, sewed the seed for the character of Mrs Danvers. The owners of the great house, whom she identified as George and Evie Fitzwilliam, left less of an impression. Daphne tells us that her mother and Mrs Fitzwilliam were friends. She was correct that they were plain Mr and Mrs – George had no title. Although she was unaware of it, the family Daphne was visiting was every bit as tortured as the De Winter family she would later invent for Rebecca.
George and Evie's story – and indeed the history of the Fitzwilliam family as a whole - is one that Daphne might well have turned into a novel, along the lines of Hungry Hill. However, that task has been brilliantly executed by Catherine Bailey, in her 2007 book, Black Diamonds, which I thoroughly recommend.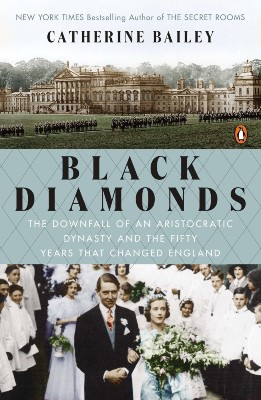 In 1857, 60 years before Daphne's visit, George's father had been left Milton by the 5th Earl Fitzwilliam. Although it was the ancestral home of the Fitzwilliam's, it was no longer their principal residence. In 1782, they acquired an even larger house, Wentworth Woodhouse, through marriage with the Yorkshire Wentworth family. This house, near Sheffield, was the largest private dwelling in the country – twice the size of Buckingham Palace. It was also the source of the Fitzwilliam's principal income because the estate extended over the Barnsley coal seam, and the family were heavily involved in mining. Most landowners licensed commercial firms to sink and manage the pits, taking payment in the form of a royalty per ton. The Fitzwilliams opted to operate the mines themselves, and this had made them exceptionally wealthy. The 5th Earl felt that to leave both of these great houses to his eldest son, the heir to the Earldom, was inequitable – so he left Milton to his second son. Milton was supported in a more traditional way, through agriculture, and the favourite pastime was fox hunting.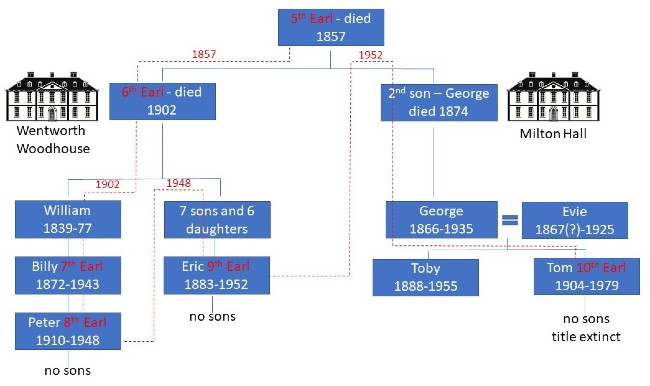 Succession of the Fitzwilliam Earldom
In 1874, George's father was killed in a hunting accident when he was only seven. His mother died when he was thirteen, so he was brought up by his uncle, the 6th Earl. Milton, together with the rest of his inheritance, was held in trust until he turned 21. Unfortunately, the lack of parental guidance and the more general affliction of entitlement, left George with a deficit when it came to the motivation necessary to make something of his life.
Part of my interest in researching Milton was curiosity as to how Muriel Du Maurier might have been friends with the mistress of a house of the calibre of Milton Hall, when her own background was quite modest. It did not take long to turn up the information that Evie Fitzwilliam had been a chorus girl, and her marriage to George was a family scandal. Evie (whose stage name was Eva Raines) was a performer at the notorious Gaiety Theatre, which stood on the corner of The Strand and Aldwych. It was common for rich young men to hang around the stage door at the end of the show, hoping to proposition the girls as they emerged into the night. They were known as 'Stage Door Johnnies' – and in May 1886, George aged 20, was outside the Gaiety hoping to meet the beautiful Eva Raines who had played a minor part in the burlesque, but with whom he was much taken. He was successful in his objective, but Little Jack Sheppard, was about to close and Eva was headed for Glasgow in a touring production of an operetta called The Beggar Student. George decided to follow Evie to Scotland that September, and having seen her performance, George proposed. Indeed, according to a friend of Evie's who travelled with them, they took lodgings as Mr & Mrs Fitzwilliam, and it was generally assumed that they had already married.
At that time, arrangements for marriage in Scotland were different from those in England. Civil marriage ceremonies were not introduced until 1939, and so the alternative to a full church wedding was known as an 'irregular marriage'. This was based on pre-Reformation Canon law where mutual consent was more important than religious ceremony. If marriage was promised and consummated, and you swore an oath together in front of witnesses, the marriage was valid. It was a DIY process.
When George and Evie returned to London, they considered themselves a proper married couple. However, they did not tell the family. George would turn 21 in January 1887, just a few weeks away. Eighteen months later, on 18th May 1888, George and Evie had a son, known as Toby. George also received a commission in the prestigious Royal Horse Guards – 'The Blues' – and had now taken control of the Milton estate, so all was set fair for the happy couple.
However, sometime towards the end of that year, they became concerned that perhaps their Scottish marriage was not legal after all. Their solution was to get married again in London, in a private ceremony on New Year's Eve, 1888, at St George's Hanover Square. Two witnesses were required, and the couple selected one of their own servants and the 'pew opener' at the church. They must have thought they had got away with this – but unfortunately, the pew opener, a Mr Sergeant, had once been a Fitzwilliam servant and he informed the wider family, who until then were blissfully ignorant about George's unsuitable choice of wife. At that time, marrying an actress was simply not an option for an aristocrat, and George was forced to resign his commission. Despite his family's fury, George was secure. He was the owner of Milton and had the benefit of the income from the estate.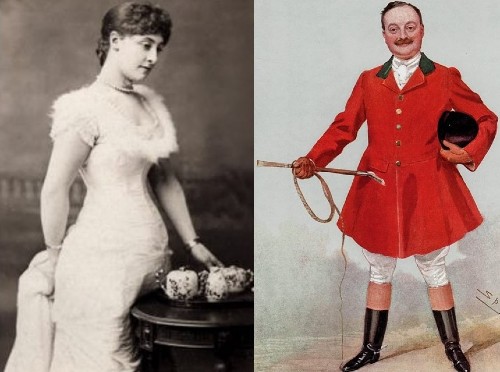 Evie and George
They seem to have kept a low profile in the 1890s – George assumed his duties as the Master of the Milton Hunt and by all accounts was a fair-minded and popular landlord. Evie hunted as well, and the couple had their young son Toby. They were popular with local society. However, for reasons unknown, they did not add to their family.
In 1902, there was a major Fitzwilliam crisis. The 6th Earl died, and though the succession was clear on paper, most of the family were deeply sceptical about it. The 6th Earl had no fewer than eight sons – so would seem to have secured the future of the title. Unfortunately, the eldest, William, was epileptic and had died young, but not before he had produced a son and heir, William Charles De Meuron Fitzwilliam, born in 1872. William, or Billy as he was known, was a fine-looking man and a distinguished soldier. In 1896 he had married Lady Maud Dundas, daughter of the Marquess of Zetland and the couple already had two daughters. Aged 30, Billy would seem a perfect heir to the title.
The controversy arose because of the circumstances of his birth. In the 19th century, epilepsy was not understood at all and was generally diagnosed as a form of madness. If seizures occurred in public, it was a nightmare for a family like the Fitzwilliams, bringing a social stigma they simply could not live with. So, William and his wife Laura were banished to Canada. By 1871, they already had two daughters, but no son. For the birth of their third child, William removed his wife to the most obscure place imaginable, a tiny riverside settlement called Point de Meuron, populated only by natives, with no other foreigners for miles around. The rest of the family found all this suspicious – and put forward the theory that Billy was a 'changeling'. They suggested that a third daughter had been switched for a male baby, acquired from an unknown source. The obscure location for the birth had been selected to make it easier to pull off such a deception.
The brothers and sisters of Billy's dead father were on the verge of mounting a coup when at the last minute the eldest surviving brother, who had been closest to Billy's epileptic father, refused to go along with it. Billy eventually prevailed and duly became the 7th Earl. He had plenty of time to produce an heir so that the Earldom would continue down his line, and if not, there were all those uncles. However, by 1902, the uncles were all past 40 and married to women beyond child-bearing age. Some were already dead or dying. Between them, they had only managed one son, Eric, born in 1883. Eric, like Billy, was a soldier- and though the Boer War was ending - tension was building in Europe. The succession was less secure than it might first appear – and if the 6th Earl's line should expire, then George and Evie were next in line. The Earldom would then pass down their family line – provided they had a legitimate son. But did they? Doubts about that Scottish marriage were becoming more consequential.
On 28th May 1904, after a 16-year gap, Evie had a second son, known as Tom. Then, in 1913, she had a serious falling out with Toby over his choice of bride. He had become engaged to a girl called Beryl Morgan, and in what seems like a rather hypocritical stance, Evie objected to her on the grounds that she was too common. Evie threatened to destroy the proof of the Scottish marriage, declare Toby illegitimate and disinherit him. He ignored this threat and married Beryl anyway. Toby fought in the First World War and was injured – but he was not permitted to recuperate at the hospital George and Evie had set up at Milton. George assured Toby that he would not be disinherited – but he never saw his mother again.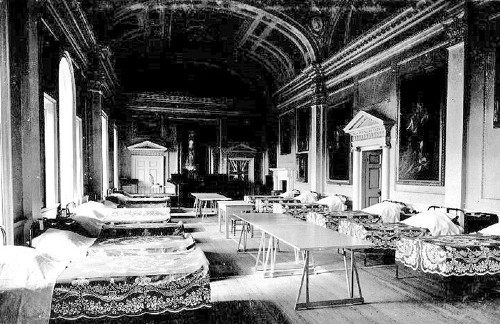 Milton - set up as a hospital in World War One
This was the situation when Muriel and her daughters visited Milton in 1917 and 1918. Daphne describes George beaming benignly at the head of the table and Evie as a white-haired old lady (she was 50) who spent most of her time doing jigsaw puzzles. Tom, described as the son of the house – because by then in Evie's mind there was no other – was thirteen, the same age as Angela. As to how Evie came to be friends with Muriel, I am guessing the answer has to do with theatrical charities. Evie's career on the stage ended ten years before Muriel's began, so they never appeared together. But Gerald was President of the Actors Orphanage Fund, and they had annual 'Theatrical Garden Parties' as fundraising events. Evie Fitzwilliam, with her theatrical past, would have been an obvious target as a patron for charitable projects. She seems to have enjoyed the social position her marriage had given her, and it seems likely that in this context she could have met Muriel, the wife of Gerald Du Maurier, the most popular and respected actor of his day.
Another interesting fact about Evie is that her true identity is a mystery. As a prominent member of the Fitzwilliam family, George had an entry in Burke's Peerage. Answering a request from the publishers to furnish them with details about his wife, George told them that she was born Daisy Evelyn Lyster in January 1867, daughter of Charles Stephen Lyster. But this is not true – neither of these people ever existed - or at least no births were recorded under those names. Those familiar with births, marriages, deaths and census records will know that with a bit of patience, allowing for reversal of Christian names, transcription errors due to illegible handwriting and so on, you can nearly always find some trace of people who lived within a given time frame. I have spent quite a few hours on it, and I can tell you there is no trace whatsoever of Charles or Daisy Lyster. Daphne's recollection of Evie's white hair at fifty and her death in 1925 at the comparatively young age of fifty-eight suggest that it is at least possible that she was born earlier than 1867, but the fact is we simply do not know who she really was, and I think it will now be almost impossible to find out. All the Fitzwilliam family records were burned by the 10th Earl in huge bonfires at Wentworth in 1972.
One thing that is quite clear is that George was devoted to Evie and remained so until her death. In the opinion of George's sister Alice, it was Evie who was the dominant personality. If Evie wanted Toby disinherited, George was not going to thwart her. Despite George giving Toby the impression that he would inherit Milton, he left everything to Tom when he died in 1935. This would seem out of character for George, who appears to have been in all other respects a pleasant and easy-going man. It was cowardly not to tell Toby what he had done because it came as a great shock when the will was read. George was very active locally, seen as a kindly landlord and a gentleman, and there was genuine sadness at his death. But Toby had crossed his beloved Evie, and it seems this was a sin that could not be forgiven.
Before Evie died, the chances that the Earldom would come to their branch of the family fell considerably when Billy finally produced a son, Peter, in 1910. Peter was wayward as a young man, but he married well and started his family, with two daughters. He became the 8th Earl on Billy's death in 1943. But after the Second World War, in which he served with distinction, things began to unravel. Wentworth Woodhouse became unviable after the coal mines were nationalised, and Peter tried unsuccessfully to offload it to the National Trust, but eventually, he managed to lease it to a local authority for use as a Ladies' PE College. Peter had decided to divorce his wife, and he began an affair with John F. Kennedy's sister, Kathleen (known as Kick). Both were killed in 1948 when their private chartered plane crashed in France, before having a chance to marry and produce an heir. As previously noted, the only other male descendant from Billy's generation was Eric – and he also had no sons. Eric was a chronic alcoholic – and on becoming the 9th Earl, he retired to the private apartment at Wentworth Woodhouse, which the family had retained under the terms of the lease, together with his bottles. The drunken Earl would sometimes make unscheduled and embarrassing appearances at the Ladies' PE classes, before being wheeled away by his minders.
Already over 60 and in poor health, Eric was obviously not long for this world – so in 1951 the eventuality that Evie had perhaps anticipated came to pass. Eric was the last male descendant of the 6th Earl, so her two sons were now next in line. Although George had disinherited Toby, he could not prevent him from becoming the 10th Earl Fitzwilliam, unless he was in fact illegitimate. Although Toby and Tom were on good terms – and both agreed to abide by the final decision without rancour – the only way to get a valid judgement on this matter was to go to court. Both sides argued their case – but probably the telling fact was that George and Evie clearly did not themselves think their Scottish marriage had been valid, hence their 'second' 1888 wedding in London, after Toby's birth. If there was any written and witnessed declaration of the first wedding – it could not be produced in court. The court found that the Toby was therefore illegitimate.
The last four Earls Fitzwilliam

When Eric died in 1952, Tom duly became the 10th Earl, a title he held for 27 years until his death in 1979. Daphne kept in touch with Tom at least to some extent – and certainly the feeling she had about Milton and its contribution to the novel that made her name stayed with her always. Tom had no sons and the Earldom died with him – but Milton was passed through his daughter's family, and now belongs to Sir Philip Naylor-Leyland. Happily, Sir Philip has the resources to maintain a house like Milton. No doubt, it is every bit as magnificent as it was when Daphne went there in 1917. Meanwhile, Wentworth Woodhouse, after passing through a number of private owners, is finally under the ownership of a trust, and restoration is underway after 80 years of neglect – but it's a mammoth task.
The only sad part about Milton's continued prosperity is that it is not open to the public – so Daphne Du Maurier fans cannot stare up at the grand staircase and imagine the second Mrs De Winter descend, dressed like Rebecca, to the horror of Maxim. Daphne had a tremendous sense of place. Her part of Cornwall was hugely evocative for her and triggered so much imagination that went into her novels and stories. Although Milton was in some ways a more isolated memory, it came to her mind as she was creating Manderley, because although she herself was bewitched by the house at Menabilly, she knew it was not a great stately home with the power to intimidate, as her story demanded. So that childhood memory of Milton Hall was mated with her more recent memories of the landscape of Menabilly - and the great estate of Manderley was conceived – which, in literature, now has a magic and history all of its own.
© Chris Main 2021