Collecting Daphne du Maurier
Daphne du Maurier enthusiast and collector Chris Main has written this article to introduce you to collecting Daphne du Maurier books and ephemera in collaboration with recently retired second hand and antiquarian bookseller Ann Willmore. They talk you through the various items you might like to collect, the pitfalls that could trip you up along the way, and give you some hints and insights to help you build your collection, whether you are new to collecting or wanting to advance your collection.
Chris: If you are a Daphne du Maurier enthusiast, you may have thought about starting a collection of her books and other related material. Alternatively, you may be interested in buying a present for someone with such an interest but are not sure where to start.
This article is a layman's guide to what is out there. To an extent, the waters are shark-infested with so many people claiming this copy is a 'first edition', or this item is 'rare', when they may be nothing of the kind, so I will try to share some of what I have learned.
I began collecting in 2011 when I first became really interested in Daphne's work. In October that year, I went on holiday to the Gamekeeper's cottage at Menabilly, and it brought her work to life for me in a truly inspiring way. Menabilly was Daphne's spiritual home and actually being there, walking the 'poor thread that once had been our drive', I think you do feel a connection. Well, I did anyway! The first few books I bought were from the Virago paperback series, which were quite new at the time. I have a full set of those, which are my 'go-to' copies. I got most of them second-hand for about £3 each. Shortly afterwards, I bought my first 'vintage' book, and it all went from there.
Ann: As with all collecting, the important thing is to collect something because you want to own it. If it increases in value, that is a bonus. There are no guarantees. A perfect example of people who collected books as an investment took place in the early part of the 20th century with John Galsworthy's books. He was immensely popular and successful, particularly for The Forsyte Saga. He won the Nobel Prize for literature and was the first president of the literary club PEN International, and his books seemed like a sound investment. However, Galsworthy quickly fell out of favour, and his work was soon considered old fashioned as the Modernist, and post-War literary era took hold. The financial value of his books dropped like a stone and never recovered. He is now largely forgotten apart from when something of his work appears on television or radio. We don't imagine anything like this happening to Daphne du Maurier. Interest in her works is growing. Her books and ephemera have been steadily increasing in value since her death in 1989.
Chris: Most of my collection has been bought from eBay, or from second-hand bookstore 'aggregators' such as AbeBooks or Alibris. These sites enable you to search a wide range of independent booksellers' stock. Newly released books about Daphne I used to buy from Bookends during the Festival and, if possible, get them signed by the author.
Ann: A couple of meta sites, which search worldwide for titles, can be useful for something you just can't seem to locate. They are Bookfinder.com and Addall.com. When you start collecting and depending on how much you want to spend, eBay is great. But, if you are going to build on your collection or improve on the condition of your copies, which might mean spending a reasonable amount of money on a particular title, I would always suggest buying a book from a bookseller, rather than a person who sells books! A bookseller will describe a book more accurately, be happy to discuss the purchase with you and be more likely to sell you a book of the quality and condition that meets your requirements.
First Editions?

Chris: This term is critical to book collecting – certainly if you have an interest in your books appreciating in value. It is worth a little discussion of what it actually means – both generally, and in relation to Daphne du Maurier books, because it can be confusing.
When publishers acquire the rights to a new work, they commission a printer to produce the technical artefacts to make printed copies. Nowadays, this process is 'digital' – but it's easier to envisage using the old technology, which would have been the method uses when the vast majority of Daphne's books were published. When designing the new book, the publisher must determine the size, colour of the binding, design of the dustwrapper, the font and size of the text – and so on. The pages of the book are made using printing plates – and these are expensive to create and change. This first design of the new book by its original publisher is the 'first edition'. Once the design is created, and the proofs are corrected, the publisher orders the first print run.
The size of the first run depends on the level of confidence regarding sales. Order too many, and most of them may end up getting pulped and the cost written off. Order too few, and the book could go out of stock, losing momentum, just as sales are starting to build. This is easier to gauge with established authors. The book trade will pre-order based on a known sales profile. With a new author, pre-orders will be minimal, and the risk of stranded costs are high. A good example of this phenomenon is Harry Potter and the Philosopher's Stone. This was J.K. Rowling's first book, published in 1997. The first print run was only 500 copies, and 300 of these went to schools and libraries. These copies are therefore extremely rare, and one sold recently at auction for £60,000. The other six novels are not worth so much – because increasingly massive publicity and promotional campaigns vastly increased pre-orders and dictated larger first print runs.
Ann: The value of a true first edition from a collectable author, of which there are many, is usually determined by what a particular title sells for at auction, generally at one of the major auctions houses such as Sotheby's. This gives the baseline of what someone is prepared to pay for a particular book. From that baseline, future copies can be valued. Considerations, including condition, whether the book has a dustwrapper, or if the author has signed the book, are based on that auction price.
Chris: Each print run is termed an 'impression'. In between impressions, there is an opportunity to correct minor typographical errors that might have been missed in the proofing process – but essentially copies from different impressions of the same edition will be fundamentally the same. The information regarding which impression the book comes from will be recorded on one of the first few pages. This is important because, generally speaking, only a copy from the first impression of the first edition will be valuable. This is a true first edition. Sometimes you will see the term true first or 'first/first' in the listing of a second-hand copy, and that is what it means. A copy from a subsequent impression of the first edition is not likely to be very valuable, compared with the true first.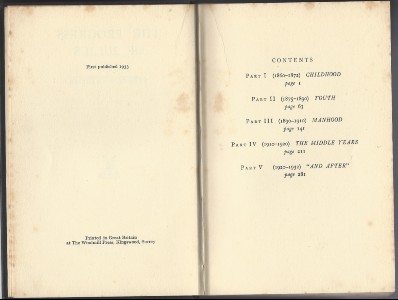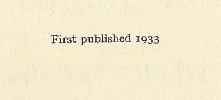 The Progress of Julius - Valuable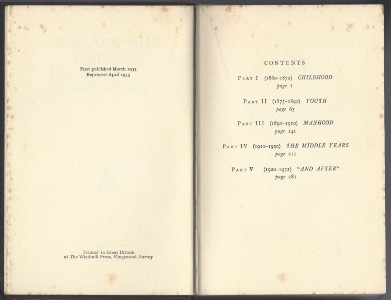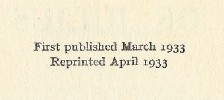 The Progress of Julius - A lot less valuable
These examples are from the near-identical copies of the first edition of The Progress of Julius, Daphne's third novel. You can see from this that the first impression sold out in a few weeks. It was a fairly small print run. Both books appear to be first edition copies, but they are not, only the one printed first is the true first edition. One is valuable; the other is not – so you need to be discerning. These two lines are the only visible difference between the two copies.
Ann: Margaret Forster said that for the first printing of The Loving Spirit, Heinemann printed 2,300 copies, for I'll Never Be Young Again they printed 2,000 copies and for The Progress of Julius the printed 4,000 copies. (ref: Forster, M., 1994. Appendix in Daphne du Maurier. p. 430).

Chris: The first edition of a novel can remain in print for many years. Below is an example from a 1968 copy of Jamaica Inn – 32 years after first publication. In that time, there were 27 print-runs of the title. The size and content of this 1968 book are identical to a 1936 1st/1st copy. In both copies THE END appears halfway down page 352. They were printed from the same plates, so technically, this 1968 book could still be called a first edition copy, but, of course, it is not because only the first printing is the true first. This shows the need to be careful with the terminology.
Jamaica Inn 27th impression Vanishing Cornwall - 2nd edition
Ann: As an aside, it should also be remembered that some of Daphne du Maurier's earlier Gollancz novels, mainly the wartime ones, were printed in Cheap Editions. These include Jamaica Inn, Rebecca, Frenchman's Creek, Hungry Hill and The Kings General. For these books, the quality of the paper used for the dustwrapper was lower, and the text was printed on poorer quality paper. The text was always smaller, with narrow borders, and without new chapters starting on a separate page. These books were much slimmer than the originals and had inferior quality boards. These books would have been printed from a different set of plates to the originals, but Victor Gollancz continued to list them as subsequent impressions as if they were all from the original plates. The only variation in the listing of impressions is when he included the words Cheap Edition, which indicated when the books began to be printed using the second set of plates. This strategy made it possible for large quantities of books to be printed despite wartime paper shortages. From the example of the 1968 copy of Jamaica Inn, it is evident that printing reverted to the original plates once the need to conserve paper had ended.
Chris: Ordinarily, for a novel that remains continuously in print, there is no particular reason to produce a new edition – there is nothing to change. By contrast, there was a second edition produced of Vanishing Cornwall in 1981, in a larger format and with colour photographs. Books that benefit from updating in some way are more likely to have subsequent editions.
As you can see in The Progress of Julius example above 1st/1st editions of Daphne's first three novels from Heinemann, feature a 'FIRST PUBLISHED' line. 1931 for The Loving Spirit, 1932 for I'll Never Be Young Again and 1933 for The Progress of Julius. 1st/1st copies of Gollancz books have no such line – the data shown in the Jamaica Inn example above only appears in later impressions. So, if your copy has no such information, it should be a 1st/1st copy. One exception I have come across is library editions. These have no impression data, so look like true first editions, but they are cut down in size from the true firsts and usually have a different binding, sometimes rusty red or orange boards. They are still rare finds but are much less valuable, so beware.
Daphne's books always sold well and were much in demand for book 'sets' – that is editions of books, by a variety of contemporary authors, which are all the same size and with the same design of spine so that they look uniform and neat in a bookcase. The Book Club and The Reprint Society are two examples. These editions do not use the original publisher's plates. Usually, the typeface was smaller to reduce the number of pages required. Some of these editions carry no impression data and might look like a first edition – so be sure you check the publisher's name. The excellent bibliography on this website gives you all the data you will need to determine this.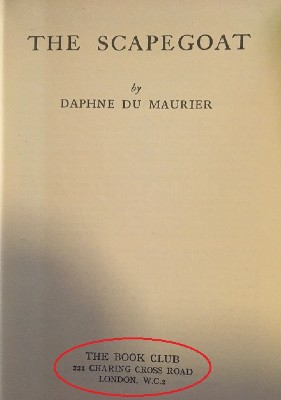 This is not a Gollancz edition - so only has a nominal value
Ann: If you are uncertain about the edition of a particular book, you can always e-mail the Daphne du Maurier website for some guidance at info@dumaurier.org.
The four key factors
Chris: There are a number of factors that determine the value and collectability of a book.
1) 1st Edition/1st Impression
2) Dustwrapper
3) Condition
4) Author's signature

We have discussed the importance of the first factor. I would say that the only exception to the general rule that only 1st/1st books are valuable, is a signed copy. An early copy that is signed by the author is often still collectable.
Ann: This is undoubtedly true of Daphne's books, partly because she did not sign vast numbers. A contemporary of hers, A.L. Rowse, was a compulsive signer of his books. This resulted in their value with a signature only slightly exceeded the value of an unsigned copy. Another much loved Cornish author, E.V. Thompson, did a similar thing, reducing the extra value that an author's signature typically adds to his or her books. So, there is a need for caution here.
Chris: A surviving dustwrapper makes a big difference to the value, which is odd considering it is just a piece of paper, but there it is. I have never seen any of the Heinemann novels with dustwrappers. If you spot one at an affordable price – buy!
Ann: Dustwrapper, dust jacket and dust cover are all names for the usually paper outer covering of a book. Originally it was simply intended to protect the book's surfaces from damage and literally wrapped the book. Dustwrappers as we know them came into regular use in about the 1880s. However, even then they were basically protectives and often thrown away before the book even left the shop, the book covers, at that time, being much more attractive that the wrappers. By the 1920s much of the covers' attractive outer decoration had moved on to the dustwrappers. There were some wonderful art deco designs, probably the most outstanding being the 1st edition of The Great Gatsby by F. Scott Fitzgerald (1925). A book that is now a classic example of how a fine dustwrapper can dramatically increase the book's value. Today, dustwrappers can increase a book's value by five, ten or even fifty times. I should warn you that because of this, there are unscrupulous people who will try to pass a book off with a facsimile dustwrapper, which, of course, has no value at all.
Chris: The rest of Daphne's full-length books were published by Gollancz and, apart from The Apple Tree, which has a dustwrapper designed by Biro, up until 1960 they all had plain yellow dustwrappers with magenta and black lettering. After that, the dustwrappers often carry artwork, the exceptions being The Treasury of du Maurier Short Stories (1960), The Daphne du Maurier Tandem (1964) and The Flight of the Falcon (1965). The earlier Gollancz books are also hard to find with dustwrappers.
Condition is a really important factor. Some normal ageing is acceptable, but in general, to be valuable, a book must be in decent condition. The older a title is, the more additional value is generated by better condition, because of its rarity. If you get a 'full house' on the four factors above, prices are significant for the early novels. The highest-priced book on eBay (as I write) is a signed copy of Jamaica Inn at £10,200. It looks to be in pretty good nick, and it has the dustwrapper.
But do not despair. You can still pick up a 1st/1st of a post-war novel in good condition, with a dustwrapper for £10-£20! Some of my acquisitions have been fortunate. I picked up a job lot of eight Daphne du Maurier 1st/1st copies on eBay for £10 a few years ago, which jump-started my collection. The star out of these is a good condition 1st/1st of Frenchman's Creek with a dustwrapper – which is not easy to find. Prices have definitely risen since I started, so if you would like to collect first editions of Daphne's books, I would begin now!
Other Editions
Chris: I don't know much about the value of the American editions from Doubleday. The same relative parameters will apply, but I'm not sure how values compare to the UK editions. Generally, UK editions were published first, but I dare say some were more or less simultaneous. Some American versions are different. For example, The Flight of the Falcon has a different ending, and Daphne's 1977 autobiography has a different title, Myself When Young. The short story collections sometimes contain different stories to the UK versions.
Ann: Mostly, the US first editions were published at about the same time as the UK firsts or soon afterwards. Even though they were often published in more significant numbers than in the UK, their prices are similar to British editions. The main difference is that in the early days, while Victor Gollancz was mainly sticking to his yellow dustwrappers with magenta and black lettering, Doubleday produced extremely attractive dustwrappers. My favourite is The King's General, a beautiful looking book compared to its UK equivalent.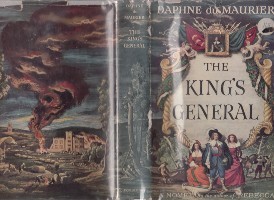 The King's General, US first edition, published by Doubleday
In addition to the differences that Chris has pointed out to you, I will add The Rebecca Notebook and Other Memories, published by Doubleday in 1980, so the year before the UK edition. It is significantly different in that it also includes fifteen short stories, thirteen of which had appeared in the UK in Early Stories, a book which had not been published in the US at all.
Chris: Other than Heinemann, Gollancz, and Doubleday 1st/1st copies – no other editions of Daphne's full-length books are likely to be very valuable. So, don't be fooled into believing a Book Club edition is worth more than a few pounds, even if it is quite old and has no impression data – it isn't. Similarly, some of the paperback editions have nice period artwork on the cover, and you might want to collect and enjoy them for that reason. But they aren't valuable, not at the moment anyway. The exception to this is that occasionally you might find a Book Club edition or a paperback that has been signed by Daphne. It would then have some value because of the signature.
In the bibliography you will find some oddments – for example, the Early Stories yellow paperback published by Todd in 1955. All the stories in the book are available in other compilations. You can find Early Stories online, and some sellers ask a silly price and claim that it's a rare book – it's not! You can get one for about £15-£25 – but condition varies – the covers were thin, so many copies are very scruffy.
Ann: Early Stories is perhaps the only one of Daphne du Maurier's books to decrease in value over the last ten years. It contains eighteen short stories, ten of which were published in The Rendezvous and Other Stories in 1980. The other eight stories were almost impossible to find until they were published in The Doll: Short Stories, in 2011. The fact that these early short stories are now all in print within two of the Virago titles (The Rendezvous and Other Stories and The Doll: Short Stories) has meant that interest in Early Stories has reduced dramatically, and the value has dropped accordingly.
Chris: Another oddment is the wartime 'propaganda' book, Come Wind, Come Weather. This book comes in various editions, with some small differences to the short stories they contain. It was published in the US, Canada and India, and the UK edition and its reprints. Daphne compiled the short stories in these books for the Moral Re-Armament Group. The royalties from the sales went to the charity The Soldiers, Sailors and Airmen's Association. The stories are not typical of Daphne's writing – she was lending her name to something that was intended to help people remain positive during a very dark time – but they provide interesting insight into the wartime mood. Copies can be bought from £10 for a scruffy one, to maybe £50 for one in good condition.
There are two individual editions, each containing a single short story in 'ladybird' sized hardbacks. Happy Christmas is a common one. Spring Picture is much more difficult to find. The other single, or occasionally two or four, short stories listed in the bibliography were all printed in a small magazine format (about A5 size) with decorated paper covers. They were little more than ephemera and so few have survived. This is why they don't come up for sale very often, and they have some rarity value, currently selling for up to £100, if you can find one at all. On two occasions we have found copies of Escort bound in hardback but somewhat dissimilar to each other. As yet we have not been able to ascertain whether or not Escort was actually published in hardback. We think it is more likely that these books were rebound in hardback to protect and preserve them, the originals being quite fragile and ephemeral.
The plays are quite interesting. The Samuel French acting editions are fairly plentiful because there have been a lot of productions over the years – but the Gollancz hardback editions, which are small format books, are quite rare. I was incredibly lucky to pick up a Gollancz edition of the Rebecca play version for £3 because it was mis-described as a 1940 copy of the novel. The photo gave it away, but luckily nobody else spotted it!
The Year's Between play A DuM signed letter
Other collectables
Chris: Quite often, original letters come up on eBay. Daphne was very diligent in replying personally to fans who wrote to her, usually asking for a book to be signed, so there are lots of letters out there. It is nice to own something Daphne typed herself on Menabilly notepaper, even if the content is unremarkable. Some of these are on sale for hundreds of pounds. It is hard to say what they could be worth in years ahead. I managed to buy the example above for £40 or so, which did not seem too bad.
Old magazines that have articles about Daphne, often based on interviews, are interesting and sometimes you learn something new. I like looking at the rest of the content in these – it gives you a feel for the context of when she was writing.
I also have a number of theatre programmes, including some from the first productions of Daphne's plays. A couple of years back I spotted a September Tide programme signed by Gertrude Lawrence, which I think is a good bet to appreciate, but I was outbid on eBay – the air was blue!
September Tide programme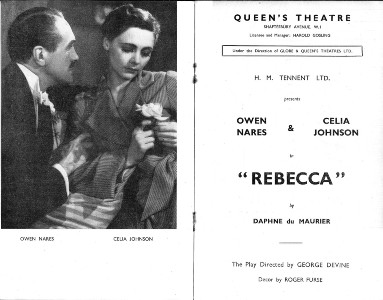 Rebecca programme
There is quite a bit of du Maurier related material that is potentially valuable, but you can still find interesting things out there. There are a few things to be wary of, though. An early copy of Jamaica Inn, bought at the Inn, say in the 1950s or 60s, and either stamped or inscribed to confirm this, might be worth a few pounds. However, I honestly can't believe that souvenirs from the Jamaica Inn gift shop will ever be worth more than originally paid for them. But I may be wrong, who knows!
I have had a lot of fun collecting first editions and other Daphne related material. You don't need to spend a fortune, and there are still bargains to be had, so get stuck in!
© Chris Main and Ann Willmore 2020