Clonmere Revisited by Chris Main
Following her marriage to Boy Browning, Daphne was obliged to embark on the nomadic lifestyle that is common to so many Army families. But this procession of borrowed houses ended in 1940 in Hythe, Kent, where Boy had been Commandant of the Small Arms School. In May of that year, now promoted to Brigadier, Boy was appointed Commander of the 128th Hampshire Infantry Brigade and stationed in Hertfordshire. To try to keep the family together, Daphne wanted to find a house to rent, but this proved difficult. Boy's batman, Johnson, was instructed to find a solution, and what he found was a childless couple, living in a large house near Hitchen, who were prepared to take the family in as paying guests. I should imagine Daphne was pleasantly surprised when she first arrived at Langley End, a handsome red brick house designed by the famous architect Edwin Lutyens.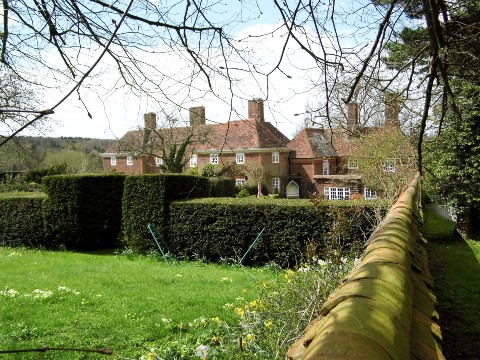 Langley End
She would have been greeted by her hosts, Henry and Paddy Puxley. At this point, readers familiar with this story will be thinking "Surely his name was Christopher, not Henry". It was Daphne who gave him the name Christopher, and it has stuck. But when they first met, he was most definitely Henry. His wife's name was Naumai, she was born near Christchurch, New Zealand. Her name is of Maori origin, and I should imagine it gave rise to difficulties in England, so she was known as Paddy - probably because her maiden name was Guinness. Her grandfather Frank, a grandson of the brewery's founder, had emigrated to New Zealand from Dublin in the 1840s. Naumai's uncle, Sir Arthur Guinness, had been speaker of the NZ House of Representatives.
Daphne took to the couple immediately, and her daughters loved Paddy, who sadly had been unable to have children of her own. Although only 42, Henry did not work, so he had plenty of time to attend to his celebrated guest, the author of Rebecca no less. He played the piano very well, particularly Chopin, and had a quiet, reassuring manner. Initially, the Brownings were only at Langley End for a few months because Daphne was pregnant and did not feel it was fair to have her baby at the Puxley's home. She managed to get a 3-month lease of a large house nearby called Cloud's Hill – owned by Lord Lloyd who was a Minister in the Government. After Christian was born in November and her lease was coming to an end in January '41, Daphne had nowhere to go, and so she accepted an invitation to return to Langley End.
In Flavia's memoir, despite being only 4 years old at the time, she recalls her mother with 'Christopher'.
Christopher would sit playing the piano softly in the background, my mother leaning over him to turn the pages of his music. We would become aware of the rippling sound of the piano keys and a faint whiff of his pipe and he would watch us, his dark eyes now smiling, and he and my mother would laugh at some secret joke in a world of their own. [1]
Margaret Forster explains that 'Christopher' was one of a pair of nicknames they had for each other, Daphne's being 'Jane'. These names, she tells us in a note, come from The Loving Spirit – Jane being a contraction of Janet. Given that in the book, these characters were grandmother and grandson, I'm more inclined to think the names refer to Christopher and Jane Slade, the real-life couple who inspired Daphne's first novel.
Once the family had returned to Langley End, Daphne began work on Frenchman's Creek – a book that can be blamed for cementing her categorisation as 'romantic novelist' – one she was never able to shake off, much to her chagrin. It's clear that her feelings for Puxley found expression in this tale of a frustrated wife looking for adventure – and he became a 'peg' for the charismatic pirate, Jean-Benoit Aubéry. Writing to her friend Oriel Malet some years later, she explained:
"…so great was my Gondal-Peg urge towards the man in whose house we were staying that Frenchman's Creek absolutely tore along! (Anything less like the Frenchman, really, than the poor man there couldn't be, but I Gondalled him into it, and saw him that way)." [2]
For those not familiar with Daphne's letters, to 'Gondal' means to imagine or make-believe. It comes from the Bronte family, who as children wrote epic stories about the imaginary kingdoms of Angria and Gondal.
By the time Daphne left Langley End to return to Fowey in the spring of 1942, she had talked extensively with Henry about his family history, beginning with the patriarch 'Copper John' who had founded a mining company on the Beara peninsula in South West Ireland in 1812. Once settled in the old stables at Readymoney Cove, Daphne turned the whole multi-generation saga into her next novel, Hungry Hill, on rather similar lines to The Loving Spirit. At the time, for obvious reasons, she did not wish to draw too much attention to the origin of the story. Most of the names of people and places were changed, but not very much else was changed – it is more or less a straight history of the 'Dunboy' branch of the Puxley family. Dunboy was where their great mansion had been built – named 'Clonmere' in Hungry Hill.
The best place to start is with Henry Puxley himself because few people seem to realise that he is the final character in the book, John-Henry Brodrick.
Henry Waller Lavallin Puxley was born in Weymouth, Dorset on 27th June 1898, and his younger brother, John Paul was born 18 months later in Jan 1900. His mother, known as Jinny, was Jane Eliza Halahan, daughter of Dean John Halahan, the Rector of Berehaven. His father was Henry Edmund Lavallin Puxley – 'Hal' in Hungry Hill. In the book, Hal falls down an old mine shaft after taking a beating from the bad guys – but the truth is even sadder. Hal was as severe an alcoholic as he is in the novel, and he died of cardiac failure brought on by Delirium Tremens at the age of 34, in August 1900, with his young wife at his bedside. Little Henry had just turned two.

Henry Edmund Lavallin Puxley's (Hal) death certificate
In the years after Hal's death, Henry and John Paul shuttled between their Grandfather Dean Halahan's home in Berehaven and Switzerland. I have not discovered who looked after them there, but presumably, that is where Henry learned to ski – which we see him doing in that continuously recycled snapshot.
In 1909, the family were reunited in Dublin, because Eliza had remarried. Henry's stepfather was Dr. William Steele Haughton. As well as being a top orthopaedic surgeon and a pioneer of the use of X-Rays, Haughton was a fine musician and keen yachtsman. With his encouragement, Henry learned to play the piano, and perhaps that is also why he became a sailor, if only rather briefly.
At the age of 16, Henry joined the Royal Navy as a cadet at the training establishment at Osbourne, Isle of Wight, and then on to Dartmouth. Just before his 17th birthday in 1915, he was posted as a Midshipman on HMS Exmouth, bound for the Mediterranean where he served in the Dardanelles campaign of WW1. Just before his 19th birthday, he was promoted to acting sub-lieutenant. In Hungry Hill, John-Henry remarks:
"This over-grown sub who sweats his guts out in the engine-room then goes ashore at Malta and overstays his leave, isn't John-Henry at all. The real John-Henry is standing in front of Clonmere, looking across the creek to Hungry Hill. And that's where I belong" [3]
Henry had been frank with Daphne about his troubles in the Navy. His RN service record makes grim reading - recording failed exams, being disciplined for drunkenness on board and direct disobedience of orders, and disparaging reviews such as "slow, very bad memory"; "lazy, can do well if he likes" and "intemperate, cannot be relied upon except under strict supervision." In September 1918, two months before the end of the war, he was discharged as being 'permanently unfit for active service, disability not attributable or aggravated by service'. He was suffering from Goitre – which is a swelling of the neck usually (though not exclusively) caused by iodine deficiency. This condition could be aggravated by smoking and excessive alcohol consumption.
Henry's discharge was mutually agreeable. As Daphne explains in the Epilogue of Hungry Hill, all he wanted to do was to restore his family home – the place where he believed he would be at peace.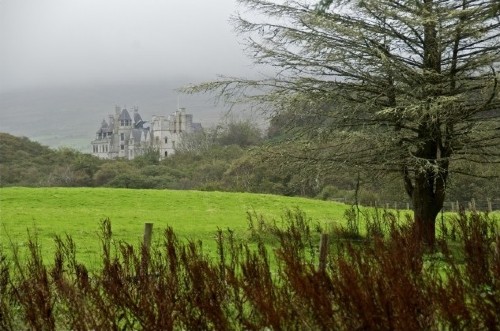 Dunboy - The Puxley mansion
No doubt he had gazed at the great old house in its wild and beautiful coastline setting as a small boy staying with the Halahans, who lived only a mile or two away. Now that Henry was a free man again, this dream was possible, because his grandfather had died in 1909 followed by his step-grandmother Adeline, in 1912. He was now heir to the family fortune. When he turned 21 in 1919, he began selling off the family property in Carmarthenshire to raise funds for the restoration of the Dunboy mansion. At that time, it had not been occupied since the 1870s and needed a lot of work. The new wing, which had been left unfinished when Henry's grandfather left Ireland following the death of his first wife, required completion. At some point during those immediate post-war years in Dublin, he met Naumai Guinness. I do not know how – but I assume she must have been on a family visit to 'the old country'. They became engaged and were due to marry in 1921.
No doubt Henry had taken Naumai to see the crumbling mansion, and they had begun to make plans about where they would start, which of the great rooms would be their bedroom, and so on. How exciting and romantic it must have been for a young girl from Timaru. All was set fair until six weeks before the wedding when the IRA burned the house down. All this is described in Hungry Hill – the only real difference being the omission of John-Henry's upcoming marriage. The thrall of a great house was a sentiment that Daphne understood perfectly. As she wrote about the obliteration of Henry's dream some twenty years previously, she was on the cusp of realising her own – a long term lease of Menabilly, her House of Secrets. This contrast rather mirrored their personal trajectories in the years that followed.
For some strange reason, most authors seem to think that Henry is portrayed as 'Wild Johnnie' in the novel – but that was his great uncle, John Simon Lavallin (1831-60). When she wrote Hungry Hill, Daphne was still very close to Henry Puxley, and there was no reason for her to depict him as a raging alcoholic. His Naval record suggests that, like his father and great uncle, he always had a weakness for alcohol – but this did not become all-consuming until later in his life after their affair had come to an end.
Despite the terrible trauma of losing their dream home, the wedding of Henry and Naumai went ahead on 20th July 1921 in Blackrock – a fashionable Dublin suburb.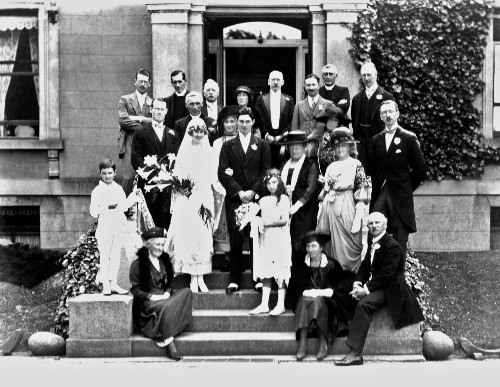 The wedding of Naumai and Henry
After the wedding, the happy couple decided that Ireland was no longer a safe place to be and set about finding somewhere to live in England, as 'Eugene Donovan' had suggested they should in the last few lines of Hungry Hill. Henry also set about suing the British Government for the loss of the Puxley mansion. In 1925 at the Skibbereen Quarter Sessions, he was awarded compensation of just over £50,000 – the equivalent of about £3 million today. The mansion remained derelict for the rest of the century, but around 2004, it was purchased by a group of developers hoping to turn it into a luxury hotel. Although they restored the building, the venture fell victim to the collapse of the Irish property market in 2008, and it remains empty.

Dunboy - before and after its restoration
In addition to the sums raised by the sale of the Puxley family's Welsh properties, the compensation made Henry a rich man. He had bought the beautiful Langley End and enjoyed a pleasant lifestyle, with a Bentley and an Alvis in the garage. The couple might well have lived happily ever after in the Hertfordshire countryside but for the intervention of a certain famous novelist. Daphne knew the consequences were unfortunate. In a letter to Ellen Doubleday she confessed:
"All D du M achieved in the great war was to keep her own home intact but break up somebody else's more successfully than an atom bomb could do" [4]
It is easy to make moral judgements about the actions of others – but personally, I don't have much time for that approach. We can never know all the factors involved; we were not there; we cannot feel as they felt. Daphne's relationship with Henry 'Christopher' Puxley was part of her life, and so is a part of the legacy she leaves behind. Frenchman's Creek is one of her most successful and best-known novels. Hungry Hill may not be among her finest works, but like many of her stories, it was made into a feature film and is an important part of her catalogue. Henry Puxley was a key ingredient for both of these novels but, sadly for him, it came at a price.
Henry and Naumai Puxley stayed together and were married for over 50 years. They both died in 1973.
[1] Flavia Leng - Daphne Du Maurier, A Daughter's Memoir
[2] Oriel Malet - Letters from Menabilly (Letter by Daphne Du Maurier to Oriel Malet)
[3] Daphne Du Maurier – Hungry Hill
[4] Jane Dunn - Daphne du Maurier and her Sisters ( Letter by Daphne du Maurier to Ellen Doubleday)
© Chris Main 2020.