Coronation Guest Chairs belonging to Daphne du Maurier and General Browning
There was a recent item on the BBC's Antiques Roadshow about two Coronation guest chairs, from the Coronation of Queen Elizabeth II in 1953.
Daphne du Maurier at Kilmarth, sitting on her Coronation guest chair
The programme resonated with one of our Daphne du Maurier enthusiasts, who also owns two of those Coronation guest chairs. She believes that her chairs are the ones that once belonged to Daphne du Maurier and her husband, Lieutenant-General Browning. She loves these chairs, having owned them for many, many years, and was keen to know if the provenance could be confirmed.
One of the chairs is numbered 205 and has a label stating that it was sold at Phillips Auctioneers. The 'Kilmarth Sale', at which many du Maurier related items were sold after Daphne had died, was undoubtedly held by Phillips (later Bonhams) at their auction rooms in Par, the village just outside Fowey and only a couple of miles from Kilmarth. Items of furniture from that sale were marked with a Phillps label.
Interestingly, in the opening sequence of the 1971 Wilfred De'Ath documentary, Daphne du Maurier is sitting at her desk typing. The chair she is sitting on is a green velvet Coronation guest chair.
From January 1948 General Browning had been Comptroller and Treasurer to Her Royal Highness the Princess Elizabeth and the Duke of Edinburgh. Then, when King George VI died, and Elizabeth became Queen, General Browning's role altered, and he became Treasurer and Head of the Office of the Duke of Edinburgh. This close relationship with the Queen and the Duke of Edinburgh made it evident that he and his wife Daphne du Maurier would have been allocated guest chairs at the Coronation.
In June 1953 Daphne wrote to a friend:

I did have a seat in the Abbey (I wore an old evening dress that looked quite harmless) and got quite a thrill out of it all when the actual moment came…. You will see Tommy in the procession on the movies.

To elaborate on what she said, the correct dress was for the women to wear ankle-length dresses. General Browning, in his role working with the Royal Family, rode in the procession on a grey horse. I don't currently have a description of his uniform, but he wore a cocked hat with plumes.

The owner of the two chairs contacted Westminster Abbey to see if they could shed any light on their provenance. This is what they said about where Daphne and Lt General Browning sat for the ceremony:

As coronations are state occasions, the archives of Westminster Abbey don't hold a great deal of information about the detailed seating arrangements at the Queen's Coronation, although we are asked about these chairs quite often. We have a printed list of attendees which records the block in which people were seated, but I'm afraid there is no way of correlating the numbers on the surviving chairs to the people who sat on them. Whatever the system was, it was not as straightforward as giving each seat a unique number. I have not encountered any seats numbered in the thousands even though there were over 8,000 attendees; rather it would appear that the seats were numbered within their blocks and so there will often be more than one chair with a particular number.

As you probably realise Lieutenant-General Browning was Treasurer to the Duke of Edinburgh and the most I can tell you is that he and Daphne du Maurier were in Block A4 which was a gallery on the west side of the north transept which seems to have been reserved for members of various royal households.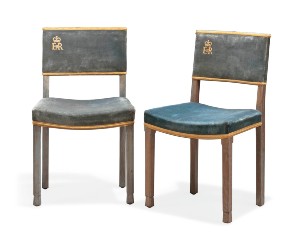 A pair of Queen Elizabeth II Coronation guest chairs
We found this information so fascinating that we wanted to share it with you. If anyone has anything to add, please email us on info@dumaurier.org. Or perhaps someone out there has a copy of the catalogue for the 'Kilmarth Sale' and can tell us if the two Coronation guest chairs are listed.