Don't Look Now: Nicolas Roeg's 1973 adaptation of Daphne du Maurier's short story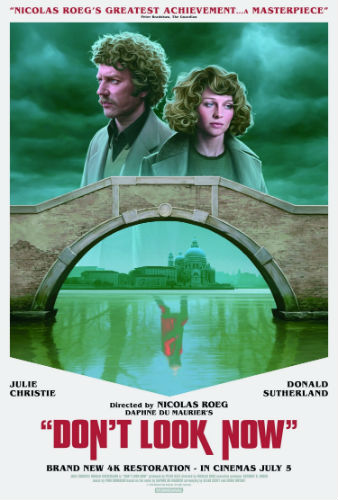 In 2018 Nicolas Roeg's psychological thriller Don't Look Now topped the Time Out poll of the 100 Best British Films, as chosen by film-makers and critics, and the movie remains central to Roeg's reputation as an innovative and visionary director. Often cited as one of the best horror movies of modern times, the film is based on Daphne du Maurier's 1971 short story of the same name (from the collection originally published as Not After Midnight) and the adaptation ranks as one of the most successful interpretations of du Maurier's work on the big screen to date. In 2019 Don't Look Now was restored and re-released in cinemas and on a special collectors' edition DVD and to celebrate this resurgence of interest in the film, Dr Laura Varnam has written this in-depth essay for the Daphne du Maurier website which explores the relationship between the film and short story, Roeg's approach to the adaptation, and du Maurier's own response to the film. Ben Wheatley, the director of the forthcoming adaptation of Rebecca for Netflix and a huge fan of Roeg's work, has described the film as a 'kaleidoscope of meaning' and, like du Maurier's original story, the film constantly reveals new interpretations on every viewing, as images rise to the surface and re-form in new and dazzling ways. You must 'look now', you cannot help it, but as the trailer for the film teases, 'you are warned... things are not what they seem.'
Please note: this article contains spoilers for both the film and short story.
One of du Maurier's most brilliant and disturbing works, Don't Look Now tells the story of married couple John and Laura who, while on holiday in Venice grieving the loss of their child, meet two sisters, one of whom is a psychic and claims to have seen their dead daughter sitting beside them. The sisters subsequently warn the couple that they will be in danger if they remain in Venice and, much to John's annoyance, they claim that he too has second sight. The deeply rational and logical John cannot accept this possibility and when Laura is suddenly recalled to England because their other child is unwell and he sees her, apparently still in Venice, on a ferry with the sisters, he panics and goes to the police. This sight turns out to be a prophetic vision of the future. John's failure to heed the sisters' warning leads to his untimely death at the hands of a dwarf murderess, whose seemingly innocent figure John mistook for a child in danger. The story has all the ingredients of a classic du Maurier tale: the ideal combination of place and narrative, with the Gothic city that harbours a dangerous killer; a flawed male character who cannot see what is going on around him; and a complex exploration of the relationship between past, present, and future. Intensely visual, perfectly plotted for maximum impact, and an engaging puzzle that draws the reader in, du Maurier's short stories such as Don't Look Now are a gift for film-makers and audiences.
Director, Actors, and Location
Nicolas Roeg's experimental editing style and penchant for powerful visual symbolism made him the perfect director to bring du Maurier's cinematic, dislocating, and time-bending short story to the screen. Don't Look Now was Roeg's third film as director, following Performance (1970) and Walkabout (1971), and prior to directing, he had been a cinematographer, working on David Lean's Lawrence of Arabia (1962) and Doctor Zhivago (1965), although a disagreement with Lean led to him leaving Zhivago and his replacement Freddie Young being given the credit when the film was released. Roeg also did the cinematography for the 1964 horror film The Masque of the Red Death, a film that features a red cloaked figure of death that eerily foreshadows the little red dwarf in Don't Look Now. Roeg's work on François Truffaut's Fahrenheit 451 (1966) brought him into contact with Julie Christie, who played the starring role in Doctor Zhivago and in the adaptation of Thomas Hardy's novel Far from the Madding Crowd (1967), for which Roeg once again did the cinematography.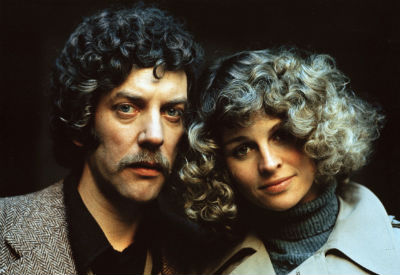 When it came to casting John and Laura Baxter in Don't Look Now, Roeg was determined that the roles should be taken by Donald Sutherland and Julie Christie and it seemed fated that this should be so. Although initially unavailable when approached for Don't Look Now, both Sutherland and Christie suddenly became free to work on the film, much to Roeg's delight. Both actors were already popular at the box office and Roeg wanted them to appear as a 'golden couple' who were completely 'unprepared' for the tragedy that was about to strike (Roeg, 1973 interview). The character actress Hilary Mason played the blind, psychic sister Heather and the popular Italian actress Clelia Matania played Wendy. The role of the dwarf murderess was played by Adelina Poerio and Massimo Serato played Bishop Barbarrigo, a character that was Roeg's addition to du Maurier's plot.
The screenplay for the film was written by Allan Scott and Chris Bryant, but Roeg was intensely involved in the editing and cutting of the film, and a number of crucial elements arose out of the process of filming itself. In an interview in 1996, Roeg commented: 'I don't care for rehearsing and I've never used storyboards: if you have set things in mind you're immediately imposing yourself on the essence of the story and the characters. I believe film has a life of its own but releasing yourself to it is by no means easy' (Sanderson, p.71). Don't Look Now perfectly dramatizes this sense of a narrative having a life of its own, as the plot seems to spiral out of control and gather momentum as it races towards its tragic conclusion. Ironically, John's character is unable to 'release himself' to the psychic strand of his own story and as a result of his stubborn resistance, he plunges headlong towards his own death.
Roeg's flexible way of working and shooting meant that he was open to changes that suggested themselves naturally. When John and Laura enter the church to light candles for Christine, after Laura has met the sisters for the first time, John casually comments that he doesn't like the church at all and Laura retorts, 'well I do'. This mundane but believable snapshot of the couple was based on Sutherland and Christie's own responses to the church during an off-camera moment that Roeg felt perfectly captured the Baxters' easy familiarity with one another, and so he cut the scripted lines and added this dialogue to the film instead, allowing the relationship to develop from the actors' own personal interactions.
It was initially difficult for Roeg's team to get permission to film in a suitable church in Venice but then they found San Nicolo dei Mendicoli. With scaffolding already in place, this church was in the process of being restored by the 'Venice in Peril' fund, whose advert was fixed to the outside wall of the building and is visible in the film. Both Venice and the Baxters are 'in peril' and the advert perfectly captures the sense of threat and loss that is at the heart of the film. John Baxter is attempting to save the crumbling church but he is unable to save himself. The critic Neil Sinyard comments that Venice has 'never been more dramatically or expressively used on film' (p.49) and Roeg filmed in the city out of the tourist season in order to create a bleak and barren atmosphere. The film deliberately avoids tourist hot spots like St Mark's Square and the action is set in backstreets and alleyways, and in a hotel that is closing up for the winter, its furniture shrouded in dust sheets. In du Maurier's story the crowds of tourists and the busy restaurants and squares are both suffocating and reassuringly familiar, but when the sun goes down the darkness casts the city in a different role and Du Maurier foregrounds this disjunction:
The soft humidity of the evening, so pleasant to walk about in earlier, had turned to rain. The strolling tourists had melted away. One or two people hurried by under umbrellas. This is what the inhabitants who live here see, he thought. This is the true life. Empty streets by night, the dank stillness of a stagnant canal beneath the shuttered houses. The rest is a bright façade, put on for show, glittering by sunlight. (p.25)
Roeg rarely allows us to catch a glimpse of this glittering tourist city. His version of Venice is both familiar and strange for the viewer; it is not the Venice we are expecting. It is a city in peril of disintegration, like John's decaying churches, and its citizens are under threat from an unidentified murderer. In an addition to du Maurier's dialogue, Roeg has the psychic Heather declare that Venice is a 'city in aspic' and that her sister hates it because 'it frightens her, too many shadows'. For Heather herself, the canals and claustrophobic streets provide the perfect echo chamber that she can navigate by sound, and yet this is not reassuring for the viewer. In the final scenes of the film, the tension is raised considerably by the sound of Laura running, getting closer and closer, but her appearance in shot is continually delayed so that the anticipation becomes deeply unsettling and we start to wonder if we can no longer trust our ears as well as our eyes. In du Maurier's short story, John concludes that 'the experts are right... Venice is sinking. The whole city is slowly dying' (p.26) and Roeg's film perfectly reflects this slow sense of decay and death.
The Adaptation
Roeg commented that 'du Maurier was a true writer and understood about translating a story into another medium' (Sanderson, p.79) and in his film he made a number of changes to the plot and imagery that enable the story to work more effectively for cinema. Du Maurier approved of his adaptation, as I will discuss further below, and the changes that he made are very much in keeping with the atmosphere and imaginative world that du Maurier had created. Roeg's sensitivity to du Maurier's visual style and to the mechanics of her plot structures means that, in the main, his alterations enhance and enrich her creation, rather than feeling like a director's attempt to stamp his own mark on a narrative. And unlike Hitchcock in his adaptation of Rebecca (1940), Roeg wasn't hampered by the requirements of the censors, despite the controversy caused by the notorious sex scene.
One of the primary changes that Roeg makes to the story is to have the Baxters' daughter Christine die by drowning in a large pond in their garden, rather than of meningitis. This may have been suggested by the way in which du Maurier introduces the cause of death in the story, by imagining the danger that a city like Venice might pose to a small child:
The point was, remembering Christine before the onset of the fatal meningitis, she would have been running along the bank excitedly, throwing off her shoes, wanting to paddle, giving Laura a fit of apprehension. 'Sweetheart, take care, come back...' (p.15)
Changing meningitis to drowning enables Roeg to directly link her death to the waters of Venice, and water and reflections are one of the primary clusters of imagery in the film. But it also enables him to strengthen John's sense of personal responsibility for his daughter's fate. In the famous opening scene of the film, Laura and John are inside the house while Christine and her brother Johnnie play outside by the pond, and John has a sudden premonition that something is wrong and he rushes out of the house to find Christine under the water. This plot change also establishes John's sixth sense within minutes of the film beginning (whereas in du Maurier's version, John's psychic abilities are only confirmed about two-thirds of the way through the story). In the film, John was too late to save his daughter but something told him that things were not right; as he rushes outside, Laura asks him, 'what's the matter?'. In Venice, John is similarly forewarned but this time he refuses to listen, instead convincing himself that the figure in red needs his help. John sees the ghost of Christine in the figure of the dwarf and pursues her in the misplaced hope that by protecting the little figure he can somehow assuage his guilt for being unable to save his daughter.
The change in the manner of death required a rather different interpretation of the Baxters' presence in Venice for Roeg's film, however. Given that their daughter drowned, the choice of Venice as a holiday destination (the motivation for their travel in du Maurier's story) would have seemed perverse and so Roeg turns John into a church restorer who is working on a particular project in Venice. This has a dual effect on John's relationship with the city because on the one hand his professional knowledge gives him a sense of authority and belonging but on the other, it emphasises his sense of dislocation when he gets lost in the backstreets or when he suddenly comes upon a familiar place without quite knowing how he got there. John is not quite as comfortable in this Venice as he should be.
John's profession also enables Roeg to expand upon the Christian imagery in the story. John and Laura visit churches in du Maurier's version and after the sisters have told them that Christine is still with them, Laura responds sympathetically to an image of the Virgin and Child, declaring 'isn't she beautiful? So happy, so serene'. Laura's reading of the mother is positive and consolatory but John finds the 'long, sad face of the Virgin infinitely remote' (p.14). In the film, Roeg continually foregrounds this sense of a disconnect between the artwork and the faith it represents. There is no comfort to be found in these images. The gargoyles that John is restoring appear sinister, especially when the film cuts away from their stone features to the blind eyes of the psychic sister and to shots of the sisters laughing together. These moments, which are additions to du Maurier's plot and appear on screen like visions to the audience, feed our suspicion that the sisters might pose a danger to John, despite Roeg's addition of a line of dialogue in which Heather declares that 'second sight is a gift from the Good Lord who sees all things.' Religion does not seem to provide reassurance or indeed protection in the film and Roeg's introduction of the character of the bishop is similarly ambivalent. The bishop tells John that he believes in prophecy but wishes he didn't, adding to the film's sense of unease over the preternatural. Initially it appears that the sisters' warning that John is in danger is proven when he nearly dies after a spectacular fall from a suspended platform in the church, damaged when a falling plank of wood smashes the glass over John's head and leaves him spinning dangerously in the air, hanging onto a rope. This terrifying addition to du Maurier's story turns out to have been perilously dangerous for Donald Sutherland– who ended up filming the scene himself– when it was revealed that the cord he was hanging on to was not really strong enough to bear his weight. The sense of peril and danger in the shot is all too real.
Ben Wheatley commented of the film that 'it felt to me that there was something trapped in the film itself... it never really shows its face but lurks in the edits, in the performances and casting.' Part of that sense of a lurking danger is established at the beginning of the film by the red triangular shape that appears in the photographic slides of the church that John is restoring and he peers closer, trying to figure out what is hiding there. Roeg's introduction of the colour red as a leitmotif that recurs throughout the film is another major addition to Du Maurier's story. Most notably both Christine's rain coat and the dwarf's pixie hooded coat share this triangular shape.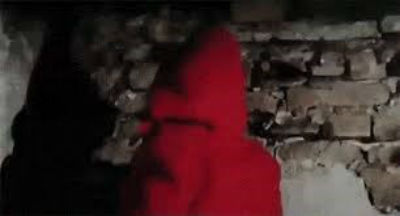 Critics such as Gina Whisker have shown that the use of the coat presents the dwarf as a perversion of the figure of Red Riding Hood from fairy tale tradition. The little figure in red does not need protecting from the Big Bad Wolf, however, because she is the real menace that will destroy the would-be male protector in the form of John. In the original story, du Maurier's psychic sister describes Christine wearing 'the little blue-and-white dress with the puff sleeves that she wore at her birthday party' and du Maurier reserves the shock of the colour red for John's vision of Laura with the sisters on the ferry:
Then he saw her. Laura, in her scarlet coat, the twin sisters by her side, the active sister with her hand on Laura's arm, talking earnestly, and Laura herself, her hair blowing in the wind, gesticulating, on her face a look of distress. (pp.31-2)
The colour red in du Maurier's work often features as a sign of danger, frequently related to female power, as we see in the case of Rebecca de Winter and her blood-red rhododendrons. In Roeg's film, Laura and the sisters are dressed in black and they are stood on a funeral barge, rather than the ordinary ferry in the story, and in this visual tableaux Roeg gives us far more explicit information than du Maurier's John receives. The sight of the three women dressed in black cannot help but appear as a dark omen for John. But it also makes the viewer wonder not only why is Laura there with the sisters when she should be on a plane to England but, more worryingly, why- and for whom- they are dressed in mourning.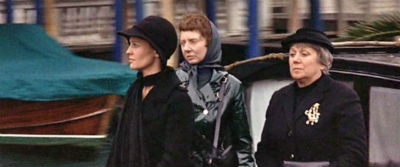 Roeg uses the imagery of red to create a deliberate association between Christine and the dwarf, which hints at why John Baxter might follow this unknown figure deep into the alleyways of a city where there is a dangerous murderer on the loose. Roeg expert John Izod describes it as a 'visual target' that immediately draws the viewers eye (Izod, p.67). We cannot stop ourselves from 'looking now' at the bright colour popping out against the muted background of the city with its grey canals and washed out buildings. The importance of the red shape is established in very opening shots of the film and as Izod argues, 'in one sense the plot of Don't Look Now can be described as a search for the meaning of an image, as, utterly unconscious of what he is doing, a bereaved father searches among the living for traces of his dead daughter' (Izod, p.67).
The Opening Sequence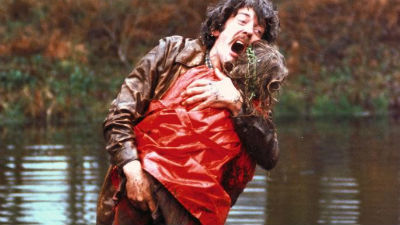 Don't Look Now has one of the most compelling and haunting opening scenes in British cinema and it is almost impossible to watch. The critic Neil Sinyard describes its 'crucial importance' to the film because 'the sense of pain established in the opening will carry through to the end, making it difficult to imagine that anything but tragedy could await after such a scene' (Sinyard, p.48). Few viewers can forget Donald Sutherland's howl as he pulls his daughter out of the pond and collapses into the mud holding her lifeless body in the garish red raincoat. Indeed, the scene was so realistic and horrifying that during early takes the father of the young actress couldn't prevent himself from rushing into the water to try to save her.
Opening with Christine's death is a striking alteration to the tongue-in-cheek fantasy of du Maurier's opening in which John and Laura see the sisters in a restaurant on Torcello and they imagine all sorts of pretend lives for them, from retired Australian school teachers to jewel thieves and murderers in drag.
'Don't look now,' John said to his wife, 'but there are a couple of old girls two tables away who are trying to hypnotise me. (p.7)
The 'familiar holiday game' of people-watching– in which du Maurier herself often indulged, sparking ideas for her fiction– raises the spectre of deception and horror that is quickly quelled by laughter at its absurdity. But in fact, as the John of Roeg's adaptation wryly comments, 'nothing is as it seems' and by the end of the story John's understanding of not only the sisters' identity but even his own will have been completely overturned. Du Maurier's mischievous opening puts us on the back foot, chuckling where we should be on our guard. There is, in fact, a murderer hiding in plain sight in this city and the Baxters' encounter with the sisters initiates a plot that ends in brutal death. Roeg's opening has undeniable emotional impact but we are perhaps primed for tragedy more obviously than in du Maurier's playful café scene.
Crucially, Roeg's new opening also establishes the imagery that will be fundamental to the film's visual landscape, identifying the symbols and colours that will recur and repeat, both as a way of reminding us of the past tragedy of Christine's death and warning us of the future tragedy yet to come. The red triangular shape in John's photographic slide, the red streak that suddenly smears into a curve, the shape of Christine's limp body in John's arms, her red shiny raincoat slick with water... all coalesce in the figure of pixie-hooded dwarf who draws John to his untimely (and yet ironically predictable) death at the close of the film. The opening sequence gives us water, rain, broken and shattered glass, an upside-down reflection, submersion and immersion, a ball, a bicycle, an action man doll wearing a skirt... all of which reappear in strange but familiar ways in the canals and alleyways of Venice. In a move that is typical of du Maurier's own fiction, everything in the film seems to have its double– Christine and the dwarf, the dangerous water of the pond and the Venetian canals– and a duality of meaning. Roeg commented of the use of glass in the film that the material is especially 'fragile... so firm one moment and so dangerous the next' and this speaks to the heart of the film's symbolism and interest in paradox. In an addition to du Maurier's story, the film opens with Laura trying to answer a question that Christine has asked her, 'if the world is round, why is a frozen pond flat?' Both facts appear to be true but contradictory at the same time, just as the tiny figure in red is at once threatened and threatening, in danger and a very real danger. We as the viewer we are being invited to make connections but to be wary of what those connections might mean. As Andrew Patch puts it, the film 'coerces the spectator into seeking a relationship between connections that may or not exist' (Patch, p. 257). We are told 'don't look now' and yet the striking, eye-catching symbolism of the colour red causes us to do just that. John can physically see but unlike the blind psychic, he cannot really 'see'. The film encourages us to think about the extent to which things that look alike are in fact alike in meaning, or whether such deceptive similarities are designed to lead us astray, just like a little red dwarf... As Mark Sanderson puts it, the opening sequence 'serves as a warning, blink and you'll miss it' (Sanderson, p. 31).
The editing of the film's opening sequence, which features over 100 shots in only seven minutes, also primes us to look for these similarities. The sudden collision of apparently unrelated sights and sounds is established by the mirroring of gestures (objects thrown and caught, such as the ball and the box of slides) and the direct juxtaposition of sounds, such as Laura's scream at the sight of Christine's body immediately cutting to the shrill sound of a drill in Venice (also a nod to the scream and the train whistle in Hitchcock's 39 Steps). Here we jump instantaneously from England to Venice, from traumatic death to the continuation of life, but the impact of the opening scene lingers and it is meant to do so. Roeg's characteristic editing technique which cuts images together perfectly replicates the complex interconnection of time in du Maurier's story. In an interview in 2011, Roeg said that 'life isn't linear, its sideways' (Gilbey) and this playful allusion to the potential simultaneity of time is precisely what we see in du Maurier's story. John sees the future as though side by side with the present. In the film's famous sex scene (a further addition to the story that will be discussed in more detail below), the love-making and subsequent dressing scenes are intercut so that they appear to take place side by side, at the same time. We become immersed in the world of the film and realise that time does not work in a straightforward linear fashion in this fluid and shifting world.
The meaning of the opening sequence gradually unfolds and becomes recognisable as the film progresses. We see a window with a distinctive circular pattern in the glass, for example, that we only realise later in the film is the window of the Baxter's hotel room (which in linear terms, they have not yet visited, as the opening sequence is set at home in England). In this way the opening sequence resembles a mosaic, just like those that John is restoring. We see the individual images like single mosaic tiles and it is only when they are put together and we stand back to look, that the overall picture becomes clear. Roeg's artistic decision to work in this way is reinforced in at the end of the film when John confronts the dwarf and is stabbed in the neck. Images recur from the opening sequence and from the rest of the film and we suddenly see, fully, in retrospect that all of the warning signs were leading up to this moment.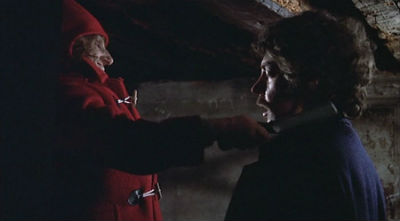 In du Maurier's short story, the narrative ends with John's final thought as he dies: 'Oh God... what a bloody silly way to die...' (p.55). The irony and absurdity of the line is represented in the film by the female dwarf both smiling and shaking her head as she reaches for the knife in her pocket. Roeg was initially attracted to the script of du Maurier's story because of its strong narrative arc. He had been looking for a story 'that would complete in some way, or continue in some way, a line of thought' (Milne and Houston interview, p.3). Roeg's return to the opening sequence's montage technique completes the circle and reinforces the connections between the images that have gradually been coming together in the viewer's mind throughout the film. If we have been paying attention to the clues that Roeg has laid before us, we will have seen this coming, even if it is painful to look now, when the hideous dwarf ends the hero's life.
That Sex Scene
As well as stunning visual effects and a tense storyline, Don't Look Now is famous for the sex scene between Julie Christie and Donald Sutherland, which is intercut with shots of the couple getting dressed for dinner. The scene was controversial because there had been nothing like in it in cinema to date. Indeed, Julie Christie remarked that it was difficult to do because 'there were no available examples, no role models' (Sanderson, p.21) and indeed it was one of the first scenes that Sutherland and Christie shot together. The intensity and intimacy of the scene was so credible, however, that it led to (incorrect) rumours that it was not in fact simulated at all. In the short story, the Baxters' love-making is mentioned but not dwelt upon:

'Now,' he thought afterwards, 'now at last is the moment to make love,' and he went back into the bedroom, and she understood, and opened her arms and smiled. Such blessed relief after all those weeks of restraint. (p.17)
Roeg's amplification of this scene is crucial to his interpretation of John and Laura's relationship in the film and he deliberately wanted to show a sensual scene of married love not only to demonstrate the depth of their affection for one another but also to provide the possibility of hope for the future. Roeg decided to add the scene to the film because he realised that many of John and Laura's interactions in the were plot were disagreements and he wanted to show that they were happy together. 'Most love scenes in a movie amount to a seduction', Roeg commented, 'I wanted to make this as normal as possible... I wanted to get a reality to it of two human beings' (DVD notes). Roeg takes the brief moment of married love in du Maurier's short story and brings it to life for the viewer. Du Maurier expert Richard Kelly concludes that 'du Maurier's cool indifference to her characters, her clinical observation of their movements through the fate she has predestined for them, allows Roeg to flesh out this tale with a rich elegance and sensuality' (Kelly, p.135).
Roeg explain that what attracted him to the story, 'the hook', was 'how a couple were affected by the loss of their child' but the film also hints at how Laura as an individual might be affected by John's death. At the end of the film, Laura is on the funeral barge and Roeg, much to Christie's surprise, asked the actress to smile and in subsequent interviews, the director suggested that this might be read in a number of ways, all of which provide some comfort and hope for her character. The smile might represent Laura's belief that John and Christine are finally together in the afterlife and it is striking that when John is facing his death and the film cuts to Laura stretching her hand through the locked gate, she calls out 'darlings' in the plural, perhaps unconsciously recognising that what is happening to her husband is in some way related to the loss of their child. Laura's smile might also signify that although both husband and child are dead, her love for both was real; this is what Roeg described as the 'smile of the undefeated' (DVD interview). Or perhaps, alternatively, that John lives on in the new life that may be forming in her body, as a result of their love-making. Certainly when Laura steps off the funeral barge, heedless of Heather's outstretched hand looking for assistance, she appears confident and self-assured, and entirely in command of the scene with her head held high.
Mark Sanderson has called Don't Look Now an 'intensely romantic' movie and given the addition of the love scene in Roeg's reinterpretation of the story, this reading is persuasive.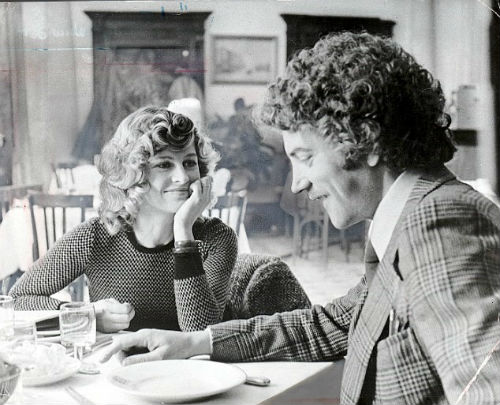 But as Du Maurier expert Nina Auerbach remarks, although Roeg's scene makes us 'care about the characters and mourn their separation', 'it is a love scene that Daphne du Maurier never wrote and would never have written' (Auerbach, p.156). The explicit scene was cut for the US market and amusingly, Du Maurier was shown the sanitised version. She wrote to her friend Oriel Malet, 'the funny thing was, there is a terrific bed-scene in it (not in the story) and I was shown the version in which it is cut!! But the version that will be shown in London this week has it in, and Kits [Daphne's son] says one sees everything!' (Malet, p.266). On a more serious note, Daphne reflected later that it was 'a pity about the sexy bit though- so unnecessary' and as Nina Auerbach points out, such changes to Du Maurier's works for film by directors such as Roeg and Hitchcock, can be seen to do her a disservice:
Male directors may not deliberately falsify Daphne du Maurier but if we know her through their movies, we don't know her at all. Alfred Hitchcock, Nicolas Roeg, and the others soften the works they adapt by adding to du Maurier's stark vision love stories she never conceived. These gifted directors not only beautify du Maurier for the movies, they feminize her as well, turning her impersonal, almost inhuman tales into the romances her admirers wish she had written. (Auerbach, p.157).
Roeg commented in an interview that he'd 'have hated [the film] to end in the triumph of bad things' but the strength of du Maurier's writing is that she refuses to look away when faced with tragedy. Like Laura, with her chin held high, she stares resolutely on.
Roeg and Du Maurier
In a 1973 interview Roeg described himself as a 'great admirer of Daphne du Maurier, she's an extraordinary writer. It's not a fluke that such interesting movies are made from her novels' (Milne and Houston, p.3). And aside from the sex scene, du Maurier approved of the adaptation. She described the photography as 'glorious' in a letter to Oriel Malet and in a letter to the actor Alec Guinness (who had starred in the 1957 adaptation of du Maurier's The Scapegoat), she said that Julie Christie was 'enchanting', the 'two old sisters terrifying', and despite the alterations, 'the whole effect is pretty grim, one reaches for one's whiskey afterwards.'
In her letter of congratulations to Roeg himself, Daphne wrote:
I saw your film of my story and your John and Laura reminded me so much of a young couple I saw in Torcello having lunch together. They looked so handsome and beautiful and yet they seemed to have a terrible problem and I watched them with sadness. The young man tried to cheer his wife up but to no avail and it struck me perhaps that their child had died of meningitis... (quoted in Sanderson, p.80)
Roeg described the letter as 'wonderful' and praised du Maurier's generous response. He said that as a writer she wasn't possessive over her ideas– 'the ideas are all around us; life, stories, plots are all here'– and where her story had been inspired by the couple in Torcello, his version of that same story had been inspired by her work. In this way, just as past, present, and future merge and exist simultaneously in du Maurier's story, both adaptations can be seen as creative versions of that initial idea inspired by the observation of a real couple.
Du Maurier recognised that adapting books for film was a complex process of translation and she admitted to Roeg that she didn't give film-makers an easy job.
'I know I make the adaptor's work more difficult by too often writing a story as a narrator or through a single character's mind, which necessitates further invention on the part of the adaptor, and director, to enable a story and its people to come alive, and here you have succeeded admirably, indeed added more depth to unconscious thoughts that might have been my own.' (Shallcross, p.151)
Daphne's assessment that the film adds 'more depth to unconscious thoughts that might have been my own' is praise indeed and a close comparison of the film and short story bears out the manifold ways in which Roeg has responded sensitively and imaginatively to du Maurier's work. Daphne joked to Roeg, 'please one of these days, find another of my short stories to screen!' There could not be a more positive endorsement of Roeg's achievement in bringing du Maurier's brilliant short story to life for the big screen.
© Laura Varnam, August 2019.
Bibliography
Quotations from the Penguin edition, Don't Look Now and other stories (1973). 'Don't Look Now' was originally published as Not After Midnight (Gollancz, 1971).
On du Maurier:
Nina Auerbach, Daphne du Maurier: Haunted Heiress (University of Pennsylvania Press, 2000)
Richard Kelly, Daphne du Maurier (Twayne, 1987)
Oriel Malet, Letters from Menabilly: A Portrait of a Friendship (Weidenfeld and Nicolson, 1993)
Martyn Shallcross, The Private World of Daphne du Maurier (Robson Books, 1991)
Interviews:
'Don't Look Now: Nicolas Roeg interviewed by Tom Milne and Penelope Houston', Sight and Sound, 43.1 (1973), 2-8
'Ben Wheatley on Don't Look Now: I felt a great panic come over me', The Guardian, 28 August 2013 https://www.theguardian.com/film/filmblog/2013/aug/28/ben-wheatley-dont-look-now
Ryan Gilbey, 'Why Nicolas Roeg (1928-2018) was my film hero', The New Statesman, 26 November 2018 https://www.newstatesman.com/culture/film/2018/11/why-nicolas-roeg-1928-2018-was-my-film-hero
DVD special features including interview with Nicolas Roeg and sleeve notes by Ryan Gilbey.
Secondary Criticism:
John Izod, The Films of Nicolas Roeg: Myth and Mind (Macmillan, 1992)
Andrew Patch, 'Beneath the Surface: Nicolas Roeg's Don't Look Now', in Don't Look Now: British Cinema in the 1970s, ed. Paul Newland (Intellect, 2010), pp.253-64
Mark Sanderson, Don't Look Now (British Film Institute, 1996)
Neil Sinyard, The Films of Nicolas Roeg (Lettes, 1991)
Gina Whisker, 'Don't Look Now! The Compulsions and Revelations of Daphne du Maurier's Horror Writing', Journal of Gender Studies, 8.1 (1999), 19-33.