A review of Daphne's Ghost, a novel by D.L. Baylis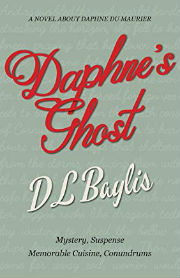 A former journalist who lives in Cornwall, D.L. Baylis was in the middle of writing her first novel, the first in a series of mystery stories, when a charity luncheon at Menabilly stopped her in her tracks. The idea of Daphne's Ghost came to her, a totally different story from the one she was writing and with the idea came an insistence that the story be written, a feeling that it must be written, in fact was almost felt as if the story was writing itself. So, for the author, a whole new chapter began, and she found herself writing a novel about the author Daphne du Maurier.

The novel is set mainly at Menabilly where the fictional Simon Rashleigh lives. He is the most eligible bachelor in Cornwall but also a somewhat solitary fellow at the beginning of the novel, absorbed in his work as a travel writer and with his responsibility for the estate that he owns. He soon meets Selby who is new to Cornwall and has a complicated and interesting past. She is also a writer, and an excellent cook. The book includes many food references and some delicious recipes.

The surprise in this romantic tale is that Daphne du Maurier's ghost is haunting Menabilly. This leads to many interesting twists and turns in the story and, because she was fascinated by but did not really believe in the supernatural, we think Daphne would have been amused by the role she plays in this novel.

Because the story that came to the author insisted on being written, she found herself researching Daphne's life and works to get a clear picture of her character and used footage from the few interviews that exist to get an idea of the intonation, vocabulary and phrasing that Daphne might have used. She also referenced Daphne's letters and books, but, of course, this novelised character of Daphne is a fictitious one.

I enjoyed reading Daphne's Ghost very much. There is enough depth to the story to keep the reader interested, while being a real page turner that you won't want to put down. Anyone who loves Daphne du Maurier's writing or who is interested in her and the life she led, with be fascinated by this new novel. Daphne's Ghost is definitely a must-read book. It is available at Bookends of Fowey and other good book shops.