George Louis Palmella Busson du Maurier (1834 – 1896)
George du Maurier (also known as Kiki or Kicky) was an artist, musician and writer and it seems to me that he is the linchpin who brings together the earlier and later generations of the du Maurier family. He was born in Paris, the oldest child of Louis Mathurin Busson du Maurier and Ellen Clarke, daughter of the notorious Mary Anne Clarke. He had a younger brother and sister, Eugene (also known as Giggy) and Isabella.
From an early age he enjoyed sketching people and situations that he observed but his father, who was a scientist and inventor, wanted George to follow in his footsteps. So when George left school the family moved to London and he was sent to University College to study chemistry. Ellen realised that George was not temperamentally suited to chemistry so, when Louise Mathurin died at the early age of fifty-nine, she encouraged George to return to Paris to study art.
Throughout his life George was always popular at parties and gatherings because of his beautiful singing voice. He could have pursued a career in music, had he not had such a compulsive love of art and illustration.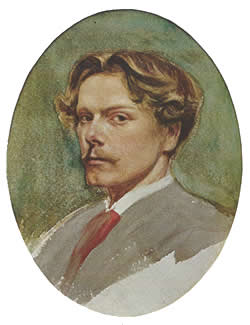 A self-portrait in watercolour of young George du Maurier
The loss of sight in George's left eye ended his hopes of becoming a great painter but led to his return to London to pursue a career as an illustrator. He produced illustrations for a number of magazines and books before gaining a permanent position on the staff of Punch, where his role was to produce a light-hearted and satirical view of society. He remained on the staff of Punch for much of his working life and his illustrations provide a lasting record of what Victorian society was like.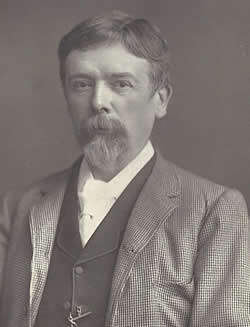 A photograph of George du Maurier
in later years
He married Emma Wightwick (also known as Pem) and they moved a number of times before settling at New Grove House, Hampstead, where their five children, Beatrix, Guy, Sylvia, May and Gerald, grew up. George and Emma chose not to bring their family up in the traditional Victorian way but instead gave them plenty of freedom. For example, allowing them to play in George's studio while he worked, to express their opinions and hold their own points of view, giving them a refreshing confidence in themselves and each other.
George knew everyone of note in Victorian society and had many friends, including the Pre-Raphaelite artist John Everett Millais and the writer Henry James. It was through the encouragement of Henry James that George began to write his own novels and so, late in life, he had two novels published, Peter Ibbetson and Trilby.
Both were successful but Trilby in particular was a runaway success on both sides of the Atlantic and is generally considered to be the first best seller.
The success of Trilby did take its toll on George's somewhat fragile health and he died before his third novel, The Martian, had been published. He was cremated, an unusual procedure in 1896, and his ashes were buried in the new churchyard at Hampstead.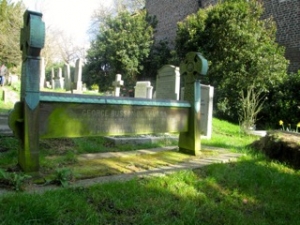 Grave of George du Maurier at the Parish Church of Saint John at Hampstead.(c) Collin Langley.
Afterwards an unusual wooden memorial was added to George's grave. It was designed by his friend Thomas Armstrong and, as well as the inscription, it included the last lines of Trilby:
"A little trust that when we die
We reap our sowing! And so – good-bye!".
Further reading:
The du Mauriers by Daphne du Maurier, Victor Gollancz Ltd, London 1937.
The Young George du Maurier: Letters 1860-67 edited by Daphne du Maurier, Peter Davies Ltd, London 1951.
George du Maurier by Leonee Ormond, Routledge & Keenan Paul Ltd, London 1969.
The Art of George du Maurier by Richard Kelly, Scolar Press, Hampshire 1996.
George du Maurier: Illustrator, Author, Critic - Beyond Svengali edited by Simon Cooke and Paul Goldman, Ashgate Publishing Ltd., Surrey 2016.
(c) Ann Willmore 2016