The Daphne du Maurier Society of North America – November Movie Night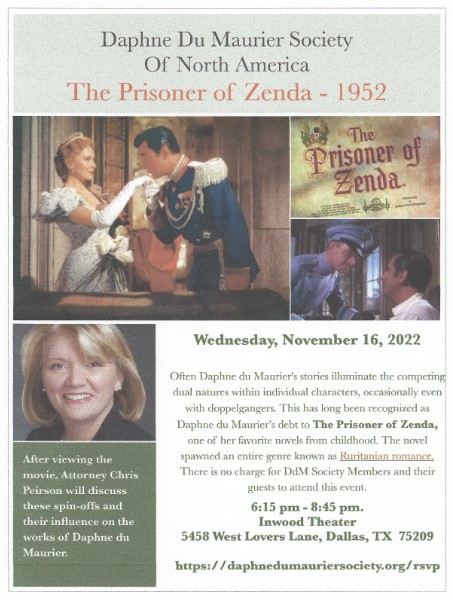 The Daphne du Maurier Society of North America are meeting on Wednesday 16th November, at 6.30pm, at the Inwood Theater, Dallas, for a screening of The Prisoner of Zenda, based on the book by Anthony Hope, one of Daphne du Maurier's favourite novels from her childhood.



Daphne du Maurier's stories often illuminate the competing dual natures within individual characters, occasionally even with doppelgangers. This has long been recognized as Daphne du Maurier's debt to the novel The Prisoner of Zenda. The book spawned an entire genre known as Ruritanian romance.





After viewing the movie, Attorney Chris Peirson will discuss these spin-offs and their influence on the works of Daphne du Maurier.




There is no charge for DdM Society Members and their guests to attend this event.

6:30 pm - 8:45 pm.
Inwood Theater 5458 West Lovers Lane, Dallas, TX 75209

Regrettably, this event will not be available for Society members by ZOOM.



There are just a few tickets left for this event. Please get in touch with the DdM Society

here

, by Saturday 22nd October, if you wish to attend.